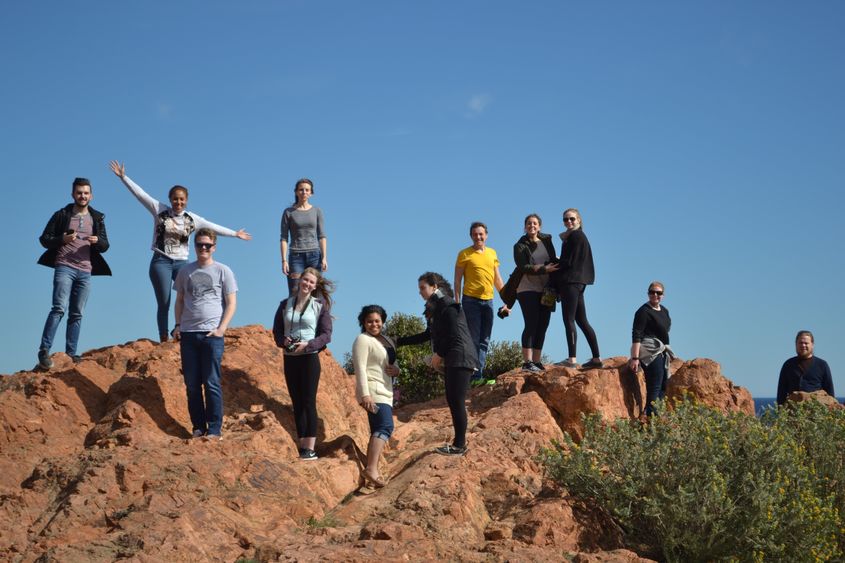 MEDIA, Pa. — During spring break, 37 Penn State Brandywine students came together for a week abroad in the French Riviera.
The trip was facilitated by Brandywine Global Programs, an educational travel model developed at Brandywine in the 1990s. Students travel as an integrative component of select classes each semester. After three Global Programs courses, a student is eligible for the campus' minor in international studies.
After completing coursework online for the first half of the semester, the students traveled with their professors to France for a hands-on cultural and educational experience.
"For the kinesiology class, we worked out five days a week before the trip and learned about healthy lifestyle habits," said Brandywine communications major Maddie Beebe. "I also took the linguistics class, and for that, we spent time learning about romance languages and the different dialects within France."
Beebe received her first taste of international travel as a Global Programs participant, traveling with Brandywine to Barcelona last year. Her experience led her to apply for the international studies minor — a program that she believes will help her achieve her career goals.
"I want to go into fashion, which is increasingly a global industry," she said. "I'm completing my communications major at Brandywine, but I'm also minoring in marketing and international studies to prepare me for the career field."
According to Barb Rostick, instructor in kinesiology at Brandywine, the Global Programs model allows Penn State students from all campuses to experience international travel in small doses, while providing a space for students to continue their education far from home.
"A whole semester abroad can be costly," Rostick said, "but Global Programs gives students a chance to travel for a week at a very affordable price. For many, this is the first time they've traveled without their families."
While in France, each class followed up on its stateside studies with workshops, breakfast meetings and educational tours. These activities focused on topics relevant to each student's coursework.
"We took introductory tours of the city and held discussions," Rostick said. "In my wellness course, we observed lifestyle differences between the French and Americans, including walking habits and Mediterranean diets."
"The linguistics course had us interacting with the locals to learn about language," said Beebe. "For instance, we had to record a person from Nice and a person from Marcé reading an Aesop fable. Now that we're home, we will compare their dialects and see if we can detect any differences."
Since Global Programs focuses on both educational and personal development, the trip leaders make a deliberate effort to combine class activities with plenty of free time and spontaneity.
"We wanted them to explore France and experience it personally," said Rostick. "There's a time to study, but also a time to simply immerse yourself in the culture."
"The professors keep the workload light for the week that you're actually in the country," said Beebe. "When you get home, you launch back into assignments, but the professors are very accessible."
Only a few weeks after returning from France, Beebe is already looking ahead to a third trip with Global Programs next year.
"I'm looking into Cuba, Italy or London for next year," she said. "I think it's safe to say that Global Programs gave me the travel bug. When I went to Barcelona with Brandywine last year, it was my first time experiencing another culture. Now I just want to do it again and again."