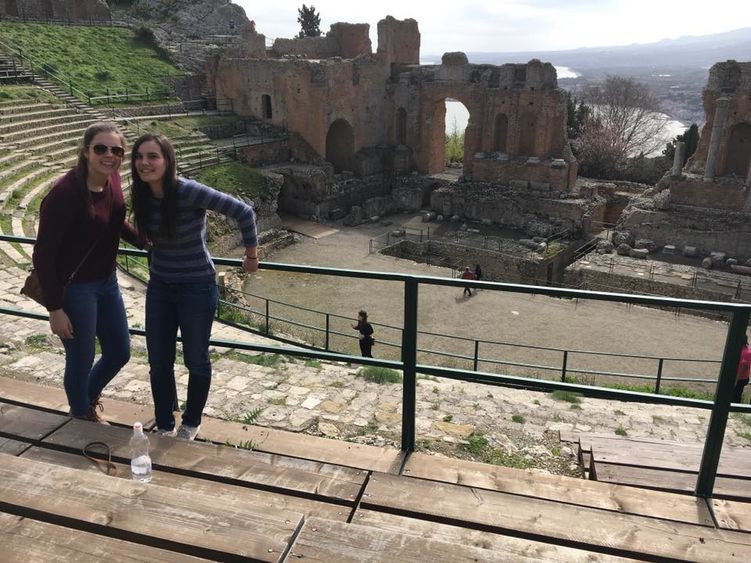 MEDIA, Pa. — Penn State students recently returned from a weeklong study-abroad trip to Sicily and Malta that was organized by Penn State Brandywine Global Programs. Global Programs combines academic courses with a short-term travel experience abroad and is open to all Penn State students. Twenty-nine undergraduates from Brandywine, Fayette, University Park and World Campus attended the trip.
"Our trip started in Catania, Sicily," said Laura Evans, assistant teaching professor of human development and family studies at Brandywine. "We also visited Mount Etna, an active volcano, and the small coastal town of Taormina. After that, we went to Malta, staying in the city of Mellieha. We visited the capital city of Valetta, took a boat to the smaller island of Goza, and even spent our last night in Rome."
Before the trip, students completed coursework online, providing academic framework for their experience overseas. While in Italy, they participated in tours, lectures and experiences designed to enhance the themes of their Penn State classes.
Evans taught a human development and family studies course called "Family Disorganization - Stress Points in the Contemporary Family." In Sicily and Malta, her students interviewed locals to learn more about the biggest problems facing Italian families.
"One person I talked to was very concerned about young people leaving their land of origin for better work opportunities," said Darryl Thomas, a human development and family studies major at Brandywine. "That person suggested creating new work opportunities in Italy as a solution. Another person talked with me about gender roles in Italy and how their country deals with domestic violence."
Thomas has traveled on several Global Programs trips and feels that each experience has uniquely impacted his academic career.
"I like that I get to learn about my major while experiencing different cultures, even though I'm only there for a portion of the semester," he said. "You can learn a lot in a week — not just about the tourist side of things, but the local side."
"When we take a course like family disorganization overseas, this really allows students to identify how various contexts, such as history, politics and religion, influence the challenges families face," said Evans. "It also gives students an opportunity to engage directly with people in the locations we visit."
Although Brandywine Global Programs has several advantages as a model for studying abroad, such as low costs and accessibility, its main goal is to give students a wider academic perspective, putting stateside lectures and assignments in the context of global learning.
"I hope students have increased awareness of how context influences the way we live our lives," Evans said. "I hope they have appreciation for how much there is to learn about the world and they have more confidence in their ability to navigate new solutions, problem-solve and build community."