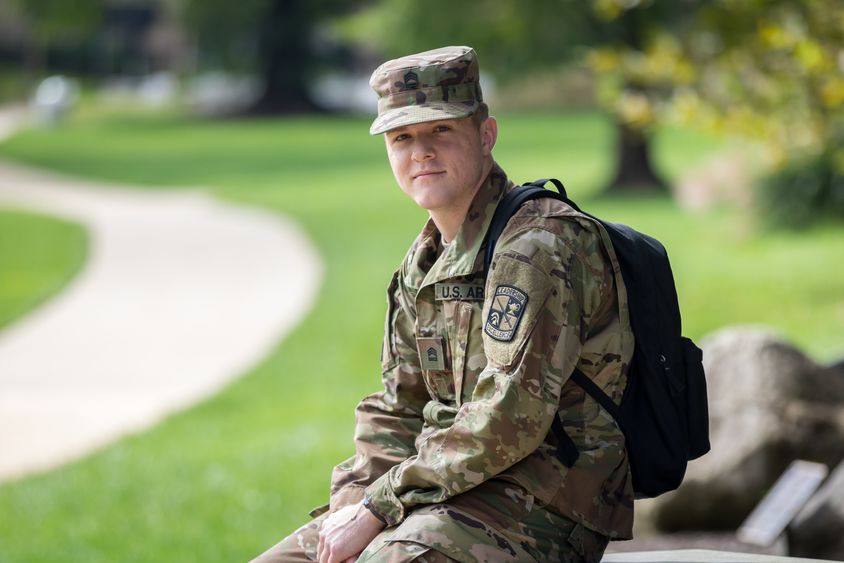 Penn State has a longstanding and proud tradition of serving the men and women of our military through education benefits, resources, support and more. As part of Penn State's ongoing military appreciation, we offer the following story.*
MEDIA, Pa. — From a young age, Michael Green knew that he wanted the United States military to be part of his future. He was surprised — and thrilled — when he learned that he could make that happen at Penn State Brandywine.
"The military runs in my family," said Green. "I wanted to continue that heritage, but I also wanted to attend college."
Originally, Green, a communication arts and sciences (CAS) major, believed there was no way for him to begin his military career while attending Brandywine. Then, a few years into his college career, he saw an ad for Brandywine's Reserve Officers' Training Corps (ROTC).
"I thought it was too late for me. I was in an odd junior-sophomore situation because I took a year off," he said. "But I talked to Paul deGategno, the ROTC coordinator at Brandywine, and found out that I could make up two years of ROTC by attending basic camp."
Green decided to enroll in Brandywine ROTC, attending basic camp that very summer. Today, he is a platoon leader in the program and has his sights set on a spring 2020 graduation date.
Brandywine ROTC is designed to develop leadership and management skills while preparing students for a career as an officer in the United States military. Cadets can sample ROTC for up to two years with absolutely no military obligation. By the third year, most cadets sign military contracts.
Upon graduation, committed ROTC students transition into an eight-year military career as commissioned officers, which can be fulfilled through a combination of active and reserve duty assignments.
ROTC students at Brandywine train with Widener University's Dauntless Batallion, an ROTC organization that traces its roots back through the Freedom Batallion, the Pioneer Batallion and the Pennsylvania Military College. It includes students from eight institutions in the Greater Philadelphia area.
"I love being able to go to Widener and train with a wider network," said Green. "It means that I kind of get to take part in multiple schools. I get to enjoy my friends from ROTC Widener in the morning, and I'm in class with my Brandywine friends in the afternoon."
According to Green, the schedule of an ROTC student is rigorous. It includes physical training sessions at 5:45 a.m. as often as five times a week, coursework, basic training and, for senior students, advanced camp. Green also balances his specific duties as a platoon leader.
"It's honestly very rough at times, balancing ROTC and my coursework," he said. "Most of us actually work in addition to ROTC and our classes, so we're balancing three worlds. It's hard, but it wouldn't be rewarding if it wasn't hard."
Despite the difficult schedule, Green has spent his Penn State career studying subjects that he truly enjoys both in and outside of the classroom. In ROTC, he takes a military science course every semester, which covers everything from map reading and addressing officers to running ambushes and squad assaults on objectives.
In class at Brandywine, he has found academic opportunities that excite him as well.
"I was originally a pre-med major and didn't enjoy it at all," he said. "Then I took a public speaking course, just to get the requirement out of the way, and found out that I love talking and doing presentations. I wanted more of those classes, so I switched to majoring in CAS."
As he looks forward to graduating in 2020, Green plans to make the most of the opportunities before him at Brandywine.
"Doing ROTC here was a wise decision for me — personally, academically and financially," he said. "I'm getting the same Penn State degree and the same education as my friends at University Park and the other campuses, and I get to enjoy a beautiful campus and network with cadets from all over the Philadelphia region through working with Widener."
He also plans to continue making the most of his ROTC experience and future military career.
"Most people won't ever experience doing security in the freezing cold rain or laying in the dirt for an hour while someone plans a mission," he said. "It's amazing to realize you've accomplished something that 95 percent of Americans won't do. If you have even the slightest bit of interest in ROTC, sign up and go into it with an open mind. You won't regret trying it out."
For more information about ROTC at Penn State Brandywine, visit the program's webpage.
*This year's Military Appreciation Week at the University begins with a Penn State football game at the University Park campus on Oct. 27 leading up to Veterans Day on Nov. 11. This year's theme will recognize 100 years of women officially serving in the U.S. armed forces with special events and activities, including community football tailgate, library showcase, speaker events and more. For additional information, visit militaryappreciation.psu.edu