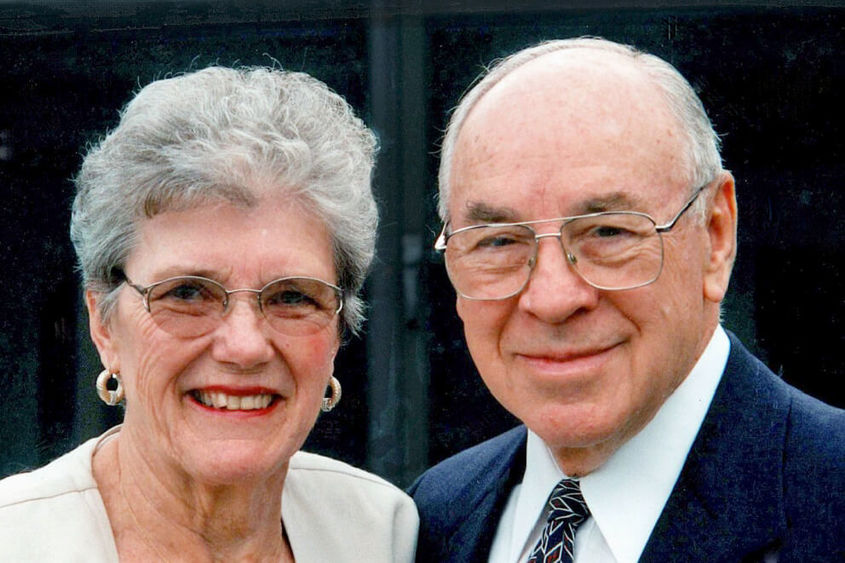 MEDIA, Pa. — The Wilbur C. and Betty Lea Henderson Foundation has committed $1 million to Penn State Brandywine to endow the Wilbur C. and Betty Lea Henderson Foundation Scholarship — the largest philanthropic gift from a foundation in the campus' history. The scholarship will support full-time, high-achieving undergraduate students, with a first preference for those who have served or are serving in the U.S. military, have an immediate family member who is serving or has served in the military, or participants in the Army and Air Force Reserve Officer Training Corps (ROTC) program at Penn State Brandywine.
"This gift will be transformational in meeting the financial needs of our veteran students and their dependents," said Marilyn J. Wells, chancellor of Penn State Brandywine. "At Brandywine, the number one barrier for our students completing their degrees is financial. The Henderson Foundation's support will serve these high-achieving students and encourage a more inclusive campus environment."
The Henderson Foundation was established by the late Wilbur C. Henderson Jr., founder and CEO of the Henderson Group commercial real estate development company in southeastern Pennsylvania. The foundation honors the legacy of Wilbur and his wife, Betty Lea, through support for veterans, medical professionals and community development in the Delaware County region. Previous gifts to Penn State Brandywine from the foundation include the naming of the David Henderson Lobby in the Student Union Building — in honor of Wilbur and Betty Lea's late son — and sponsorship and support for the campus's annual gala, benefiting student scholarships.
"Both David Henderson and his son went to Penn State, along with others on our board and in the Henderson Group," said Bill Taylor, chair of the Henderson Foundation. "And Wilbur was a veteran of World War II who believed strongly in giving back to those who served."
"When Wilbur first asked me to join the foundation board, he told me that our goal was to 'do good for people,'" said Taylor. "There's nothing better than education to get someone ahead in this country, and with the Wilbur C. and Betty Lea Henderson Foundation Scholarship, we're hoping we can help veteran and military students and their families get their degrees and continue to live and work in our community."
The Wilbur C. and Betty Lea Henderson Foundation Scholarship will support students enrolled or planning to enroll at Penn State Brandywine who have achieved superior academic records or who manifest promise of outstanding academic success. Military service will be inclusive of those who are veterans, active duty servicemembers, reservists or National Guard members, or who are currently enrolled in the campus ROTC program. Scholarship support may also be offered to student dependents, who include spouses, siblings or children.
"With this landmark generous gift, the Henderson Foundation has demonstrated an understanding of the unique challenges that veteran and military students face and a commitment to helping them meet their educational goals of achieving a college degree — a Penn State degree," said Madlyn Hanes, Penn State senior vice president for Commonwealth Campuses and executive chancellor. "This gift will most certainly have a positive and enduring impact on the future for our veteran and military students, their families and their home communities. The educational success of our veteran and military students will, in turn, contribute to the educational attainment and economic vitality of their communities as students pursue their chosen careers upon graduation, launch new business ventures or join area companies or organizations." 
The Wilbur C. and Betty Lea Henderson Foundation gift will advance "A Greater Penn State for 21st Century Excellence," a focused campaign that seeks to elevate Penn State's position as a leading public university in a world defined by rapid change and global connections. With the support of alumni and friends, "A Greater Penn State" seeks to fulfill the three key imperatives of a 21st-century public university: keeping the doors to higher education open to hardworking students regardless of financial well-being; creating transformative experiences that go beyond the classroom; and impacting the world by serving communities and fueling discovery, innovation and entrepreneurship. To learn more about "A Greater Penn State for 21st Century Excellence," visit greaterpennstate.psu.edu.