With seven years in the U.S. Marine Corps, Staff Sgt. John Navickas sets his sights on a new assignment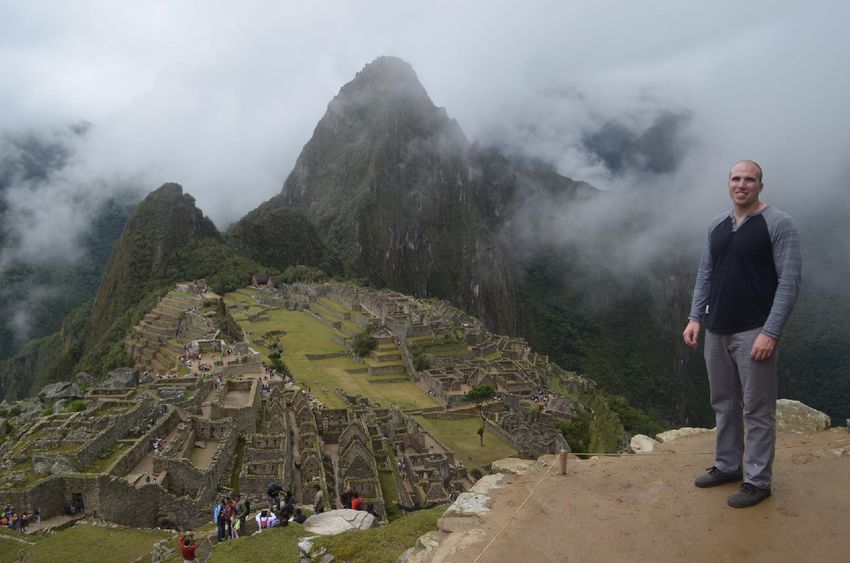 MEDIA, Pa. — While most high school seniors were signing their university housing contracts, John Navickas was signing a different agreement: his enlistment papers for the United States Marine Corps.
Navickas enlisted in the Marines at the age of 17, beginning boot camp immediately after he graduated from high school. While on active duty, he earned the rank of staff sergeant and served at several overseas bases and embassies.
"I joined with the intention of seeing the world," said Navickas. "I wanted to get out of my hometown and do something big. I was also drawn to the brotherhood you see in the Marine Corps compared to other branches of service." 
By the end of those seven years, Navickas had worked in 10 countries — Afghanistan, Bahrain, Cambodia, Japan, Russia, Saudi Arabia, South Korea, Tajikistan, Thailand and Turkey — and visited over a dozen more.
Today, Navickas is a reservist in the Marines earning his bachelor of science in information sciences and technology (IST) at Penn State Brandywine.
"Coming to Brandywine was a way to reconnect," he said. "I had been away for seven years and I lived overseas for five of those years. I wanted to come home — and I knew that Penn State was a recognizable, reputable school. Having a Penn State campus near my hometown worked out pretty well."
As a nontraditional student, Navickas approaches his courses differently than the average Penn Stater. Some aspects of college life, such as paying for school, are simpler. Others, such as readjusting to the typical classroom setting, took him some time.
"The military is a great career with so many benefits," he said. "My tuition is covered and I get a book stipend and housing allowance. But coming back to school was also a completely different stress than active duty. At first, it was hard — but once you get into a routine, it's not so bad." 
Rather than separating his service from his studies, Navickas has used his military career to guide his academic goals. He completed his IST internship with the Department of Justice's Cyber Division, where he hopes to obtain a full-time job after graduation.
"I've liked the opportunity to do internships," he said. "They're critical to landing future jobs and seeing what you actually like. My internship at the Department of Justice was great because I want to work in the federal sector someday."
Navickas has also found ways to incorporate his love for travel into his studies. This spring, he traveled to Cuba with Penn State Brandywine's Global Programs, completing an arts course requirement while touring Old Havana.
Even his academic awards connect back to the Marines. In fall 2016, Navickas was awarded two merit-based scholarships. At a scholarship luncheon that semester, Navickas met one of his scholarship donors, Jeffrey Lipson, and learned that Lipson was also a Marine.
"I couldn't ask for a better recipient of this scholarship," said Lipson. "John is the embodiment of the veteran student that this scholarship was designed for."
"Jeffrey invited me to a celebration for the Marine Corps' birthday," said Navickas. "We went the next day."
As he works toward completing his degree, Navickas plans to continue the practices that brought him success in the Marines: asking questions, working hard and seizing opportunities.
"Every time I talk to an ambassador or a general, I ask them, 'What did you do to get where you are now? What's your end goal? Where do you want to be in five years?'" he said. "I try to do the same with professors — and I don't close doors. If you give me an opportunity, I won't forget it, and I'll use it to the best of my ability."