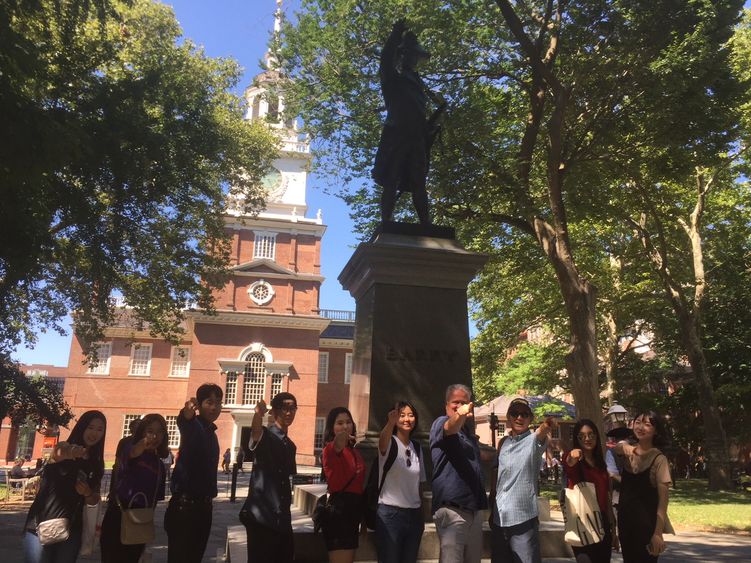 MEDIA, Pa. — Over the last few years, Penn State Brandywine has forged unique educational partnerships with two universities in South Korea. In 2017, a five-week study abroad trip sent Brandywine students to Sungkyunkwan University in Seoul. That same year, the Brandywine campus welcomed visiting scholar Hojin Oh, a professor of English literature at Hanbat University, to research the writing processes of John Keats and John Clare.
This summer, that educational partnership continued — this time, with several of Oh's students coming to the United States.
The seven students from Hanbat University — Eunjin An, MinJae Kang, Minjeong Kim, Chaewon Ji, Ha-Young Jin, Hyeon-su Park and Ji-hyeon Park — spent roughly three weeks learning on campus at Penn State Brandywine.
The program was arranged by Oh, Brandywine Professor of Human Development and Family Studies Ben Park (who grew up in South Korea and is a longtime friend of Oh) and Coordinator of Multilingual Student Programs Deb Ousey.
For all seven students, who are English majors and students of Oh at Hanbat, visiting the United States was a brand-new experience.
"Because of our major, we study English poems and novels in South Korea," said Hyeon-su Park. "I wanted to come to the USA and get some new experience in the things I have studied."
As with any travel abroad experience, the students quickly picked up on facets of American culture that are different than their own — some positive and some negative.
"The educational systems are similar in some ways, but home is more lecture-based," said MinJae Kang. "Here, everyone participates and shares their experiences. I like that much more. But transportation here is not as good — in Seoul, it is easier to take buses or trains."
"My first impression of the USA was that — at least, around here — people have been very kind to me," said Minjeong Kim. "I was really impressed by that."
One of the classes the students took was a weeklong introduction to American culture, which was taught by Instructor of Arts and Humanities Thomas Guerin. In class, they discussed the geographic and demographic characteristics of the United States — and the impacts of those qualities on American politics, art, literature and pop culture.
"For students from a very compact, homogenous society like South Korea, the sheer variety and complexity of American demography is a powerful thing to behold," said Guerin. "One of the students told me, 'Everybody in Korea says the U.S. is a diverse, immigrant society, but you don't realize it until you see it.'"
According to Guerin, teaching the course was also a chance for him to view his own culture through new eyes.
"Since I teach an American pop culture class, it was very interesting to discuss the fundamentals of U.S. culture with people from a very different place," he said. "They noticed things I didn't, and they asked questions an American wouldn't even think of."
In addition to classes on campus, the students spent about a week visiting local attractions, such as Philadelphia and Longwood Gardens in Kennett Square, and out-of-state places of interest, including New York City, Boston and Washington, D.C.
"We've been studying Edgar Allen Poe and Walt Whitman, and we got to go to their houses in Philadelphia," Kim said.
While investigating English literature in one of its source cultures, the students also found plenty of opportunities to broaden their worldviews and mature as individuals.
"We all have different ideas about other people and their cultures," said Park. "Meeting them yourself is a valuable experience and a good chance to grow."
"I think the whole educational project benefits when a student gets to spend some meaningful time in a different country," said Guerin. "For the students — who, as a crew, were very polite, funny and interested in what was around them — the U.S. is not an abstraction anymore."
Although the students returned to South Korea after a few weeks, they have also left something behind for the Brandywine campus — an ongoing, enriching reminder of the value of cross-cultural education and campus diversity.
"Our campus already has a lot of students who are foreign born, or the children of immigrants," Guerin said. "Anything that increases our ability to meaningfully instruct students from different national and cultural backgrounds is a benefit to Brandywine."