The campus' most recent global dialogue event covered multilingual student experience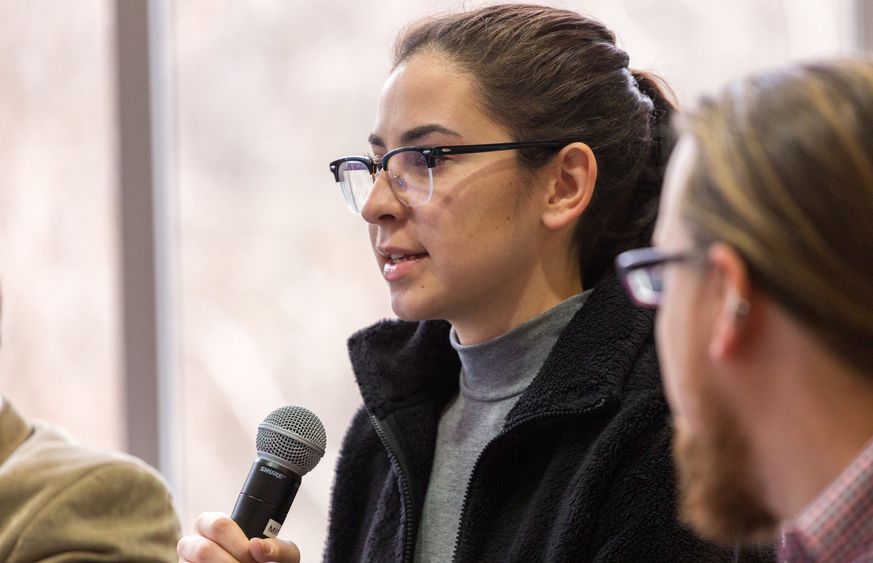 MEDIA, Pa. — In the spirit of fostering a campus culture of diversity and inclusion, Penn State Brandywine recently hosted another global dialogue luncheon — an event that is part of a campus series bringing everyday subjects, such as meals, relationship norms, and social rules into a global context.
The most recent global dialogue luncheon was called "Navigating a Multilingual World." A panel of multilingual students led the discussion, allowing students to ask questions about how their language skills impact their daily lives.
"We wanted students to understand what it's like to function in more than one language," said Deb Ousey, coordinator of multilingual student programs. "Do you switch from one language to the other? If so, why? Do you prefer one over the others?"
One multilingual student who lent her voice to the panel, Yana Zhang, grew up in China with a Chinese father and a Russian mother. She is fluent in Chinese, English and Russian.
"I honestly forget that I speak three languages," she said. "It's not something I think about that often — only when someone reminds me. At home, I speak two languages all the time because my dad doesn't speak Russian and my mom doesn't speak Chinese, so it's normal."
During the dialogue luncheon, Yana fielded several questions from fellow students — everything from "What language do you dream in?" to "How do you think when you do your homework?"
Many monolingual students are impressed by someone who speaks two or three languages. To most multilingual students, however, switching between languages is not an unusual skill.
"In China, nobody would say, 'Oh wow. Three languages! You're a hero!'" said Zhang. "People speak five languages in my country and it's not a surprise. Here, you speak more than one language fluently and people make a big deal."
While most multilingual students are very comfortable switching between languages, they can face interesting challenges in a college setting, especially as international students.
"Students often have different names in different languages and feel like they have different personalities, in some ways," said Ousey. "You encounter lots of multilingual students on our campus, but might not think about how their language abilities affect their identity on campus."
"Sometimes, I want to say something in class or in an essay, but I don't know how to say it in English," said Zhang. "Then I'm trying to dig into my Chinese or Russian to find the right idea and figure out an English equivalent."
Zhang encourages her peers to approach the language-learning process with patience and confidence.
"Don't be shy!" she said. "My first year in school, I had to push myself to speak English — and sometimes I still get a little embarrassed, but you learn to laugh at yourself. That's the only way you're going to learn."