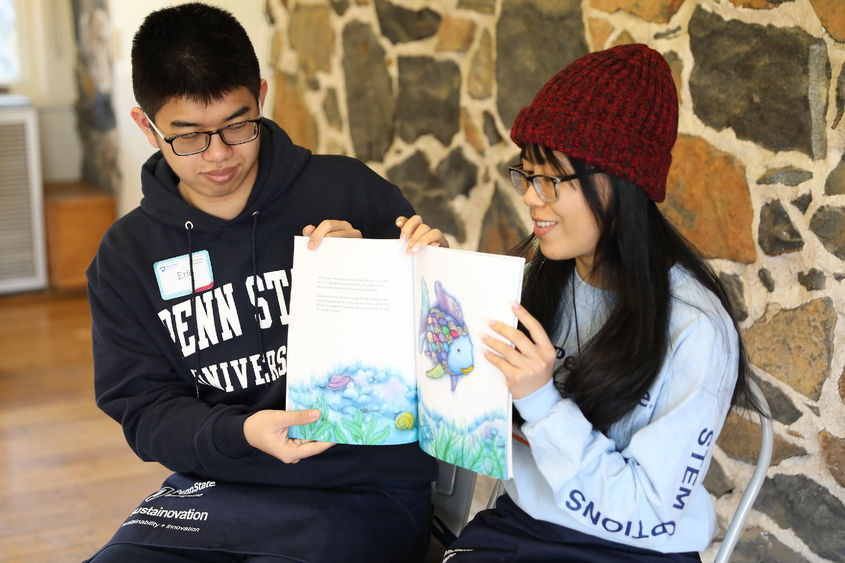 MEDIA, Pa. — Penn State Brandywine students celebrated International Mother Language Day by leading a Saturday morning storytime for local children at Tyler Arboretum on Feb. 22. The students, who are members of Brandywine's Sustainovation and Multicultural clubs, read nature-themed books in a variety of languages.
Languages represented included English, French, Japanese, Bangla, Mandarin Chinese, Spanish, Vietnamese and more.
Students also had bookmarks available for kids to color, as well as blank books where they could write their own story with stickers and color stamps. In addition, Brandywine used Sustainable Communities Collaborative funding to purchase 75 new carpet squares made of recycled carpet fibers for Tyler to use for future programming.
According to the United Nations website, International Mother Language Day is observed yearly on Feb. 21 to promote linguistic diversity and multilingualism. The day was proclaimed by the United Nations Educational, Scientific and Cultural Organization (UNESCO) in 1999 and the U.N. General Assembly in 2002. In 2007, the U.N. General Assembly called upon member states "to promote the preservation and protection of all languages used by peoples of the world."
Stephen Subbio attended the storytime event with his 1- and 6-year-old children.
"I think it's a great activity to get children exposed to different languages and cultures and peak their curiosity at an early age," he said. "My daughter already speaks Spanish, but I think it's really cool to have French speakers and Vietnamese speakers — it's wonderful."
"I hope my daughters take away an appreciation that there's so much more out there that they can be exposed to and really enjoy in life," Subbio added, "and getting to meet different people from different walks of life."
Professor of Earth Science Laura Guertin said the event gave Brandywine students a chance to share a piece of their own identity with a community beyond the campus.
"Our students were able to provide an introduction to a language and culture to local children," she said. "I'm sure some of the kids were hearing these languages for the first time. We also provided our students an opportunity to share and celebrate their cultures — who they are, where they are from."
Amy Mawby, director of public programs at Tyler Arboretum, said the partnership with Penn State Brandywine enriches Tyler's programming.
"Having the diversity of languages at this multilingual storytime event provided an opportunity for the kids to listen to languages that they may have not heard before," Mawby said. "Tyler has a small staff, so having a partner like Penn State Brandywine that's willing to run events really helps us organize programs like this for our local community. Penn State Brandywine is always available to help. Their generosity and creativity really make these events special."
Guertin also noted the benefits of the campus' partnership with Tyler.
"We are always exploring ways we can work with Tyler, continuing our existing collaborations, and adding some new and fresh opportunities for education," Guertin said. "Tyler has an excellent reach and network with the community, and Penn State has access to unique resources and talented people we can share with Tyler — in this case, our students who are from other nations and speak a diversity of languages."