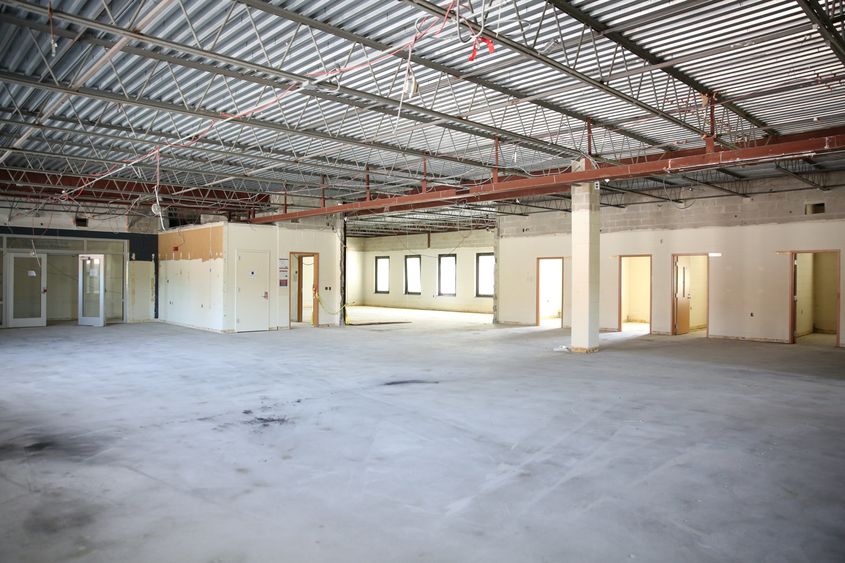 After opening its first residence hall and student union in 2017, Penn State Brandywine plans to give one of its older buildings, the Commons/Athletic Center, a major upgrade.
The Commons/Athletic Center opened its doors in 1988, serving as Brandywine's one-stop shop for athletics, student affairs, police services, campus dining and textbook purchases. This year, many of those services relocated to the new Student Union, making the Commons/Athletic Center open for repurposing.
The $3.4 million project, which will be completed in August, was funded by campus donors, match funding from University Park, the Brandywine Student Facilities Committee and Penn State's Office of the Physical Plant. It is Brandywine's largest renovation project for the 2018-19 year.
On the first floor of the updated building, students will soon enjoy a new commuter lounge, nurse's station and athletic trainer office. They will also find a more accessible police services office and an expanded, state-of-the-art fitness center.
"The new fitness center should provide students with a much better workout experience," said Barb Rostick, assistant teaching professor of kinesiology at Brandywine. "The finished product will be an amazing improvement for kinesiology classes, athletics and students and staff interested in improving their health and fitness."
On the building's second floor, which formerly held the Office of Student Affairs, Police Services and the campus bookstore, there will be a new set of faculty offices, social science research labs and observation rooms.
"We look forward to welcoming the faculty members to their new and improved home on campus," Rostick said.
The Commons/Athletic Center is not the only Brandywine fixture that will undergo renovation this year. The campus will also upgrade its water main, install lights on the outdoor sport courts and renovate room 106 of the Tomezsko Classroom Building. The classroom renovation will include a reoriented floor plan, new technological tools and collaborative spaces for one of Brandywine's largest academic meeting spaces.
The renovations across campus are in line with Brandywine's mission to provide a high-quality learning environment for its students, faculty and staff.
"I can't wait to see the finished product," said Rostick. "I hope that it will bring a renewed interest among students and staff to utilize our beautiful, updated facility."