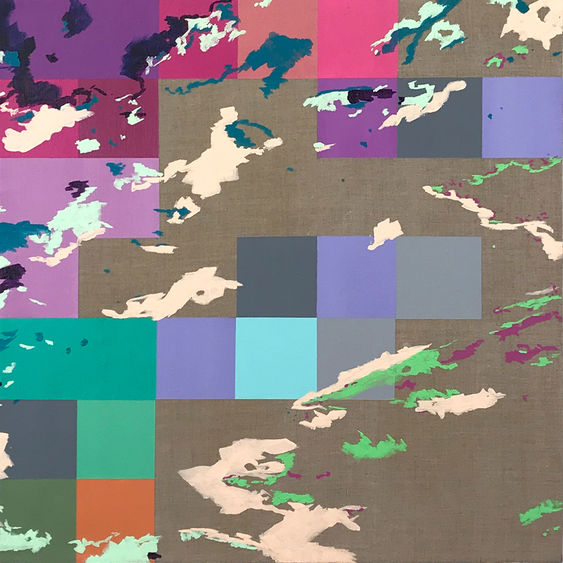 MEDIA, Pa. — Artistic inspiration can be found in unexpected places. For Anthony Vega, a professional painter and part-time instructor in art at Penn State Brandywine, inspiration came from his observations as a teacher, his social media feed and the sky.
Vega has been painting clouds for the last four years — bright, pixelated renditions of clouds — as a comment on the relationship between technology, social interactions and modern attitudes toward beauty. The resulting works were the foundation for his recent talk on the Brandywine campus, aptly titled "Trying to Touch Clouds."
"A cloud is sort of this amorphous thing in the sky that we interpret," Vega said. "But clouds are also funny because we keep all of our stuff in them now. The internet itself is very similar — and my entire professional career, I've been asking myself how we make the internet real again."
Vega finds photos of clouds on Instagram, edits them, pixelates them and paints the results. The series, according to Vega, is about trying to create a nontemporary artistic experience.
"People take breathtaking pictures that are meant to resemble an experience and they dump them onto these platforms where people look for an instant, maybe even leave a comment, but a day later it's gone," he said. "I sort of love that idea — how can we take this thing you can't touch and yet enjoy it and make it real?"
Vega's personal works — and the questions behind them — are some of his primary inspirations as a part-time instructor at Brandywine, where he teaches drawing and painting.
"Teaching is an extension of my studio practice and the things I care about," he said. "My assignments are idea driven."
In many ways, according to Vega, the very disciplines of drawing and painting are in line with the goals of his cloud series. They encourage artists to take a longer look at images that might only receive a few seconds of attention otherwise.
"There's a whole context surrounding a student's choice to spend three weeks on one painting," he said. "It's a radically different concept these days. During that process, I encourage my students to ask themselves, 'What happens when we slow down in other areas of our lives?'"
This March, Vega's cloud paintings will be featured in a solo exhibition at the Chris White Gallery in Wilmington, Delaware. The gallery will open at 5:30 p.m. on March 2. After that, it will be open by appointment through March 30. For more information, visit the gallery's website.