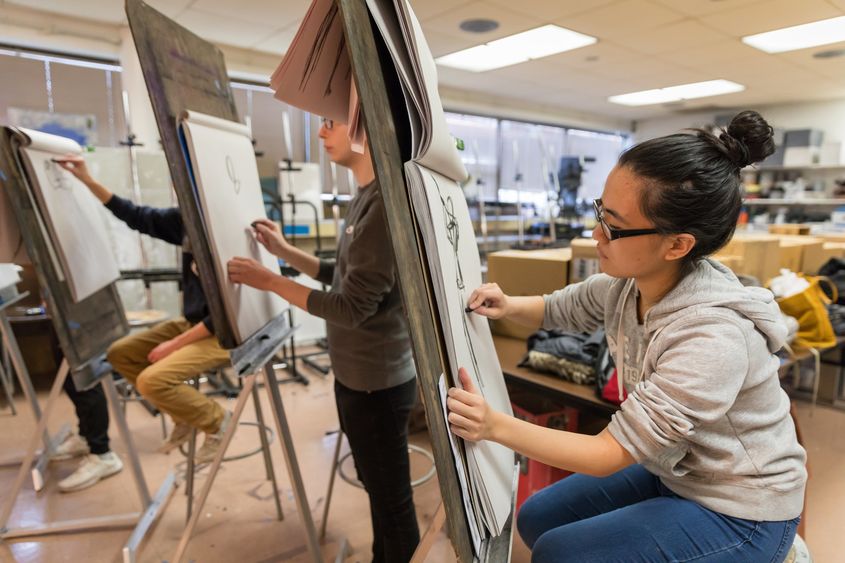 MEDIA, Pa. — At the Brandywine campus, students can complete all four years of 12 Penn State degrees, several minors, and the first two years of more than 275 undergraduate programs. However, some fields of study are certainly more well-represented than others.
When Assistant Teaching Professor of Art Jon Manteau first came to Brandywine, he left an arts department at a large state school to take the reins of a small art-history and appreciation-based program — and immediately he knew he wanted to see it grow.
Manteau joined Brandywine in 2010 as a part-time instructor, teaching a studio-art class that met once a week. Soon after, the campus posted a full-time opening in the arts department. In 2011, Manteau was offered the position.
"I'm learning and working hard, but in a new and different way. Art is really relaxing for me, and Manteau makes the classes a lot of fun."

— Dana D'Ambrosio, first-year student
"The chancellor at the time said to me in my interview, 'I need culture changers,'" he said. "And I responded, 'Hire me. I'm built for this!'"
Creating a culture, however, takes time and effort. When Manteau began to study the state of the department he inherited at Brandywine, he quickly realized that changing the art culture would mean starting from scratch.
"We would have to start with simple, intro-level courses and grow from there," he said. "We would have to create a presence — something that would catch your attention when you came into class. And if we were really going to have an art culture, we were going to have to cultivate it ourselves."
Manteau began implementing a five-year course plan that would allow the campus' studio-art course offerings to grow and become more sophisticated over time.
"We would teach all introductory courses at first," he said. "Within five years, I wanted to see five to eight diverse studio courses being offered every semester."
A few years later, with support from Assistant Director of Academic Affairs Pat Hillen, that goal was met. Today, the Brandywine campus offers seven to eight art courses each semester, including digital art, drawing, painting, art history and independent studies.
"I really enjoy drawing and painting, but I didn't know how much I liked it until I got the chance to take an art class here," said first-year student Dana D'Ambrosio, who's currently taking her second course with Manteau.
"We don't teach students how to see — we give them guidelines for seeing and structure to help them express what they're already seeing. If we can keep doing that, the vision will catch on."

— Jon Manteau, assistant teaching professor of art
A student-athlete at the campus, D'Ambrosio explained that she's quite busy balancing academics and basketball, but that art class helps break up her normal routine.
"I'm learning and working hard, but in a new and different way," she said. "Art is really relaxing for me, and Manteau makes the classes a lot of fun."
To create a new presence on campus, Manteau received support to upgrade the current art studio in the Vairo Library, which was previously a regular classroom. Desks were replaced with easels and stools. An industrial slop sink was installed as well as track lighting. Live models were brought in for the drawing courses. Mannequins were lined up on top of the supply closets. Manteau even created hundreds of still-life objects for in-class use.
"There's something to be said for setting up a tableau in a space," said Manteau. "When students walked in, I wanted them to immediately feel like something different was going on."
The art department also received space in the Vairo Library to display student art throughout the year — an 85-foot stretch of hallway space affectionately called "the Basement Gallery."
With time, Manteau has seen the campus culture grow to embrace the arts both in and beyond the classroom — not just studio art, but theatre, dance and music as well. Courses have become more popular, and more art students return for additional courses each year. Manteau currently serves as chair of the Brandywine Arts Committee, which was put together with support from Director of Academic Affairs Cynthia Lightfoot.
Most importantly, the studio-art classrooms in the Vairo Library have become a place for students to collaborate, develop interest in a new field, and express their perspectives.
"We have a diverse student population here," Manteau said. "And there are certain things about each one — life stories, ethnic backgrounds, religious or political beliefs — that make them unique. Nobody else will ever quite experience those things the same way. From the get-go, I wanted our studios to be a space for all of those experiences — for the thinkers and the methodical types and the creative nerds to see how they can all look at the same subject and create something different."
Today, Brandywine's art culture is not only alive, but continuing to expand — and as that culture grows and changes, Manteau hopes the campus community will stay committed to helping students explore their own ideas, beliefs and goals through new mediums.
"I told a friend of mine once that I'm more of an art cheerleader than a professor. Pedagogy is only part of the process," he said. "We don't teach students how to see — we give them guidelines for seeing and structure to help them express what they're already seeing. If we can keep doing that, the vision will catch on."