Psychology major's year-long research project tracks the psychological effects of energy drink consumption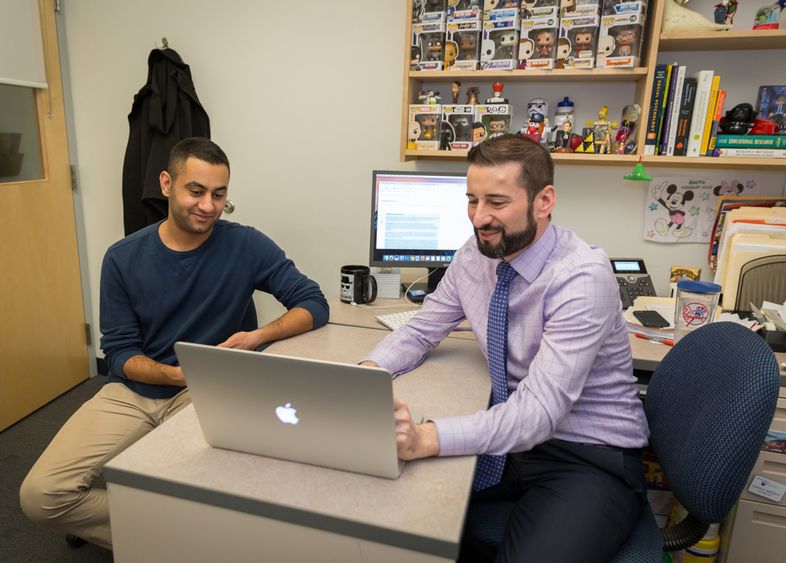 MEDIA, Pa. — When Pedram Pouladvand, a psychology major at Penn State Brandywine, realized how many of his peers depend on energy drinks to get through the week, he decided it was time to educate himself and others on the drinks' psychological impacts.
"A lot of my friends said they needed energy drinks because of school — to get through the week and stay alert," he said. "That was my motivation."
Pouladvand brought his observations to Josh Marquit, assistant teaching professor of psychology at Penn State Brandywine. Under Marquit's guidance, Pouladvand began to develop an academic study to answer his questions.
One year later, Pouladvand's project, a study of the impacts of energy drinks on college students, has gone from an idea to a campus-wide effort.
"When I work with students, I'm here for guidance, but I really let them take the lead," said Marquit. "This was Pedram's project. He owns it."
To get started, Pouladvand studied academic literature related to his project, identifying strengths and weaknesses in previous academic research on energy drinks. He then used that background knowledge to design an academic survey, which was made available to Brandywine campus students.
The survey asked students a mix of psychologically oriented questions about energy drink consumption.
"The primary goal is to look at differences between students who drink energy drinks and students who don't," said Pouladvand.
So far, about 150 students have taken the campus survey — just over 10 percent of the campus population. The survey has been active for two weeks and will remain open through mid-November, but the student-professor duo has already noticed some interesting trends.
"The top answers for why students drink energy drinks were 'needing energy,' 'for work,' 'because I like the taste' and 'to socialize,'" Marquit said. "The last one is interesting. We're not sure if it's because the energy drinks themselves are a method of socialization or because students need energy in order to socialize."
Pouladvand's project has also connected him with students and faculty from several other disciplines, such as biology.
According to Marquit, multidisciplinary research projects make students far more likely to gain acceptance to graduate programs after completing their four-year degrees.
"Sometimes, students and faculty tend to stick to their own fields," he said. "Right now, Pedram is overlapping biomedicine and psychology, which is something he wants to do after he graduates. This is the perfect kind of project to catapult him to that next step in his career."
The study has already proven its worth to Pouladvand. It was one of the factors that helped him land his summer internship at Nemours Children's Hospital.
"Being able to study on my own like this really prepared me for my internship," Pouladvand said. "It's also helped me in my classes. I'm much better at staying on top of my work."