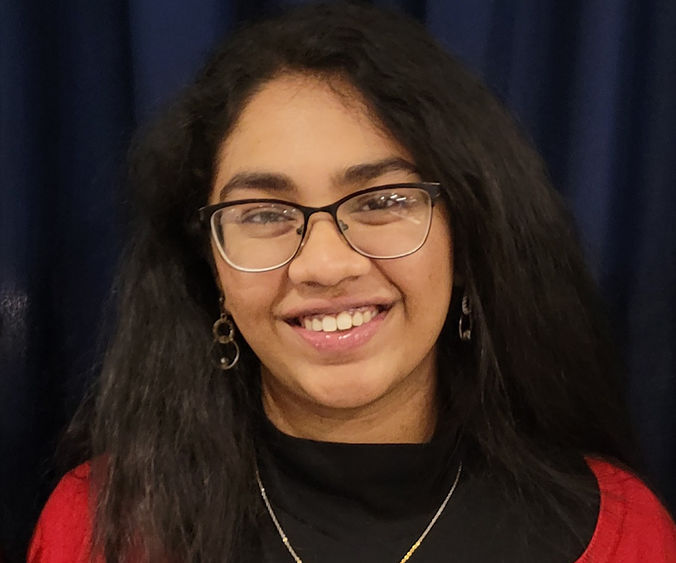 UNIVERSITY PARK, Pa. — In her formative years, Himani Vommi envisioned a future where she worked in medicine. Those plans shifted, however, when she attended her high school's STEM outreach program. One workshop set Vommi on a path that has led her to presenting her undergraduate research at a national cybersecurity conference.  
"The workshop was called 'Girls Exploring Tomorrow's Technology' where the speaker was a woman in computer science," Vommi said. "She made me believe that I could do that, too." 
Now a fourth-year Schreyer Honors College Scholar at Penn State Brandywine, Vommi is set to graduate this spring with a bachelor's degree in cybersecurity analytics and operations. She credits Andy Landmesser, assistant teaching professor in information sciences and technology, for helping shape her desired career path. 
"Dr. Landmesser told me about the cybersecurity program and how it had just been starting out," Vommi said. "Because it's such an emerging field I said, 'Let me give it a try.'" 
With that decision, Vommi joined the first cohort of students who will graduate from Penn State Brandywine with bachelor's degrees in cybersecurity analytics and operations. Prior to fall 2020, students within that program completed their final two years of study at the University Park campus.  
Vommi's thesis, titled "Exploring Effectiveness of Host Based Intrusion Detection for Machine-Learning Data Defense," has earned her national recognition and multiple opportunities to present her research at cybersecurity conferences. She gave a virtual 'Firetalk' at ExploitCon Spokane and is scheduled to present in person at ExploitCon Reno on Aug. 25.  
Vommi built her thesis around the question: "We often use security monitoring tools to protect our [computer] systems, but how often do we monitor the security system itself?"  
"Machine learning systems are only as good as the data and configurations used to train them, and the same rule applies to security tools powered by that type of technology," she explained. "Splunk, the security monitoring tool my paper focuses on, has a machine learning plugin that can help with processing huge amounts of data." 
Her research investigates what happens to a security system's machine learning toolkit, like Splunk, when its behavior is altered by a malicious actor. Even small changes to the way machine learning-powered security systems operate will impact how information is processed and presented and, ultimately, what decisions are made based on that information. 
Landmesser, who has advised Vommi through her thesis work, believes that her research will have valuable real-world applications. 
"Her research is critical as society relies more on artificial intelligence to provide solutions using algorithms," he said. "Himani's work can offer insight into what can be done if the overall system is corrupted then provides influenced responses to its users.  
"She's already making an impact on the cybersecurity industry as evidenced by her selection to speak at ExploitCon." 
Vommi is relishing her first opportunity to present at an in-person conference. 
"When I went to the ExploitCon website and saw my name and photo there, it was such a surreal experience and it was so exciting," she said. "I'm really looking forward to connecting with a lot of industry professionals." 
Vommi will connect with those professionals this August as a peer following her graduation. According to Pew Research Center data, as a woman in a STEM profession, she will help make up a group that holds just 25% of today's computer occupations in the United States. Like the woman she met at the high school workshop years ago, Vommi is working to open doors for future generations of girls and women who want to study and work in computer-related fields. 
"Himani is absolutely a role model for other women in STEM," said Landmesser. "She has taken part in STEM events at local high schools and spoken with accepted Penn State Brandywine students, as well."  
Vommi points to Mary Kotch, a lecturer in cybersecurity, as a source of inspiration to pursue a STEM career, and to support other women within the field. 
"The advice and support Mary's given me motivated me to pursue cybersecurity within my internship at Lockheed Martin," she said. "Her advice and insight encouraged me to reach out and continue asking about opportunities on my team." 
In a similar way, Vommi helped a classmate overcome some obstacles in her own journey within the cybersecurity field. 
"I said to her, 'If you're scared and excited to do something, then do it,'" Vommi said. "She was able to take that advice and make advances toward her career and reach out to an employer. 
"It feels like passing a torch, the way I gained inspiration from a leader in cybersecurity and was then able to motivate another female student in the field. It is a wonderful sequence that I hope to continue to be a part of."