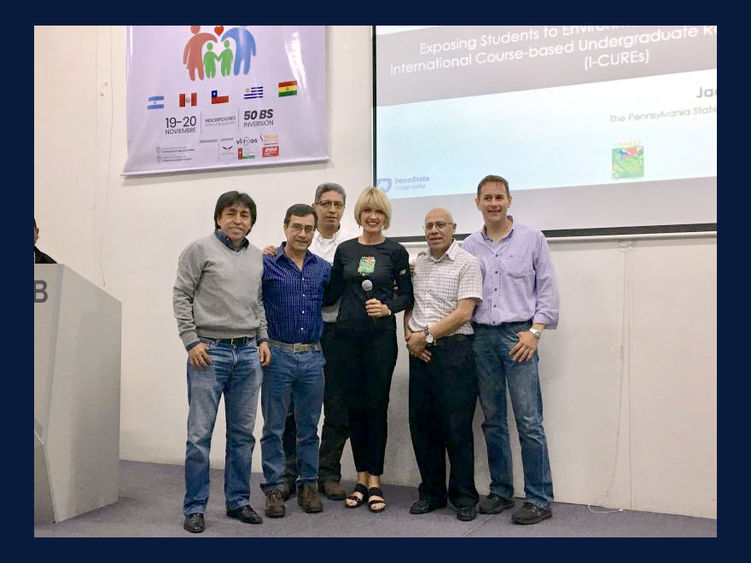 UNIVERSITY PARK, Pa. — Penn State Commonwealth Campuses have a plethora of research programs in science, technology, engineering and mathematics at the undergraduate level.
The University College at Penn State is the collective administrative umbrella for 14 of Penn State's campuses distributed throughout the commonwealth. Housed in the Office of the Vice President for Commonwealth Campuses, it includes Penn State Beaver, Brandywine, DuBois, Fayette, Greater Allegheny, Hazleton, Lehigh Valley, Mont Alto, New Kensington, Schuylkill, Scranton, Shenango, Wilkes-Barre and York, with more than 8,000 Penn State students attending classes at a University College campus.
Penn State Brandywine: Earth science
Among those faculty conducting research in the University College is Laura Guertin, distinguished professor of Earth science at Penn State Brandywine, who began mentoring students at her campus in 2001, having assisted over 50 student researchers.
She works with students in their first two years who are interested in majoring in any of the programs in the College of Earth and Mineral Sciences. The students have only had introductory-level courses in the discipline, meaning that the type of project is shifted to match the level of their specific knowledge within said area of study.
Guertin said she enjoys working with first and second-year geoscience/Earth and mineral science majors at Brandywine. She said she understands that these students are just starting to acquire the discipline's subject matter, working with them to further develop their knowledge and skills, in addition to collaborating with them in establishing a project that is appropriate for their foundation.
"Six of my student researchers have been recognized with an Award for Excellence in Student Research from the Geoscience Division of the Council on Undergraduate Research," said Guertin, noting that it is a national honor. "I've taken several students to present their research at local-to-international conferences. These students have been co-authors on journal articles, too."
Penn State New Kensington: Electro-mechanical engineering technology
Nearly four and a half hours away in the southwestern portion of Pennsylvania, Joseph Cuiffi, an associate teaching professor and program coordinator of Penn State New Kensington's Electro-mechanical Engineering Technology (EMET) Program, is managing new ways to keep his researchers engaged. There, he develops learning activities for students for smart manufacturing, teaching undergraduate students how to build equipment and develop data learning activities.
"EMET undergraduates were part of a team developing smart manufacturing educational materials for CESMII, the Smart Manufacturing Institute," Cuiffi said. "It presented an opportunity for them to learn about advanced topics in engineering that they wouldn't have seen otherwise, such as the Industrial Internet of Things (IIoT) and data analytics for manufacturing. They also saw that their work became part of a national content repository and the foundation of a new elective class for EMET their major. From my point of view, their perspective in developing learning exercises helped me to design the materials for a broad audience."
Penn State Schuylkill: STEM research
At Penn State Schuylkill in northeastern Pennsylvania, 17% of undergraduate students conduct research under faculty mentorship outside of class. Coordinating the effort is Lee Silverberg, professor of chemistry, division coordinator of the campus' STEM programs and chair of the undergraduate research council. Through the council, Silverberg and other faculty members identify ways to increase engagement in undergraduate research.
Several faculty members in Penn State Schuylkill's STEM majors are conducting research alongside students in areas including biology, chemistry, physics and computer sciences. Research crosses all disciplines at Schuylkill, not just the sciences — other research work includes projects in criminal justice, psychology and the humanities. Silverberg's research is in organic chemistry.
While the campus doesn't offer all four years of Penn State's chemistry major, Silverberg is able to work with students majoring in biology at Schuylkill, or those taking advantage of the University's 2+2 program. This allows Silverberg to work with students in their first two years of undergraduate studies to undertake research before they transition to a different Penn State campus.
"Most of my students are some other major, and a lot of them — not only are they undergraduates, but they are first- or second-year undergraduates," Silverberg said. "So, they're not even deep into classes yet. I work with first semester students in my lab." This early introduction to academic research sets students on a path to success throughout their studies, including application and admission to graduate studies and medical school, he said.
Penn State Lehigh Valley: Course-based undergraduate research experiences
Jacqueline McLaughlin, professor of biology at Penn State Lehigh Valley, is best known for her passion for teaching and mentorship to both students and faculty in undergraduate research. She shared that at her campus, numerous faculty members employ inquiry-based learning methods to engage students in creative research activities, e.g., laboratory research, field research, literature reviews, data analysis, mathematical and computational projects, and design and engineering projects.
"While 'research' may conjure images of white lab coats and notebooks, creative and effective approaches are now expanding the definition of undergraduate research to the modern and interdisciplinary world of higher education," she said. 
McLaughlin said her favorite approach is the Course-Based Undergraduate Research Experience (CURE). It's a learning arena in which whole classes of students address a research question or problem with unknown outcomes or solutions that is of interest to society. CUREs were devised to address a major goal of national reform efforts in life science education to expand research involving undergraduate students.
She said she enjoys not only developing and implementing novel CUREs for her students but assessing their benefits (student outcomes), such as acquisition of research skills, workforce skills, independence and critical thinking. She also created a "Four-step CURE Pedagogical Framework" to help orient and guide other instructors through the process of designing and implementing their own CURE.
McLaughlin builds, implements and assesses CUREs internationally as well — with the start of CHANCE, Connecting Hand and Nature through Conservation Experiences, in 2004.  CHANCE is an award-winning, international program which trains students in environmental sustainability and conservation biology with more than 65 governmental, non-governmental, academic, and corporate partners and collaborators around the world.
She has developed and led short-term study abroad programs to Alaska, Australia, China, Costa Rica, Cuba, Ecuador, Galapagos Islands, Panama, Peru, Romania and Tanzania (and soon Greece) wherein students have researched issues related to deforestation and loss of biodiversity, lake eutrophication and water pollution, desertification, global climate change and coral bleaching. 
"What I have personally learned from CHANCE is this: Our world's ecosystems are broken or are breaking," said McLaughlin. "Nature yearns for sustainability; meaning that humans live in harmony with her. Undergraduate research in a global context is important because students are given the opportunity to unmask the anthropogenic means of an ecosystem's demise and use this knowledge to effectively work and advocate for nature's restoration. CHANCE participants give me hope for tomorrow. Many have become, and many will become, the agents of change that our world desperately needs."
The importance of connecting courses and undergraduate research in STEM is vital to the students' success, added McLaughlin.
"Six of my student researchers have been recognized with an Award for Excellence in Student Research from the Geoscience Division of the Council on Undergraduate Research," said Dr. Guertin, noting that it is a national honor. "And I've taken several students to present their research at local-to-international conferences. These students have been co-authors on journal articles, too."

—Laura Guertin , distinguished professor, Earth sciences, Penn State Brandywine