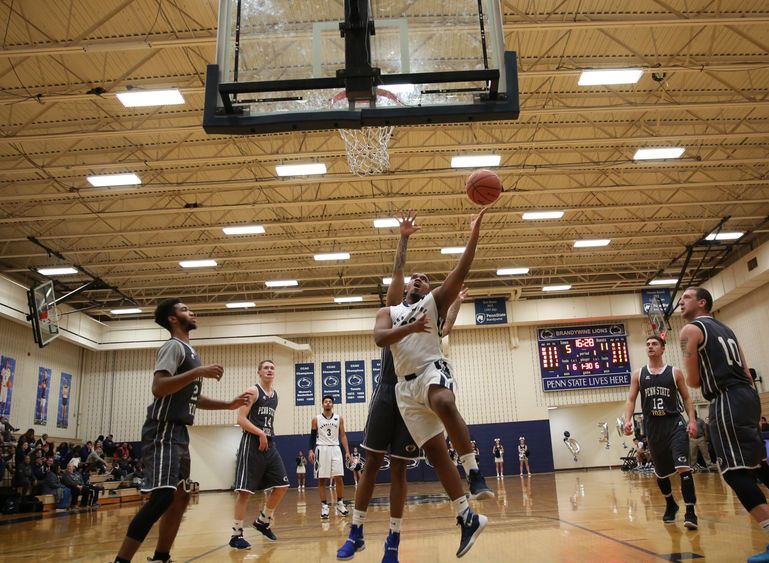 MEDIA, Pa. — The Penn State Brandywine men's basketball team will have an opportunity to play an NCAA Division I opponent when the Lions travel to the historic Palestra in Philadelphia to face the University of Pennsylvania on Nov. 18. The Lions and Quakers will face off at 11:30 a.m. in an opening-round game of the BD Global Gulf Coast Showcase.
Playing its first-ever game against a Division I opponent, first-year Head Coach Ben Kay's team will face a tough test against the 25-time Ivy League champions.
"We have many players from the Philadelphia area who grew up watching high school and college games being played on the Palestra floor. This gives these players the chance of not only fulfilling their dream of playing at the Palestra, but also the chance to play in a Division I game," said Kay.
Brandywine men's basketball has played at the Palestra five times since 1995, most recently on Jan. 20, 2005, suffering a 55-48 setback to the Quakers' junior varsity squad. Each of the teams' meetings at the Palestra came while Brandywine was allowed only two-year eligibility for student-athletes by Penn State University Athletic Conference rule.
"This is an incredible opportunity to play in the most historic gymnasium in college basketball. Playing and coaching in the Palestra, 'the Cathedral of College Basketball,' is any young kid's dream, and we are so excited to make this dream become a reality," Kay said. "We are thankful that Coach Donahue is giving us this experience and look forward to the challenge."
Opened on Jan. 1, 1927, the Palestra has hosted more NCAA basketball games, visiting teams and NCAA tournaments than any other arena in the United States. It is the third-oldest college basketball arena still in use today in the country.
"When Coach Ira Bowman from Penn called me to ask if we were interested in playing Penn this season, the feeling was surreal. Not only is this my first year as a head coach, but the second game of my coaching career is going to be at the Palestra against a top-notch program," said Kay. "I could not be more grateful to experience this and it is truly a once-in-a-lifetime opportunity. Without the help of Athletic Director Sarah Kurpel this would not be possible, and I cannot thank her enough for making this happen."
Brandywine returns seven players from last year's team that finished in a tie for 10th place in the Penn State University Athletic Conference. Prior to their trip to the Palestra, the Lions host NCAA Division III McDaniel College to open the season at 7 p.m. on Nov. 15.
Click here for the complete 2017-18 Penn State Brandywine men's basketball schedule.