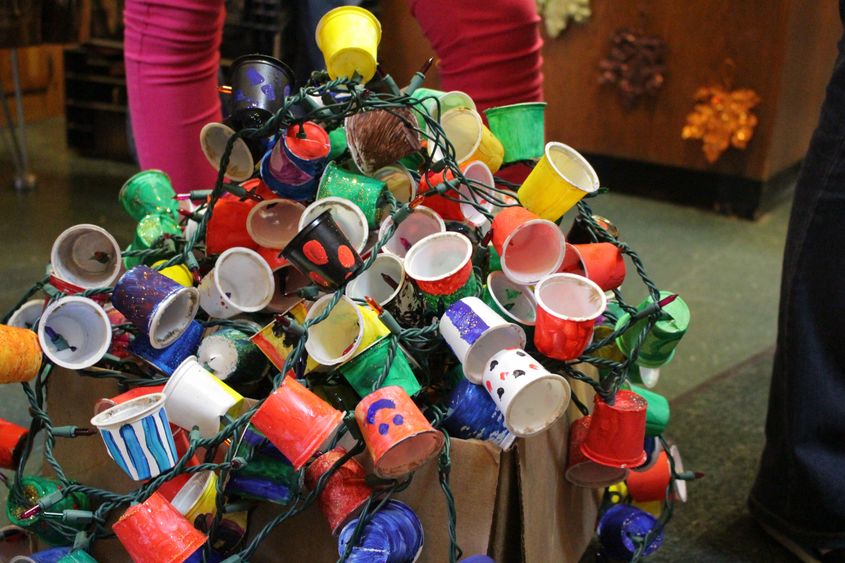 MEDIA, Pa. — Penn State Brandywine students, faculty and staff decorated sustainably this holiday season at Tyler Arboretum.
From July to October, Brandywine faculty and staff collected about 2,000 used Keurig K-Cups with the intention to repurpose each to keep the single-serve, plastic brewing pod out of landfills. The initiative was created with this year's common read book in mind, "Garbology: Our Dirty Love Affair with Trash" by Edward Humes.
With the help of the common read committee, Penn State Brandywine Lion Ambassadors and members of the Latino Club, the K-Cups were cleaned and the coffee grounds were composted for Brandywine Honor's Garden. By the end of October, about 400 of the cups were also given a holiday facelift by Brandywine students. The remaining K-Cups were recycled through the Grounds to Grow program.
The revamped K-Cups—now tree ornaments— were attached to strands of lights, and added to a tree at Tyler Arboretum on Dec. 1 by Brandywine students.
"Despite the rain, the students enthusiastically decorated the tree and opted to take a stroll around the arboretum to explore," Jenn Traubel, assistant coordinator of advising programs and common read committee member, said. "The common read committee and Tyler Arboretum staff are so appreciative of their excitement and spirit. The tree looks so festive for the season."
Tyler Arboretum felt strongly about the message found in "Garbology" and wanted to share its message with its visitors by displaying the K-Cup tree.
"Tyler Arboretum's mission is 'to preserve, develop and share our diverse horticultural, historic and natural site resources in order to stimulate stewardship and an understanding of our living world,'" Amy Mawby, director of public programs at Tyler Arboretum, said. "Recycling, composting and reusing materials are an integral part of Tyler's environmental practices and institutional values. This project promotes stewardship of our living world and in both our visitors and Penn State students. It's a great example of how awareness of an issue can lead to action."
On Jan. 4, the common read committee will dismantle the tree and recycle the K-Cup ornaments. The committee is looking for someone to adopt the artificial tree for future use, postponing its appearance in a landfill for as long as possible. The project used a donated artificial tree instead of cutting down a live tree, in keeping with the Tyler Arboretum mission.