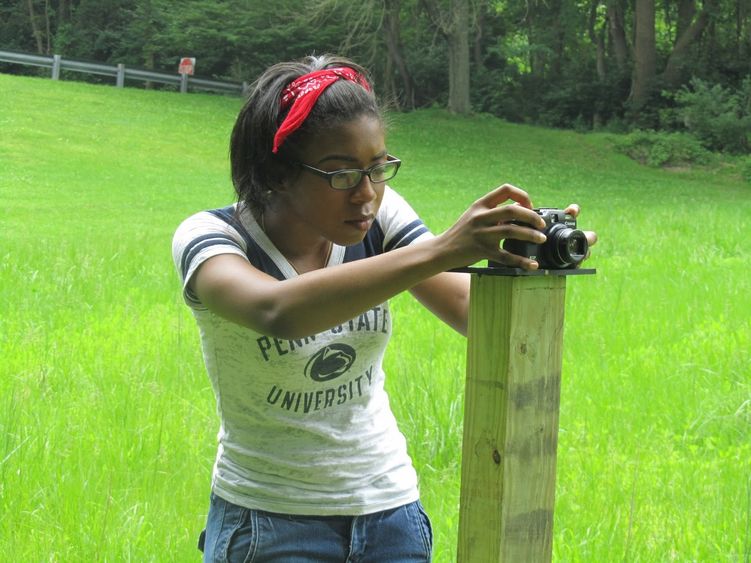 Kimberly Bowen, an upcoming junior at Penn State, recently received the Council on Undergraduate Research - Geosciences Division (GeoCUR) Award for Excellence in Student Research for her work establishing four Picture Post Project locations at Penn State Brandywine.
A Picture Post is an eight-sided platform for taking repeat photographs of the entire landscape and the sky. The goal of a citizen science project like Picture Post is to connect both the general public and professional scientists in the collection and analysis of data relating to the natural world. According to Laura Guertin, who granted the research opportunity to Bowen in the summer of 2014, "the data collected will provide an environmental baseline of the campus landscape, which is critical to have before major construction projects begin and to track the impact climate is having on the timing of seasonal changes over the years."
Along with being one of 16 national undergraduate students to receive the GeoCUR award, Bowen also was able to present some of her early findings at the American Geophysical Union (AGU) Fall Meeting in San Francisco in December 2014 and also has been featured as part of the AGU Postcards from the Field 2015 Calendar.
Although Bowen will be transferring to University Park in the fall to continue pursue a degree in broadcast journalism, she still hopes to see the project continue.
"I truly desire for the project to grow and live up to its name: the Citizen Science Picture Post Project," said Bowen. "It has been tough getting others in the Brandywine community to participate. What I really want is to look on the website some time from now and see other members of the community getting involved with the community and becoming more aware of their home environment."
For more information about sustainability efforts at Penn State, visit sustainability.psu.edu.