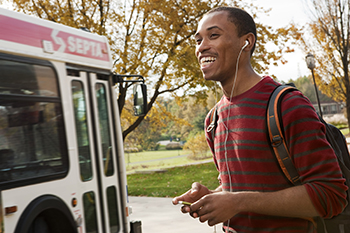 While many students live nearby, others travel daily for an hour or more each way. Students commute to campus from various parts of Pennsylvania, Delaware, and New Jersey. For those who wish to live on campus, our new residence hall will open for the fall 2017 semester.
Students are encouraged to stay on campus between classes to study, use the library and computer labs, make use of Brandywine Learning, the STEM Lab, or Writing Studio, meet with faculty members and academic advisers, eat lunch in the dining hall, get involved in clubs, organizations, or athletic teams, and attend campus events and programs. Student lounges are available in each building on campus.
Commuting by Car
For students with access to a car, parking on campus is free and plentiful. Parking permits are issued on a yearly basis. Information on parking regulations and how to obtain a parking permit will be issued to new students on New Student Orientation Day.
Commuting by Bus
Many students travel to campus by bus. Some have even developed close friendships with other commuting students and learned they can get a lot of studying done en route!
SEPTA (Southeastern Pennsylvania Transportation Authority) bus service is available with a stop in front of the Commons Building. SEPTA's Bus Route 110 (local) and 111 (express) serve Penn State Brandywine and provide service from the 69th Street terminal in Upper Darby on weekdays between 7:00 a.m. and 6:00 p.m.
The 110 also makes a connection with the 101 Trolley and R3 Rail Line in Media, and at the Granite Run Mall, where you can also make connections for the Route 117 Bus from Chester.
Visit SEPTA's website for complete route information and current schedules.