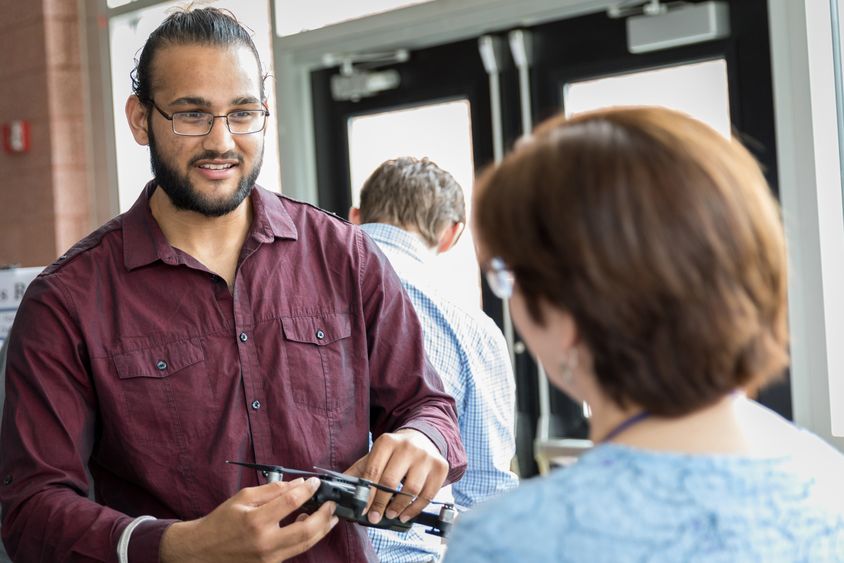 MEDIA, Pa. — Penn State Brandywine students had the opportunity to present their research to the campus community at Brandywine's annual Exhibition of Undergraduate Research Enterprise and Creative Accomplishment (EURECA) on April 9.
This year's event featured 21 poster presentations from students in academic programs such as biology, engineering, human development and family studies, psychology, and more. At the end of the showcase, the top two projects from each of the three project categories were honored.
Cynthia Lightfoot, director of academic affairs, was thrilled to see a wide variety of projects presented at the event and was impressed with the undergraduates' work.
"Engaging in research and other creative activities is a critical element of the Penn State Brandywine experience," Lightfoot said. "These activities inspire questioning and curiosity, promote deep analysis, and lead to new ways of understanding and experiencing ourselves and the world we live in. Our students have opportunities to engage in these activities with faculty scholars who possess national and international reputations in their fields of study."
"Equally important to the experience of participating in research and acquiring new skills is learning how to effectively communicate ideas and results to a broad audience," added Assistant Professor of Biology Mick Yoder, who served as chair of the EURECA committee. "EURECA provides an excellent platform for students to share their research to a very diverse audience."
The EURECA 2019 winners were:
STEM Category
First place: Thomas England, "Autonomous Car Prototype"
Second place: Jasmine Null, Joseph Pitts, John DiMaio and Madeline Malfara, "Organelle Dynamics in Single-Celled Kinetoplastid Parasites"
Enterprise Category
First place: Victor Ficarra, "Irish Study Abroad: Prospects for Multinational Firms Investing In Ireland"
Second place: Anmol Singh and Jordan Knecht, "Drone Forensic Analysis"
Social Sciences Category
First place: Jasper Flint, "Trans and Gender Nonconforming Community, Resilience, and Political Engagement"
Second place: Clara Tran, Bryanna Luistro, Ava Harris and Sophia Nouri, "Assessing The Effectiveness Of Childhood 'Educational' Apps Based On Scientific Principles Of Learning"