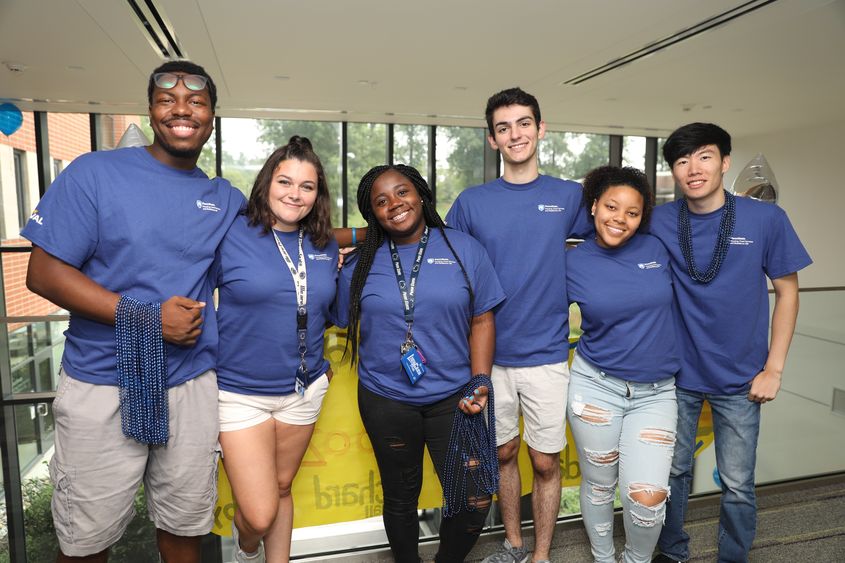 MEDIA, Pa. — Creating a "home away from home" atmosphere for students from around the world, Penn State Brandywine's resident assistants (RAs) juggle many roles, including college student, counselor, mentor and campus resource.
"It's exhausting, but very fulfilling," explained Alexa Moreschi, one of six RAs in Orchard Hall. "I've made great relationships with my residents. I've seen them grow from freshmen who didn't really know much about the campus, and now they're able to show other students around. My residents reached out and came to programming and they found where they fit in."
About 230 students live at Orchard Hall, Brandywine's four-story, 73,000-square-foot residence hall that opened in August 2017. Around 65 percent of the residents are first-year students and some hail from as far away as China and Africa, according to Amber Nikolaus, Brandywine's residence life coordinator.
"It's been interesting. I've gotten to know the residents and become close with them, and it's been a good experience," said Kennedy Cherry, an RA. "The newcomers have grown a lot and they've become much more independent. They don't hesitate to ask questions."
To become part of Brandywine's residence life staff, interested students must enroll in Higher Education 302 (Roles of the Resident Assistant: Theory and Practice), a three-credit leadership course that is offered each spring. After successfully completing the course, students chosen to be an RA can serve in the position for up to two years at any Penn State campus. RAs have various important responsibilities, some of which include:
Building a residential community by developing educational, social and cultural events for residents.
Assisting residents with academic, personal and social matters and serving as a resource and referral mediator.
Educating residents on University regulations and policies.
Staffing scheduled on-call shifts during nights, weekends and break periods when the University remains open to ensure coverage.
Serving as a visible role model and representative of the University.
"There's a huge amount of teamwork, creativity and collaboration between these six RAs," said Don Brennan, Brandywine's assistant director of residence life, who teaches the course Higher Education 302. After learning which current RAs would like to return for the following year and how many positions will be available, students who excelled in the class will be offered the open positions, according to Brennan.
Serving as an RA for 46 students, senior Betty Lloyd explained that she thought the job would be challenging because she's admittedly introverted. But now in her second semester, she finds the position easier than she expected.
"I like when you see a resident outside of the dorms and you sit down and have a conversation with them," said Lloyd.
Fellow RA Branden Hughes, who took the position to challenge himself, agrees with Lloyd.
"The best part of the job is being with the residents. They make it rewarding," said Hughes.
The addition of Orchard Hall, as well as the Student Union that opened at the same time, has created more of a community atmosphere at Brandywine.
"I see students hanging out on campus more. Many used to just come to class and then go home," said Kevin Jeong, an RA.
Brandywine's small campus, as well as the residence hall, were some of the main reasons why Lian Kiziroglou choose to attend the school. Now an RA, Kiziroglou explained, "The size of the campus is perfect. I didn't want to go to University Park because of how big it is. I like having class five minutes from the dorms."
Moreschi agreed, adding, "I love Brandywine for its size. It's why I came here. You see the same faces all the time, and you get to know each other faster."