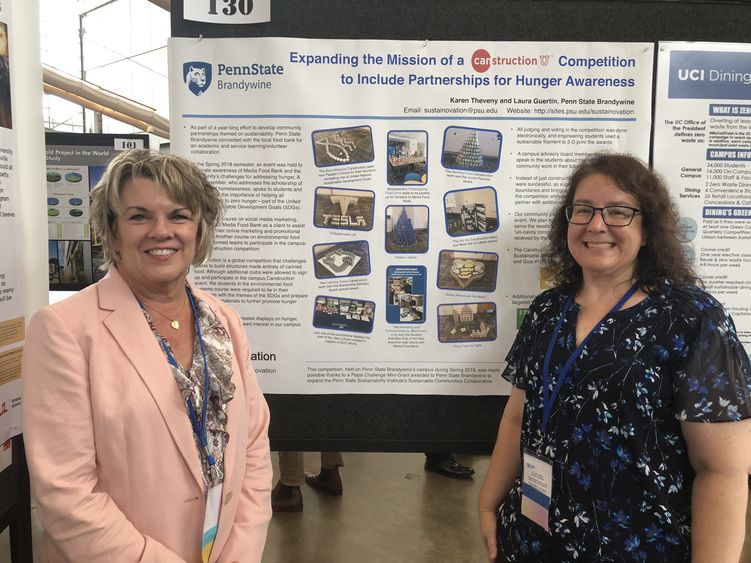 MEDIA, Pa. — In early October, two Brandywine faculty members presented research at the 2018 Association for the Advancement of Sustainability in Higher Education conference (AASHE).
According to its website, AASHE's annual conference draws roughly 2,000 participants every year, making it North America's largest exchange of models, policies, research and collaborations that advance sustainability in higher education and surrounding communities.
Brandywine Professor of Earth Sciences Laura Guertin and Lecturer in Communications Karen Theveny engaged with audience members through poster sessions and a formal presentation.
"This is the first time Penn State Brandywine has presented at AASHE," said Guertin. "It's exciting to see that we have advanced so much in our campus sustainability initiatives and successes that we're presenting our work at the national level."
The presentation, "Measuring Student Attitudes Towards Sustainable Development With a One-Semester Sustainovation," used several of Brandywine's recent projects — such as tech upgrades at Ridley Creek State Park and a series of student essays about the U.N. Sustainable Development Goals — to open dialogue about engaging college students in sustainability efforts.
Guertin and Theveny also showed a documentary film about a volunteer project at Tyler Arboretum, which was made by one of Theveny's communication classes. They shared the results of a validated survey that Guertin administered at several of the Brandywine events. The survey measured participants' attitudes towards sustainability before and after participating in each project.
"The audience was very interested in the validated survey results," said Theveny. "Our audience felt that the film was a fun, well-crafted, tangible product showing what sustainability and local partnerships mean to Brandywine."
In a separate session, Guertin and Theveny presented a poster together, explaining the campus' Canstruction project in greater detail.
"Laura and I answered many questions about how we handled Canstruction at the University level," Theveny said. "We learned that Brandywine's Canstruction competition is apparently unique in terms of scope and inclusiveness."
Finally, Brandywine's Sustainovation program was included on a poster for Penn State's Sustainable Communities Collaborative, which highlighted the statewide reach of Penn State's sustainability efforts at five campuses.
"I was proud to be representing Penn State at AASHE," said Theveny, "especially as the University's efforts seem to be making news and making an impact."