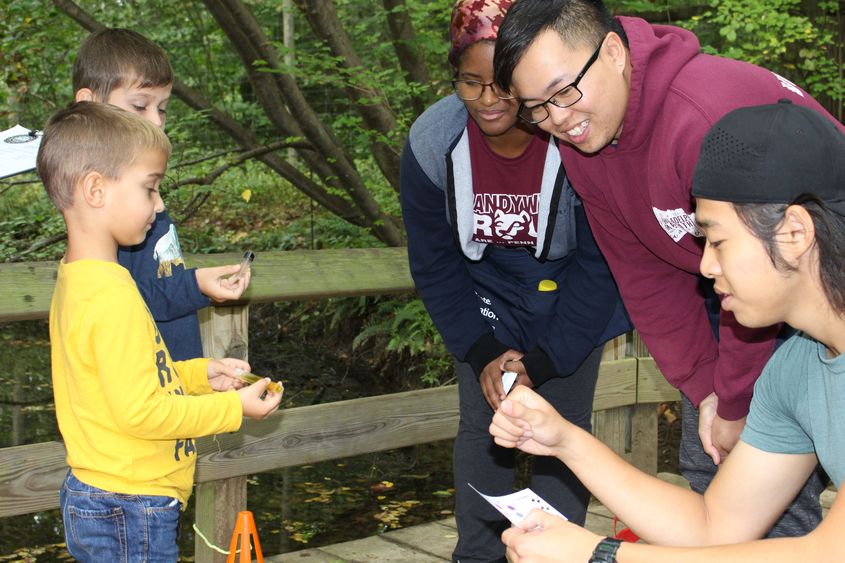 MEDIA, Pa. — Last March, inclement weather forced Penn State Brandywine and Tyler Arboretum to cancel a community event commemorating United Nations World Water Day. Rather than give up, the event planners rallied to schedule a postponed celebration in October — and this time, the weather cooperated enough for a real celebration.
Penn State Brandywine faculty members Ivan Esparragoza, Laura Guertin and Karen Theveny, along with 10 student volunteers, ran a water-themed scientific activity day for local families at Tyler Arboretum.
After learning about the water cycle, families were given water testing kits and sent to four different sites on the arboretum grounds. At each site, student volunteers helped the families use their kits to test bodies of water for dissolved oxygen, pH, temperature and turbidity.
Participants were then encouraged to enter the results of the water tests in an online database through EarthEco International, a nonprofit organization with more than 140 participating countries.
"When I checked the database that night, at least one family from Tyler Arboretum had already entered their data," said Professor of Earth Sciences Laura Guertin. "Scientists are using this database to understand what's going on with water sources around the globe."
The water testing kits, which also included materials for families to continue water research at home, were provided to attendees free of charge through Brandywine's PepsiCo Grant.
According to Guertin, the project sparked many meaningful conversations about the role of clean water and human responsibility in Delaware County and beyond.
"We can't exist without water — especially clean water," she said. "This kind of research helps us make the most of the world's water resources."
Guertin also heard parents and children express interest in continuing the project on their own time.
"We had great conversations with families saying, 'This could be a school project!' or 'I could do this every month at the river by my house!'" she said. "Parents were thinking through ways to engage with their kids via science, and that's awesome."
The World Water Day activity was the most recent in a series of events held in conjunction with Tyler Arboretum over the last year. As Brandywine faculty, staff and students have returned to the arboretum, they have seen an uptick in families expressing interest in the campus.
"We were asked, 'What else does Penn State do? How often are you here at Tyler?'" she said. "It's wonderful that people know us and are interested in our sustainability outreach efforts."
Brandywine faculty and staff will return to Tyler Arboretum later this month for its annual Pumpkin Days event — this time, leading an innovative activity station about energy usage and consumption in the home. It will include a pinwheel-building craft activity for children.
"That's the mission of Penn State," said Guertin. "We are a land-grant institute. We're supposed to go out and work with the people in the Commonwealth of Pennsylvania. It has been a privilege to carry out that mission with Tyler Arboretum over the years."