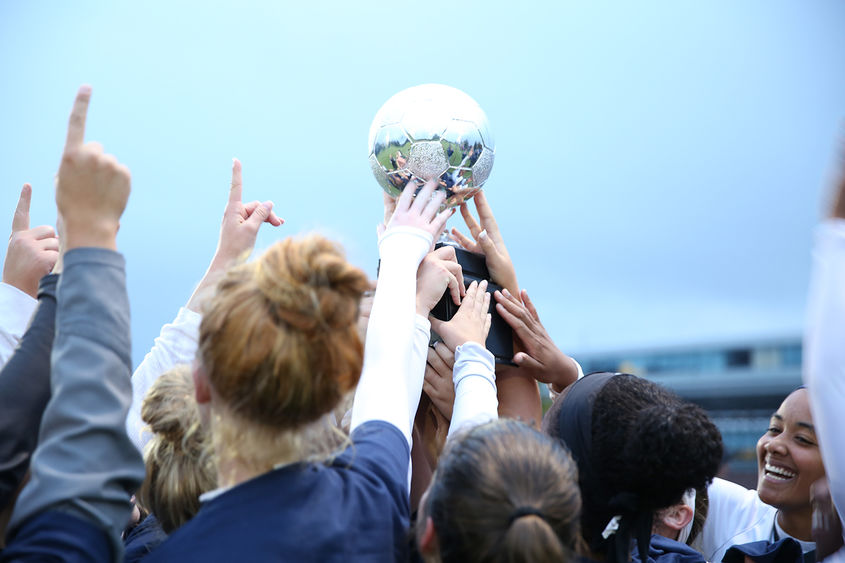 MEDIA, Pa. — What can they do for an encore? That is a question that will begin to be answered this week when the six Penn State Brandywine fall varsity sports begin their respective 2018 seasons after winning three fall championships, while the three team sports combined to win every game against Penn State University Athletic Conference opponents last year.
Brandywine had the best fall in department history in 2017 as the men's soccer (11-0), women's soccer (7-0) and volleyball (18-0) teams won all 36 conference matches en route to winning PSUAC titles. All three earned the league's automatic bid to the United States Collegiate Athletic Association National Championships in Virginia Beach, Va.
All three teams appear primed to once again be a force in their respective conferences this season, while the men's and women's cross country and men's golf teams continue to build toward winning PSUAC crowns.
Men's soccer
Brandywine men's soccer has won two-straight and four of the last five PSUAC championships, posting a 53-2-1 record against PSUAC foes during that time. The Lions welcome 11 returners, including all-American standouts James Cellucci and Rajbir Lohat, back to the roster, while third-year head coach Jesse Zafiratos brought in an 11-player recruiting class with many of those freshmen expected to push the returners for playing time immediately.
Brandywine enters the season riding a 31-game (30-0-1) unbeaten streak against PSUAC competition since its last conference loss on Sept. 19, 2015. The Lions eight non-conference matches are highlighted by games against former conference rivals Penn State Altoona and Penn State Abington. Seven of Brandywine's first nine games will be played away from home, including matches on back-to-back days in western Pennsylvania late in September against two of its biggest conference rivals: Penn State Beaver and Penn State Greater Allegheny.
Women's soccer
Brandywine women's soccer begins its fourth varsity season coming off a 10-2-2 mark and second-straight conference championship in 2017. Like their male counterparts, the Lion women bring a long unbeaten streak against league competition into the year, having won 19-straight matches over the last two seasons.
Elise Pratt was hired during the offseason as the team's new head coach. She has a wealth of talent returning, led by junior forward Brianna Banks, a two-time PSUAC Player of the Year. Also a two-time all-American, Banks owns 50 goals and 113 points during her career. Also returning are all-PSUAC standouts Arianna Segich, Rachel Weir and Emily Bush. Segich is the team's most experienced defender, while Weir is a two-time first team all-conference midfielder and Bush has been one of the top goalkeepers in the league during her first two seasons at Brandywine.
The team has stepped up the quality of its non-conference schedule quite a bit from previous seasons. All eight non-league matches will come against NCAA Division III teams, including three that reached the NCAA Tournament last season. Brandywine opens the year by hosting the College of New Jersey, the No. 3 ranked team in Division III and a three-time national champion.
Volleyball
Brandywine volleyball has also put together an ambitious non-conference schedule under second-year head coach Fabiana Scavicchio-Fields, playing 14 matches against NCAA Division III teams. The Lions will be road warriors during September as Brandywine is forced to play all 14 matches away from Media while its home gym renovations are completed. That will change in October when the team concludes the regular season with 13 of 16 matches on its home court.
Brandywine returns six players, including three seniors, all of whom earned all-conference recognition last season. Becca Civera switched positions, becoming the team's libero, and finished fourth in the conference with 274 digs, while Nicolette Napoleon set career bests in kills, digs, aces and blocks as a junior. Stark, who earned her second-straight all-conference nod, topped all PSUAC setters with 743 assists. She enters her final season with Brandywine needing 357 helpers to become the second Lion setter with 2,000 career assists.
Women's and men's cross-country
The Brandywine cross country teams begin the first season under Head Coach Tim Sanville on Sept. 1 at the Delaware Valley Invitational. Sanville was hired last winter and helped the Brandywine men's track and field team place eighth at the USCAA National Championships in May.
The women's team will be comprised entirely of new faces and will look to win its first conference championship since 2015, while the men's team returns two all-conference runners. Senior John Li is a three-time all-PSUAC and USCAA National Championship qualifier. He can become Brandywine's first four-time national qualifier this season. Sophomore Brendan Cleary, who set a school 8K record as a freshman, also reached the USCAA National Championship last year, finishing 78th in the 166-runner field.
The teams will compete in six regular season meets, highlighted by a trip to Lehigh University for the 45th-annual Paul Short Invitational in October, before the PSUAC championships at Penn State Mont Alto on Oct. 27.
Men's golf
Brandywine men's golf enters its second season since being reinstated as a varsity program. Last year, the Lions claimed seventh at the PSUAC Championship, while finishing 17th overall at the USCAA Championship.
First-year Head Coach Mark Rostick has last season's top two performers returning in sophomores Brad Dawson and Connor Sadoff. Dawson shot a season-low round of 80 on Penn State's White Course, while Sadoff's top round (84) came at Penn State Schuylkill's invitational. Overall, the Lion boast a 10-man roster, doubling last season's roster size.
Brandywine will compete in seven regular-season invitationals prior to the PSUAC/USCAA Championships in State College on Oct.8-9. The Lions open the season Sept. 6 on the University's White Course at the first of two PSUAC invitationals.
For more information on Penn State Brandywine athletics, visit psubrandywineathletics.com.