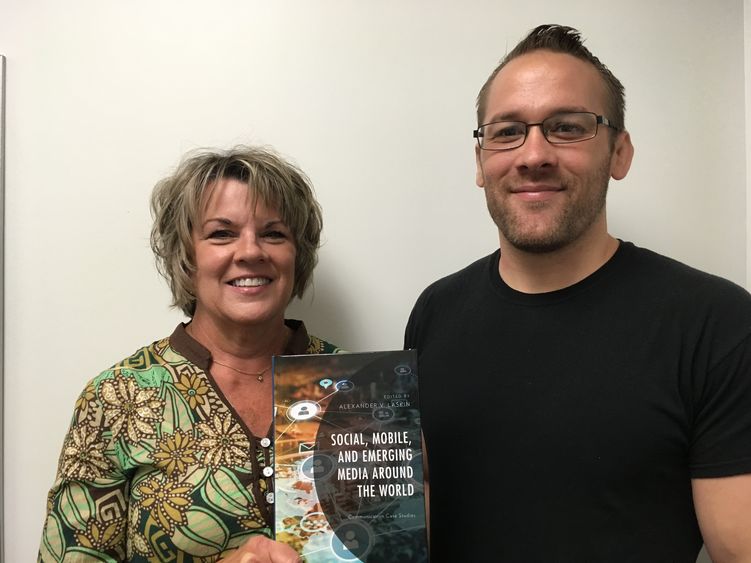 MEDIA, Pa. — Where is the line drawn between discussion and hate speech? What roles do government, social media companies and average people play in deciding? By documenting a new, controversial German hate speech law, two Brandywine faculty members are encouraging discussion about these important questions.
This year, Josh Phillips, assistant teaching professor of communication arts and sciences, and Karen Theveny, lecturer in communications, wrote a chapter for the newly published book "Social, Mobile, and Emerging Media around the World: Communication Case Studies." The publication is an edited collection of cutting-edge research on emerging media technologies and their international social impacts.
As Phillips and Theveny began their research, they were drawn to a case study from Germany — specifically, a social media hate-speech law that the country adopted in 2017.
"It's called the Network Enforcement Law, or NetzGD," said Theveny. "It was passed in October 2017 and just took effect in January."
The law requires operators of internet platforms with more than 2 million users to remove or block access to "obviously illegal content" within 24 hours of receiving a complaint. The difficulty, Theveny explained, lies in the definition of "illegal content," or hate speech — typically defined as any speech directed at racial, religious or ethnic groups that incites prejudice.
"That sounds good, but is messier than one would think," she said. "You can imagine the furor that ensued. Many companies are affected by this law, not just Twitter or Facebook."
Phillips explained that while most laws stay within the borders of a nation, Germany's law targeting social media stretches into the "territory" of countries all over the globe.
"Let's say I'm an American who posts on my German friend's Facebook page," he said. "Germany has no control over me as an American citizen, but if my post is deemed illegal in Germany, now Facebook has to respond to that."
For every instance that a social media company fails to take down "illegal content" in the 24-hour window, the company can face up to $55 million in fines.
"That's an egregious fine with a short deadline," said Phillips.
While the logistical aspects of the law are tricky, Theveny and Phillips see the legislation as the starting point for an even bigger conversation — the role of free speech in social media.
"The problem is that nobody can fully define what hate speech is," Phillips said. "Every other law has an objective definition. Robbery is a tangible crime, but hate speech is a subjective one. You might not even know you've broken the law until a judge rules that you've broken the law."
The German legislation was enacted in response to social media postings about the influx of refugees in 2017, many of whom were Muslim. German citizens saw an uptick in social media discussions about the refugees, including many heated criticisms of Chancellor Angela Merkel's policy.
"Obviously, there are types of speech like slander or threats that do need to be handled," said Phillips, "but it's a slippery slope between honest discussion and disparaging people."
Phillips cited religious debate as another case that challenges the German social media law.
"If I'm an atheist and argue against the nature of God, I'm disparaging all religions," he said. "And most faiths, by form, are inherently exclusive. When does denouncing someone else's idea turn into hate speech? In Germany, a few lawmakers at the top of the government are now making that choice for millions of citizens."
In addition to putting the power of decision in the hands of a few people, Phillips believes that such laws could compartmentalize many important global conversations.
"The promise of the internet was to enable worldwide conversations," he said. "But if my social media outlets are curated differently than other countries' because of restricted free speech laws, the world goes into its silos again. We lose a great source of access to global ideas."
While covering the law and its aftershocks for the book, Theveny found that German citizens seem less concerned about the imposition on free speech than researchers from other nations.
"That could be based on their history," she said. "They tend to be a nation of collective ideas more than individual freedoms."
She also noted that Germany has seen many different forms of censorship in the last 100 years, especially during World War I, World War II and in the second half of the 20th century.
With the book's official release, Theveny and Phillips hope that their coverage of the social media hate-speech law will challenge more students to think about global social media issues. For American students, they also hope the perspective on free speech will be valuable.
"In a world of 7 billion, the United States is only 320 million," said Phillips. "I hope that students understand that the idea of free speech isn't global. There are a lot of things we can say and do in the United States that students take for granted, including academic freedom."
"Social media is the fastest-growing new media form we've had in years," said Theveny. "I hope readers get a feel for the impact it is having on legislation, learning and global dialogue."