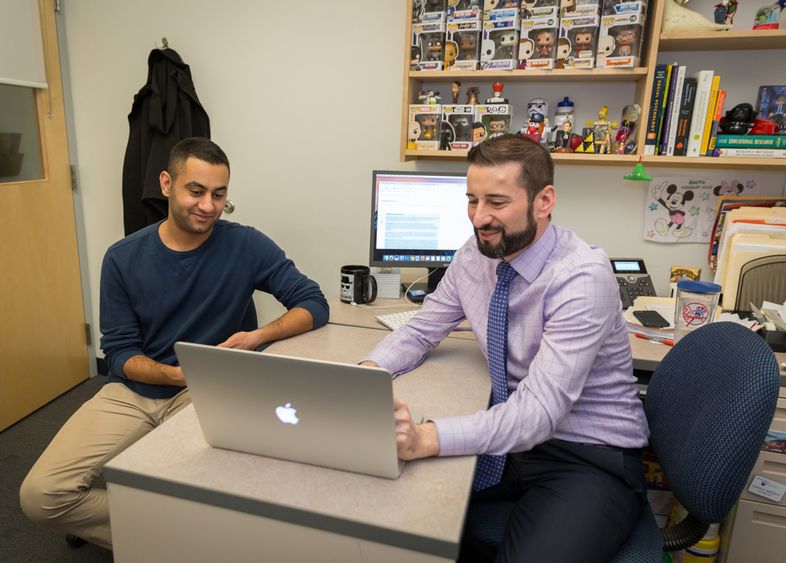 MEDIA, Pa. — Penn State Brandywine student Pedram Pouladvand won first place in the social science category at the Eastern Regional Undergraduate Research Symposium at Penn State Abington, where he showcased a research project he began in 2016.
Pouladvand's presentation, "The Effects of Energy Drink Consumption on Stress, Academic Behaviors, Sleep Patterns, and Some Physiological Outcomes," started as an independent research project with Assistant Professor of Psychology Joshua Marquit. Pouladvand investigated the impacts of energy drinks on college students, performing extensive background research on the subject and creating a survey to gather information about energy drink consumption from Brandywine students.
As Pouladvand's presentation revealed at the symposium, the research uncovered a correlation between energy drink consumption and stress levels.
"The data we gathered shows that there is a trend between the number of energy drinks the participants consumed and the perceived stress they experienced," he said.
The survey also revealed that as the number of drinks consumed by participants increased, the amount of hours they spent working also increased — but their grade point averages dropped. Surprisingly, participants who reported consuming energy drinks also reported better sleep quality than non-consumers.
While grateful for the first place award, Pouladvand most appreciates the opportunity this project gave him to work alongside the Brandywine faculty.
"Working with Dr. Marquit was definitely the most rewarding part of this research project," he said. "I was able to both develop and conduct research while also building a professional relationship with Dr. Marquit, who mentored me through the whole process."
Pouladvand, a psychology major, still has to complete his senior year before graduating. In the meantime, he plans to submit the data from his award-winning project for publication. He will also continue a biomedical internship at Nemours Alfred I. DuPont Hospital for Children.