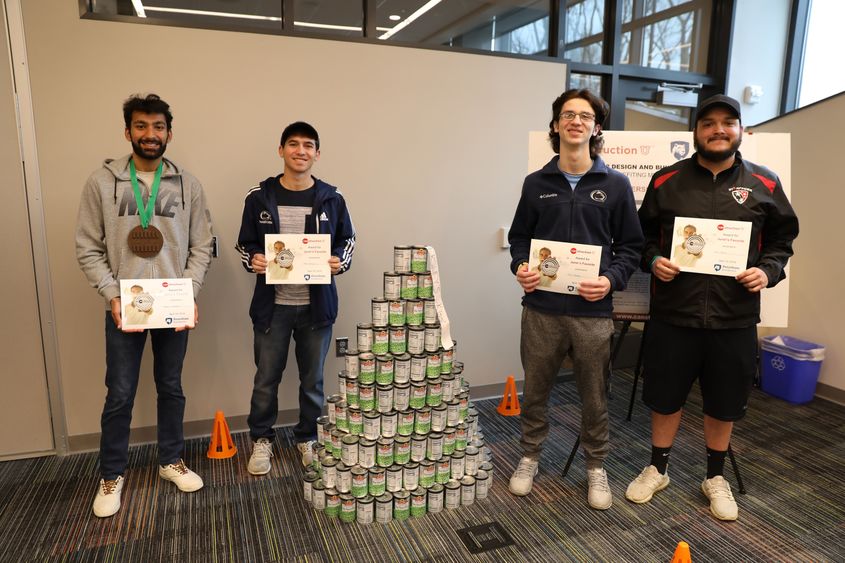 MEDIA, Pa. — Penn State Brandywine's Sustainovation Committee was recently recognized as a 2017-18 Campus Sustainability Champion by the Pennsylvania Environmental Research Consortium (PERC). PERC, a statewide leader in sustainability education, honored the Brandywine committee for an outstanding year of educational programs and initiatives.
The Brandywine Sustainovation Committee is a team of faculty and staff members that seeks to address the United Nations Sustainable Development Goals through engaged scholarship activities on and off campus. The committee uses sustainability-themed programming to instruct students, care for the environment and better the local community.
"We have a history of doing sustainability-related projects on campus, but we really increased our activities related to sustainability and the environment in the last academic year," said Laura Guertin, professor of Earth sciences at the Brandywine campus.
This year, thanks to support from a mini grant, the Sustainovation Committee was able to work with four community partners: Tyler Arboretum, Ridley Creek State Park, the Pennsylvania Earth Science Teachers Association and Media Food Bank.
At Tyler Arboretum, Brandywine faculty, staff and students led a "sustainability research station" exploring the environmental benefits of using paper straws instead of plastic. The activity reached more than 800 visitors and even made a lasting impact on the arboretum.
"Tyler Arboretum no longer uses plastic straws or stirrers," said Guertin. "As a direct result of our project, they switched to eco-friendly wooden stirrers and paper straws."
At Ridley Creek State Park, students are creating a new web-based tour on tree biodiversity for the roughly 950,000 visitors who utilize the park every year.
For the Pennsylvania Earth Science Teachers Association, Brandywine students wrote sustainability-themed curricular materials. The curriculum was then made available to more than 900 K-12 teachers who are members of the association.
Finally, Brandywine hosted a CanstructionU competition in April. Students built sculptures out of canned goods, which were used to spark conversations about chronic hunger, fair trade and sustainability in Delaware County. After the competition, the sculptures were disassembled and the cans were donated to Media Food Bank.
A fifth event celebrating World Water Day was canceled because of a nor'easter, but the committee plans to relaunch the event this fall.
According to Guertin, the most rewarding part of this year's programming has been the chance to grow positive relationships with the Brandywine campus' local neighbors.
"When Media Food Bank came to pick up the 2,225 cans of food, they immediately said, 'Same time next year?'" said Guertin. "Tyler Arboretum also has plans to work with us again next year. That mutual interest in sustainability has been encouraging."
Guertin also emphasized the committee's efforts as a reflection of Penn State's University-wide commitment to making a difference academically, socially and environmentally.
"We're a land-grant University. That means we take our knowledge and skills and share them with the communities around us," she said. "We're not just about words on paper. We really do put those words into action, and those actions make a difference."