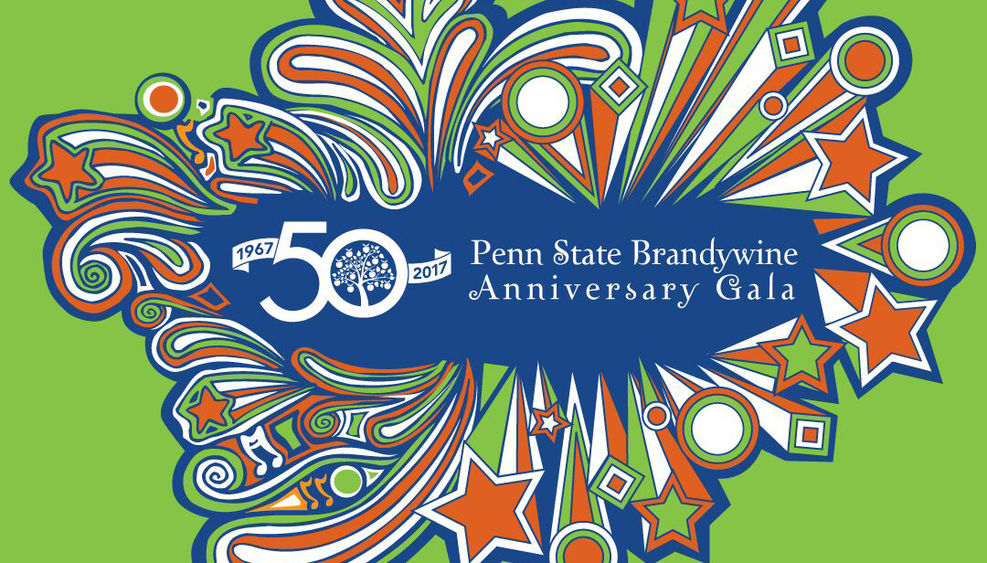 MEDIA, Pa. — Penn State Brandywine will host its 50th Anniversary Gala at 6 p.m. on Friday, May 11. The 1960s-themed, black-tie-optional evening of food and entertainment will be held in the campus' new Student Union. Proceeds will benefit Brandywine's emergency scholarship fund, which assists students who experience an unforeseen financial hardship.
The gala brings together faculty, staff, alumni, campus friends and community members for a night of celebration. The event is from 6 to 10 p.m. and is open to the public. It will feature dinner, live music, dancing and a silent auction.
This year, Brandywine will honor three outstanding individuals or organizations with the first presentation of the Lion's Heart Awards.
The Dedicated Service and Leadership Award, which recognizes a Brandywine benefactor who demonstrates exceptional generosity, dedication and civic vision, will be presented to Gerald "Jerry" and Eleanor Parsons. Jerry Parsons is chairman and CEO of Communications Test Design Inc., a global engineering, repair and logistics company based in West Chester, Pennsylvania, and a 1974 Penn State engineering graduate who attended Brandywine. The Parsons have played an integral role in growing the campus, including a significant gift made to Brandywine for the new Student Union dining hall.
The W.W. Smith Charitable Trust will receive the Community Partner Award, which recognizes a business or foundation that has modeled partnership, philanthropy and support of Brandywine and its students. The W.W. Smith Charitable Trust is a private foundation established by William Wikoff Smith. One of the trust's focus areas is supplementing higher education scholarship programs.
The Young Alumni Award, which recognizes a Penn State graduate who completed their degree within the last 15 years and attended Brandywine, will be presented to Shawn Manderson for his outstanding professional achievement, dedication to community service and impact within the Penn State community. Manderson, a 2003 graduate, served as president of the Brandywine Alumni Society and played a vital role in the society raising $50,000 for student scholarships. He is a current member of the Brandywine advisory board.
To support the gala through sponsorships, advertisements or auction items, contact the Penn State Brandywine development office at 610-892-1253 or [email protected]. For additional information or to purchase tickets, which are $125 per person, visit brandywine.psu.edu/gala.
Penn State Delaware County, as it was originally known, began classes on Sept. 25, 1967, in temporary classroom space under a roller skating rink in Chester with 236 students and 11 full-time faculty members. The campus moved to its current location in December 1970 and the name was changed to Penn State Brandywine in 2007. Now enrolling about 1,500 students, the campus offers 12 four-year degrees and opened its first residence hall last year.