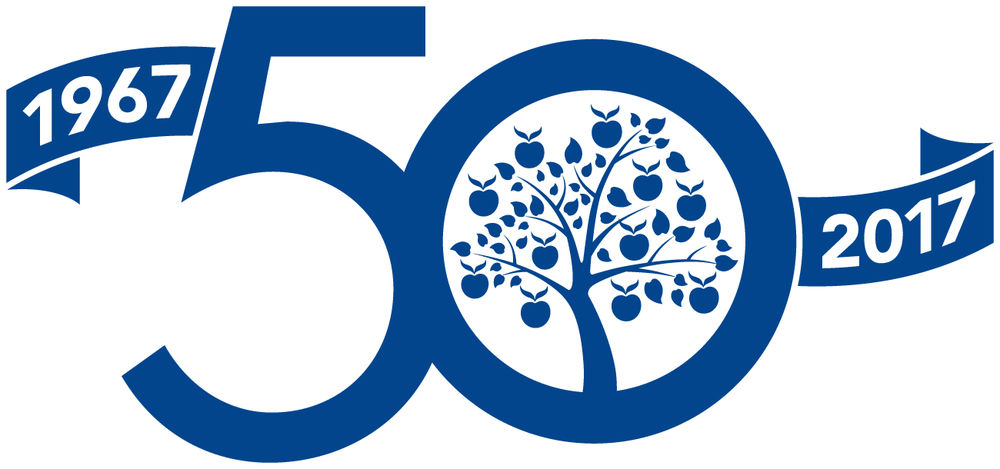 MEDIA, Pa. — Penn State Brandywine recently launched a yearlong celebration of its 50th anniversary with a tip of the hat to fashion trends over the five decades since the campus was founded in 1967.
For the past couple of years, Brandywine has displayed banners in each campus building featuring students and their accomplishments. Last summer, Bill Tyson, director of marketing and communications, and Mike McDade, public relations specialist and campus photographer, decided the next round of banners should feature students wearing period attire.
With a sense of style limited to khaki pants and button-down shirts, Tyson and McDade readily acknowledged they were ill-equipped to undertake a fashion project. They quickly called upon Penn State alumna Meaghan Daly, who had just completed her communication arts and sciences degree at Brandywine in August 2016. Daly is passionate about fashion and style. She started her own design company while a Brandywine student and participated in New York Fashion Week in 2015.
Using research skills she acquired through her major, Daly began to explore clothing, hair and jewelry styles from the '60s, '70s, '80s, '90s and 2000s.
"I used books and fashion magazines such as Vogue and Harper's Bazaar from different eras, looked at photos online and from Brandywine's archives, and asked my family members from different generations about looks from the decades they grew up in," Daly said. "I also listened to music from every decade when designing so I could better understand the impact that music had on fashion at the time."
The Media Music Theatre Company, a local professional theater, gave Daly access to its extensive costume shop. She was able to borrow items ranging from dresses, jackets, shirts and pants to shoes, hats and glasses. She also used clothing inherited from her great aunts and borrowed from her mother and brother, along with items she made herself or bought from local thrift stores.
With old photos as a guide, Daly used her sewing skills to duplicate uniforms worn by the basketball and volleyball teams in the late 1960s and early 1970s, when the campus was known as Penn State Delaware County.
As she assembled the clothing and accessories, Daly sketched what each outfit would look like.
"The sketch is where the idea comes to mind," she said. "That's the image I want and the challenge is to get the look I envision in my mind onto the model."
In preparation for each photo shoot, Daly worked with the students to make sure the outfits fit properly and she assisted with hair and makeup as needed. The end result was 20 banners featuring 19 current students and Daly, who is wearing a dress she made.
Tyson said Brandywine's 50th anniversary committee outlined several goals for the celebration, including sharing information about the campus' history and "having fun," and this project fit with both aims.
"These banners really draw attention to our milestone anniversary and it was great to get our students involved in a fun and creative way," Tyson said. "The students who participated really enjoyed it and we've received a lot of positive feedback."
In the mid-1960s, the Delaware County Commissioners asked Penn State to establish a local campus. Penn State Delaware County began classes on Sept. 25, 1967 in temporary space in Chester. In December 1970, the campus moved to its current location in Middletown Township (Media post office) on ground donated by the County of Delaware. The campus name was changed to Penn State Brandywine in 2007.
This summer, Brandywine is scheduled to open its first residence hall, along with a student union building that will include a dining hall and other student services.