When Penn Staters gather in the Bryce Jordan Center this February, these four Brandywine students will be dancing on the arena floor to fight childhood cancer.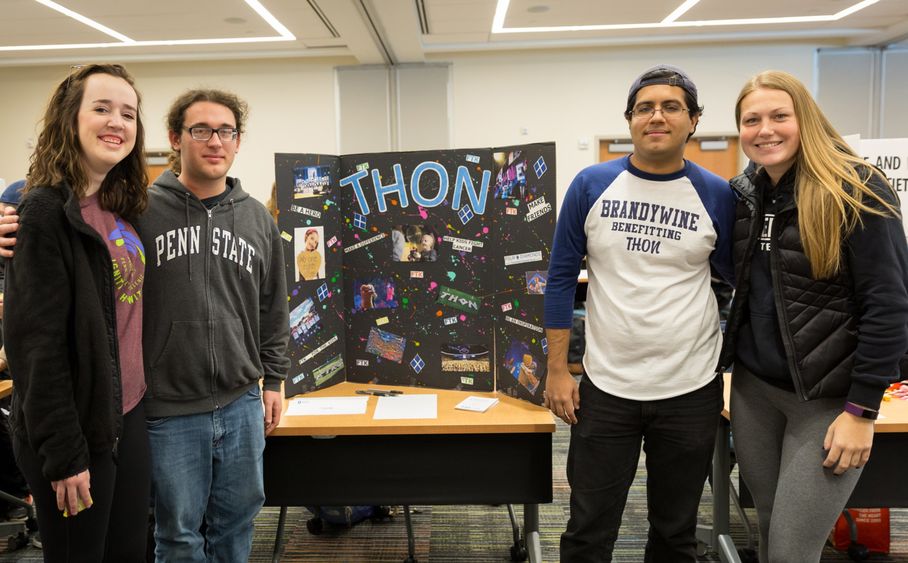 MEDIA, Pa. — Most Penn Staters are familiar with THON, a student-run philanthropy committed to enhancing the lives of children and families impacted by childhood cancer. According to its website, THON has raised more than $147 million to combat childhood cancer since its inception.
The organization's efforts culminate each year with a 46-hour dance marathon in the Bryce Jordan Center, to which each participating Penn State campus sends dancers as representatives. Penn State Brandywine's dancers for 2018 are Alexa Anderson, Matt Hoyer, Deep Patel and Annie Ward. This year's dance marathon will take place Feb. 16-18.
Alexa Anderson
Alexa Anderson, a sophomore studying communication sciences and disorders, first heard about THON while touring the campus her senior year of high school. Anderson's grandmother was diagnosed with cancer later that year, increasing her interest in THON and its mission.
Anderson currently serves as public relations captain for Brandywine Benefitting THON, managing social media for the club and creating flyers to advertise club events.
Throughout her involvement with THON, Anderson has found herself impacted by the work, her fellow club members and especially the families supported by the organization.
"You never think your child will come to you and say 'I have this lump, and I don't know what it is,' Anderson said. "THON gives these families financial support, and that's a huge burden lifted off of their shoulders. They can just focus on their son or daughter and getting them better."
Matt Hoyer
Although Matt Hoyer joined THON on a whim, he quickly found himself wanting to do more for the organization. Hoyer, a junior earning his English degree, signed up for THON with his friend Andrew Leake, who was a Brandywine THON dancer last year.
"In hindsight, I was not as involved with the club my freshman year as I wish I had been," he said, "but that really changed when I saw THON weekend for myself."
Hoyer describes THON weekend as "an emotional roller coaster" — an exhausting, but rewarding, experience. He has also committed significant time to the club year-round, serving currently as fundraising captain.
"Being part of THON is basically like having a second job, but it's the right thing to do," he said. "These people need help. I feel like I'm a better person because of my involvement."
Deep Patel
Deep Patel, a sophomore accounting major, found his passion for THON while volunteering with the club at a car wash fundraiser.
"They knew I would be a longtime part of THON when I kept announcing I would leave after the car wash, but proceeded to stay on campus another four hours," Patel joked.
Patel did stay involved, and he eventually became the club's treasurer. One circumstance in particular from Patel's home life gave him a new perspective on childhood cancer.
"Recently, I lived with my uncle for a couple of years, and I got to spend time with my little cousins," he said. "I've never had a sibling — but having lived with my cousins for a bit, and having seen their smiles, the idea of a child getting cancer really hit me. I couldn't imagine one of my cousins going through that."
Annie Ward
As a member of a "Penn State family," Annie Ward knew that she wanted to take part in THON before she ever set foot on the Brandywine campus. A chance to attend THON weekend in 2016 solidified that desire.
A sophomore studying journalism, Ward is the donor and alumni relations captain for Brandywine Benefitting THON. She brings longtime enthusiasm and plenty of interesting THON trivia to the Brandywine community.
"Forty-six kids are diagnosed with cancer every day, and that's why THON does a 46-hour dance marathon," she said.
Ward supports the cause with a wealth of expertise and genuine care for the THON families.
"Cancer is something that affects everyone," she said. "It shouldn't affect kids, but it does, and that breaks my heart. Having the opportunity to help these families and progress cancer research is amazing. We need to show these kids they're not fighting their battles alone."