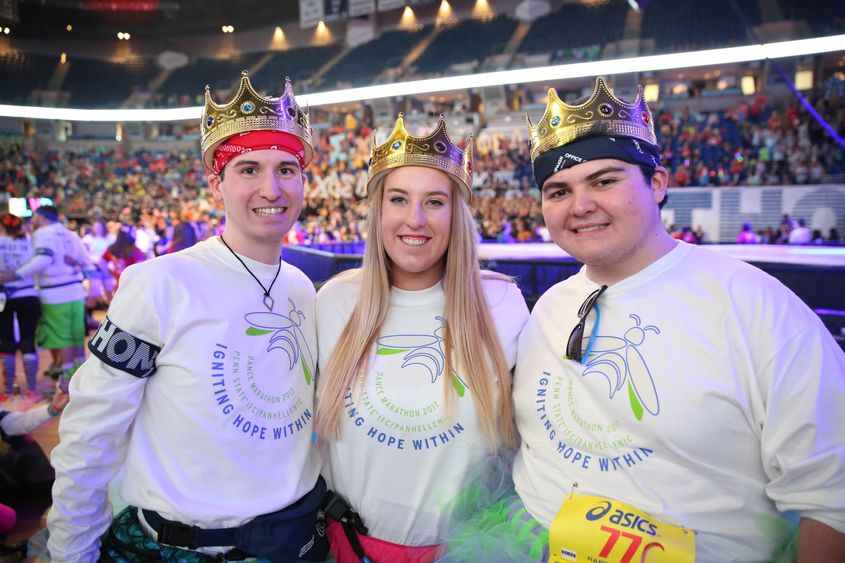 MEDIA, Pa. — For Penn State students across Pennsylvania, one year of fundraising to support children fighting pediatric cancer culminated Feb. 17-19 in a 46-hour no-sleeping, no-sitting dance marathon at University Park in the Bryce Jordan Center.
The Penn State IFC/Panhellenic Dance Marathon, known as THON, raised an astonishing $10,045,478.44. Penn State Brandywine Benefiting THON contributed $31,458.10, ranking the campus club No. 6 among Penn State Commonwealth campuses. Brandywine beat last year's campus total by more than $10,000. 
The largest student-run philanthropy in the world, THON is an annual fundraising effort that benefits children and their families affected by pediatric cancer. All money raised goes to the Four Diamonds Fund, which supports children treated at Penn State Hershey Children's Hospital.
Brandywine students Coleman Hart, Stephanie Harvey and Andrew Leake Jr. had the honor of representing the campus as dancers during THON Weekend, which included no sleeping, no sitting and a whole lot of dancing for 46 hours straight until the $10 million reveal on Sunday evening.
Hart, a junior studying business, leads the club's donor and alumni relations efforts.
"Getting to stand for those 46 hours in the BJC shows you what THON Weekend is all about and who you're really doing it for," he said. "For those kids, THON Weekend means three days away from all the treatments they typically have to go through. They can just be kids again."
Harvey, a sophomore studying communication sciences and disorders, was inspired to take on the role as Brandywine THON's family relations captain after her mother battled cancer and passed away in summer 2016.
"Going through it personally and seeing what cancer can do to a family made me really want to support our THON family," she said. "I know how much it meant to my family when we felt the love and support from others. Being able to give that back on this scale was a great feeling."
Leake, a sophomore studying education, serves as the club's fundraising co-captain. 
"You can't be in this for yourself," he said. "You need to be selfless and willing to give your blood, sweat and tears for the kids. THON Weekend doesn't get easier — you just need to get tougher."
Bill Tyson, Brandywine's director of marketing and communications who serves as the adviser to Brandywine THON, attended the event and was impressed with the club's enthusiasm throughout the year and THON Weekend alike.
"The commitment and dedication of our students while raising funds for THON and supporting our campus' THON family is really amazing," Tyson said. "For our three dancers, going 46 hours with no sitting or sleeping was both physically demanding and emotionally challenging, but they stayed focused on their goal. The 50 or so members of Brandywine Benefiting THON who attended showed their support all weekend from the stands. They all represented our campus well."