Mussie Tesfay brought his passion for electrical engineering from a Ugandan refugee camp to Penn State Brandywine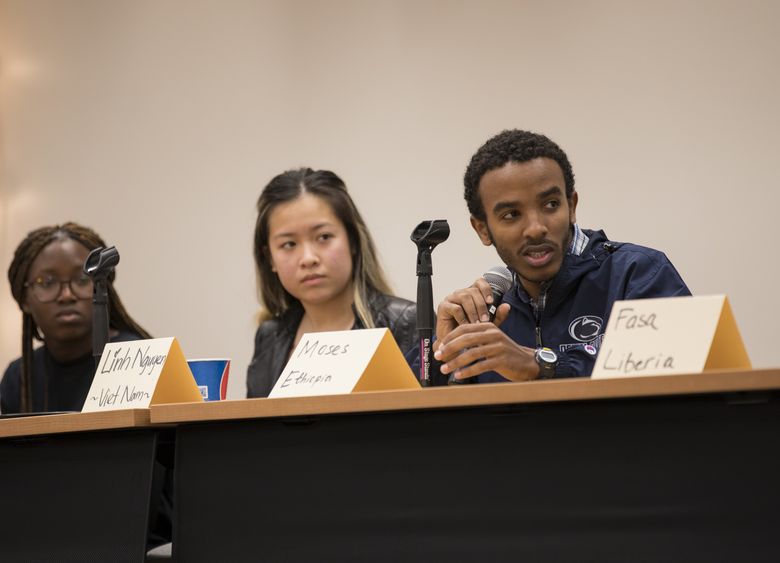 MEDIA, Pa. — Mussie Tesfay's path to Penn State included several unexpected twists. An electrical engineering major attending Penn State Brandywine, Tesfay was born in Ethiopia where his family faced a series of political difficulties following the Eritrean-Ethiopian war.
Tesfay's father is Ethiopian and his mother is Eritrean, so when the conflict between their two nations ended in 2000, the couple found themselves on the receiving end of postwar political tensions.
"My mom was always having to hide because she was Eritrean and the police were looking for her to deport her," said Tesfay. "Ethiopia was a very good country — it just wasn't really conducive to my parents' particular situation."
When Tesfay was 7 years old, his parents decided to move their family from Ethiopia to Uganda. They lived in Uganda for 10 years, most of which were spent in a refugee camp. Uganda provided the family with a new sense of peace and security. It also became a place where Tesfay could explore his passion for engineering.
The refugee camp did not have electricity, so a few of Tesfay's neighbors bought generators and rented them to other people in the camp. Tesfay decided to start his own business — but instead of buying a generator, he built one.
"I built a wind generator for our house with a fan propeller," he said. "The propeller charged the battery and powered lights in our house. Other people started asking me and my brother to build one for them, and they would pay us. We also worked on radios."
In some ways, it is a miracle that Tesfay is putting his engineering skills into practice at Penn State today. His family was supposed to be sent to Australia by the U.N.'s refugee program in 2008, but their opportunity was lost due to corruption in the refugee camp.
"Someone in the office sold our case to a family in a similar situation to ours," Tesfay said, "and that family went to Australia in our place. We didn't find out about it until a few years later, when one of my dad's friends in the office discovered what had happened."
That stolen opportunity, however, cleared the way for the family to move to the United States in 2012 and begin a new life in Philadelphia.
Some aspects of American life surprised Tesfay at first, such as the less formal dynamics between public school students and their teachers. It was also strange to go from growing his own food to purchasing everything at grocery stores. "The food tastes so much better when you grow it yourself," he said.
One aspect of life in the U.S., however, has been a total joy for him — his college education.
Tesfay applied to Penn State as his first choice, citing the reputation of the school's engineering program, and has found himself surrounded by "caring, knowledgeable professors and great classmates."
Most importantly, he is closer than ever to becoming an electrical engineer and realizing his long-term dreams.
After graduating, Tesfay plans to find full-time work in radio communication technology. In time, he hopes to return to his home country and make a difference there.
"This is what I've always wanted to do," he said. "The communication field is a growing industry in Africa. I want to be part of that."