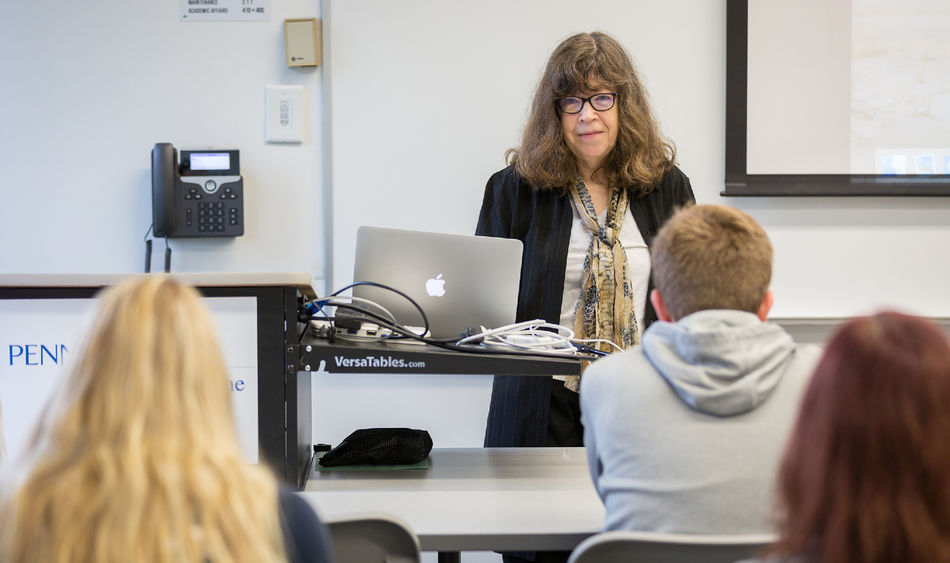 MEDIA, Pa. — Joining the Penn State Brandywine faculty this fall is Peggy Signorella, distinguished professor of psychology and women's, gender and sexuality studies.
Signorella, who recently began the Brandywine chapter of her Penn State career, has long held connections to the University — first as a student, and in recent years, as an instructor and mentor.
Her first brush with Penn State came during her years as a graduate student.
"After earning my undergrad degree at a nearby state institution, I applied to a completely random pool of graduate schools — which is something I advise my students not to copy," said Signorella. "Penn State was one of them. When I got a letter of acceptance from PSU, my undergraduate advisers said, "Wow! That's amazing. You should go there."
Signorella took their advice and completed her graduate studies at Penn State, where she found people and programs that spoke directly to her interests as a psychologist.
"I took an introductory psych course as an undergraduate, which led me to change my major to psychology," she said. "Then I became interested in the applications of psych to various social issues. When I eventually came to Penn State, I found there was a lot of space for me to explore social psychology."
After graduation, Signorella taught at a handful of universities, including Eastern Michigan University, SUNY Brockport and the University of Pittsburgh. After a few years, she found herself back at Penn State, teaching at the Greater Allegheny campus.
It is from Greater Allegheny that Signorella came to Brandywine — a change of pace that, in her words, has made the meaning of "one University, geographically dispersed" clearer.
"There's a great deal of similarity across the campuses," she said. "It's still Penn State. I already have friends and colleagues in the department here."
Although she looks forward to many aspects of life at Brandywine, Signorella is most excited to begin working with undergraduate students on research projects — a passion that won her the Penn State Greater Allegheny Faculty Teaching Award.
"Mentoring students through the research process is one of my strengths," she said. "I've published with students and presented with them. If students don't have their own ideas, I always have projects for them to do."
She also hopes to create a Brandywine outpost for Teaching International, a project that she took part in at Greater Allegheny that collects videos and podcasts about globally related topics from a diverse range of teachers.