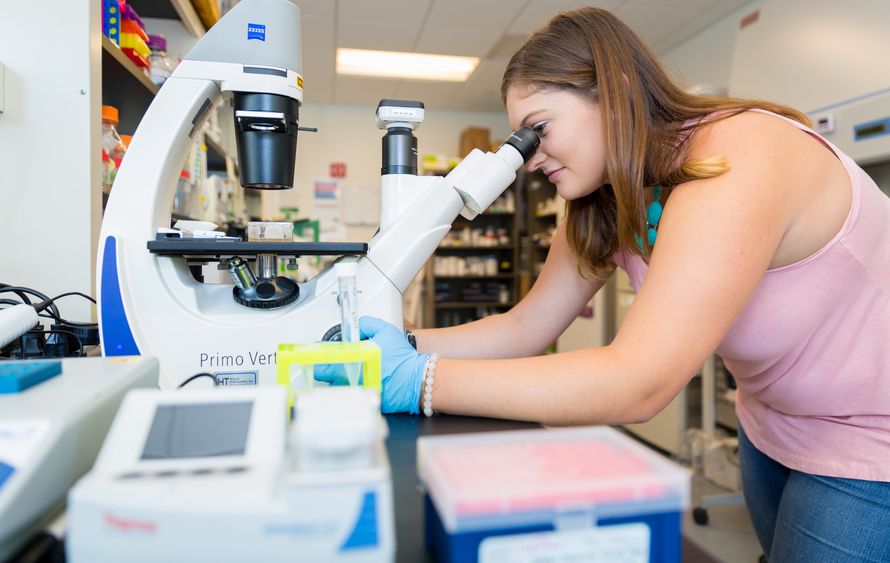 MEDIA, Pa. -- During the school year, Penn State Brandywine biology junior Maddie Malfara is a very active student — dividing her time between playing on the softball team, serving as secretary of the Lion Ambassadors club and, of course, staying on top of her classes. This summer, the Cooper and Schreyer Honors Scholar decided to take her Brandywine experience a step further.
"Last year, I did an honors option in my organic chemistry class with Dr. Tierney," said Malfara. "He came up with this project and recruited me to help. I'm not a chemistry major, but I thought it would be a good experience."
John Tierney, recently retired professor of chemistry at Brandywine, allowed Malfara to work with him on an extensive summer research project. Together, they studied nuclear magnetic resonance (NMR) spectra for previously reported compounds but from an era when there was no specific standard; there is a standard now and the compounds were recalibrated to the set standard. 
"NMR is basically the same thing as an MRI," she said. "NMR utilizes a magnetic field that lets you see different interactions between hydrogen atoms and carbon atoms within a chemical structure relative to a universal standard. Today, we use a universal standard for the study of NMR and it is tetramethylsilane (TMS). Dr. Tierney wanted to see if using the TMS standard and recalibrating the old data, how it changed the perspective of the atomic interactions relative to the prior published work."
In early summer, Malfara's research with Tierney led to an opportunity to present her findings at the Middle Atlantic Conference for the American Chemistry Society in Hershey. A clerical error had Malfara, an undergraduate student, present alongside the graduate school researchers — and she thrived.
"I was nervous since it was my first time presenting science information," she said, "but I decided to give it my best. A lot of people were surprised that I was an undergrad student."
It was while working on the NMR project with Tierney that Malfara received a second internship opportunity — this time working within her major alongside Assistant Professor of Biology Megan Povelones.
Povelones recently received a five-year research grant from the prestigious National Science Foundation. Malfara began to assist her with the grant project, which uses a single-celled parasite to study changes and levels of energy output in mitochondria.
"The work is complicated," Malfara said. "You basically take a DNA sample, purify it and cut out the part that you want with restriction enzymes, which mark where you're going to copy it. You amplify that section, cut it out, and put all the different parts back together. Hopefully, you've cut them so they have compatible overhang, and when you put them in a tube, they stitch back together."
At first, the work was fairly difficult. Malfara remembers feeling daunted her first day on the job.
"I was worried that I wouldn't know how to do anything — it's all so precise," she said.
The very first day, however, Povelones had Malfara doing hands-on research in the lab and Malfara found herself succeeding.
"We're following Philip Yates's protocol for a four-way ligation, which is putting four segments of DNA together through a cloning process," she said. "One of my first days working with Dr. Povelones, I got his four-way ligation to work the first time."
As the fall semester begins, Malfara returns to campus with not only rich academic experiences, but newfound enthusiasm for her field.
"The team makes fun of me because I come into work super excited every day," she said. "They ask me when I'm going to stop being so excited. But this is my first experience with hands-on research, and I didn't realize it could be this fun."