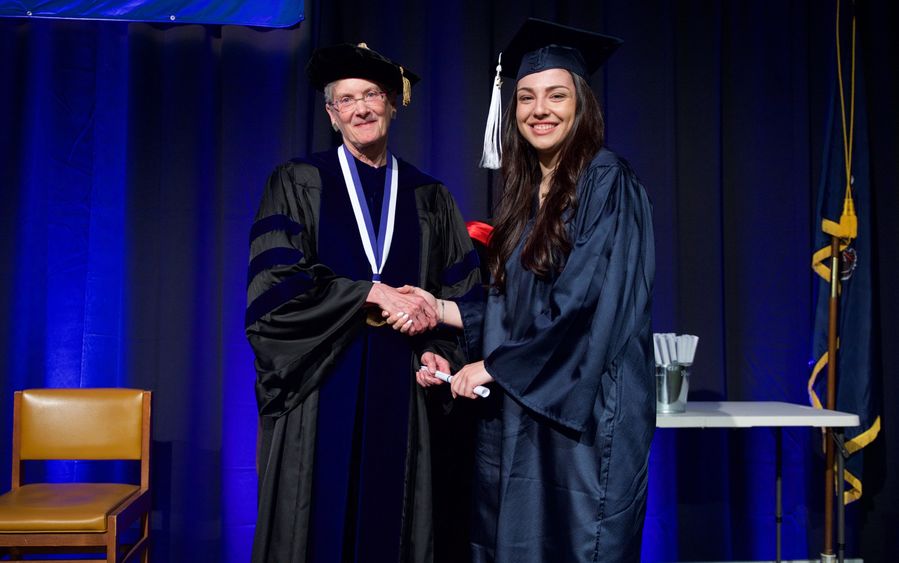 MEDIA, Pa. — When Marissa Maiorano needed to design a capstone project for her Penn State degree, she couldn't choose between her passions — environmental research and business. She solved the problem by combining them.
Maiorano, who graduated in May with a degree in business, has always had a personal interest in environmental issues.
"The environment is something I care about," Maiorano said. "I donate to several environmental science organizations and follow them on social media, which is a great way to learn something new every day."
At Brandywine, Mairoano had several chances to explore environmentalism as part of her business degree, including a sustainability marketing course taught by Associate Professor of Business Julie Stanton. Those opportunities led Maiorano to incorporate environmental science into her final business capstone project.
Maiorano combined her experience in Stanton's class with skills from a social-media marketing course taught by Lori Elias, instructor in marketing. The result was a survey-based research report that used ads from environmental organizations, such as Greenpeace and the World Wildlife Fund (WWF), to assess the effectiveness of social media marketing with her peers.
Maiorano handed out a survey to students on campus, asking participants to rate positive and negative environmental ads on social media. Based on the survey results, she hopes to shape the way Brandywine introduces students to environment-related topics.
"I asked if the social media posts in my survey would inspire the participants to follow the organizations online and learn more about them," she said. "Everyone who took the survey was very optimistic and encouraging."
"Marissa's research has already shown how differently people respond to negative and positive social media posts, as well as the use of video and hashtag campaigns," said Stanton. "We all see so much information on a daily basis. Getting inside of what actually grabs our attention and engages us in bettering our world is really helpful."
Maiorano found inspiration for the project in her own experience as a college student. In her case, a science elective at Brandywine sparked her interest in environmental organizations.
"Before taking an oceanography class at Brandywine, I didn't know anything about WWF or Greenpeace," said Maiorano. "It made me realize that you don't usually see environmental organizations placing ads in magazines or on TV — but their social media presence is growing."
Maiorano's project served her and the campus community in several ways. On one hand, it will help business and sustainability instructors on campus to "market" their subjects to students in more relevant ways. On the other hand, the project allowed Maiorano to spend more time with an academic passion outside of her formal degree.
The result was a multidisciplinary project that called on her newly gained skills as a business major while staying true to the object of her research: social media strategy for environmental organizations.
"She chose a topic that straddles two separate advanced-marketing courses because she was able to take her understanding from the classroom and expand it," said Stanton. "She never lost sight of her main goal."