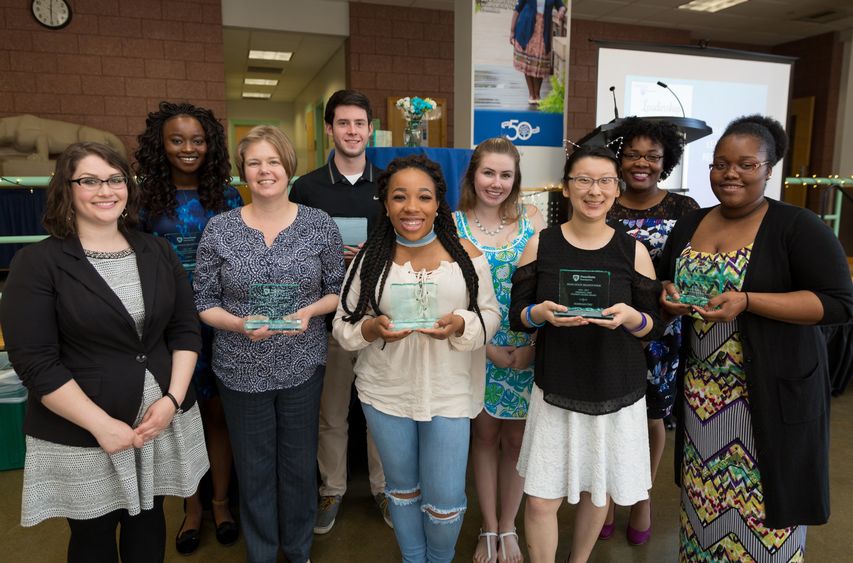 MEDIA, Pa. — On April 11, the Penn State Brandywine Office of Student Affairs hosted its annual Leadership Recognition Dinner, a celebration held every spring to recognize the efforts of dynamic student-leaders on campus.
"Leadership Recognition Night is an opportunity for student affairs and the Student Government Association (SGA) to recognize the efforts of student groups and individuals who are working to enhance the campus community," said Ronika Money-Adams, director of student affairs. "It also highlights the ongoing work of the SGA and serves as the inauguration for the incoming SGA leadership."
Peris Wambui Wamoni, a biomedical engineering major, won the Barbara Jackson Williams Award for Cross-Cultural Understanding. This award recognizes a student who has clearly demonstrated that individual differences are valuable, and learning about others who are culturally different is necessary and rewarding.
Duane Belgrave Jr., a psychology major, received the Outstanding Student Service to Campus and Community Award, which recognizes a student who has volunteered their time by assisting others or impacting the lives of others, gaining positive recognition for themselves and for the campus.
Kevin Cauley, a communications major, received the Diane D. Shorter Service Award. This award recognizes a student or event that contributes to the spirit of civic engagement through raising awareness of and enlisting campus involvement toward supporting a cause.
Hannah Chu, a business major, was awarded the Deborah J. Erie Student Leader Award, which recognizes a student leader who displays commitment and dedication to multiple organizations while maintaining solid academic standards.
Francis Zaun, a psychology major, received the Outstanding Adult Student Award. This award recognizes an outstanding adult student who demonstrates initiative, tenacity and flexibility in overcoming obstacles to furthering their education.
Deborah Ousey, multilingual student programs coordinator, received the Club Advisor of the Year Award. This award recognizes a faculty or staff member that volunteers their time to serve as club adviser and shows that they are truly engaged in the activities and mission of the student organization. Ousey is the adviser of the Multicultural Club.
Penn State Brandywine THON received the Student Club of the Year Award, which recognizes a student club or organization that shows exceptional involvement throughout the year. Alexis Proctor, the club's incoming president, accepted the award on behalf of the organization.
Stephanie Harvey, a communication sciences and disorders major, earned the Eric A. and Josephine S. Walker Award, a University-wide award given annually to full-time undergraduate students from each of the Penn State campuses. The award recognizes a student whose outstanding qualities of character, scholarship, leadership and citizenship have been directed into programs and services that have positively influenced fellow students and have contributed to the prestige and well-being of their campus and to the reputation of the University as a whole.
The Penn State Brandywine Student Government Association accepted the Outstanding Program or Event of the Year Award for its "Stay Fresh" event, which was coordinated by first-year student Chevelle Thomas. This award recognizes a program or event that has enhanced the quality of student life by promoting campus community and Penn State pride.
Also recognized at the event were Neeka Pharaud and Lindsay Koch, the newly-elected president and vice president of Penn State Brandywine's SGA for 2017-18, and Yanira Rodriguez, who served as vice president for 2016-17. This will be Pharaud's second academic year as president.