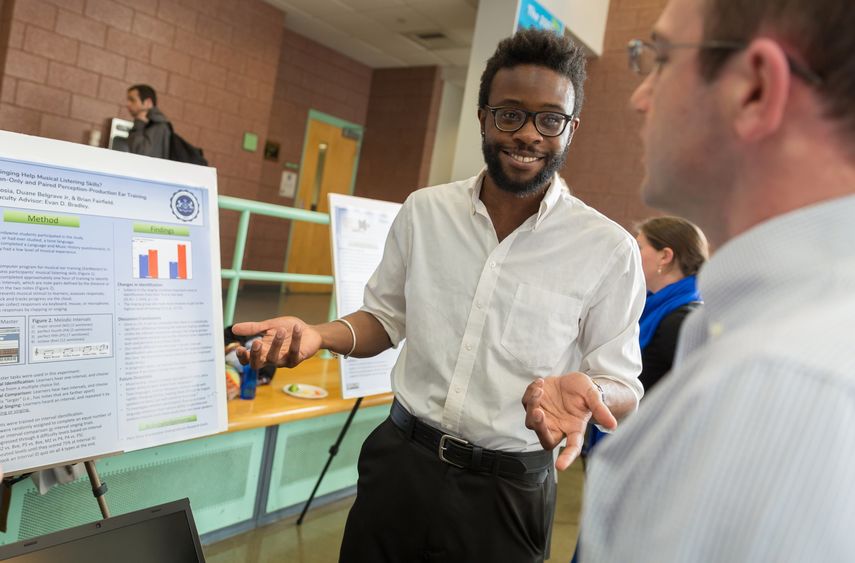 MEDIA, Pa. — Each year, Penn State Brandywine honors students during its annual Exhibition of Undergraduate Research Enterprise and Creative Accomplishment (EURECA). The event serves as an opportunity for Brandywine undergraduates to present their research and other endeavors to the campus community after months of hard work.
This year's EURECA, which took place on April 4, featured 22 poster presentations from students in academic programs such as American studies, biology, business, communications, engineering, English, human development and family studies, information sciences and technology, psychology and more. The event also allows students to feature video and computer presentations, short readings, artistic displays and performances.
This year's STEM Research Award, which honors a project that is in the disciplines of science, technology, engineering or mathematics and possibly holds significance to the general public, was presented to Timothy Janick for his research titled "Passive Mechanical Walkers are a Proxy for Studying Dynamic Balance in Human Gait." Janick's faculty adviser was Instructor in Chemistry and Physics Timothy Niiler.
Madeline Malfara was presented the Social Science and Humanities Research Award for her study "Women Take Home Silver: Gender Bias in Media Reporting of Olympic Athletes." This honor recognizes a social science and humanities project that holds importance in the field of study and has a potential impact on the public. Malfara's faculty adviser was Assistant Professor of Communication Arts and Sciences Angela Putman.
The Enterprise Award, which recognizes an endeavor from any field, was presented to Heather Gartside for her project titled "Halloween Event." Through a marketing internship, Gartside organized several fundraising events, including a Halloween bowling night in late October 2016, which collected food for a local food pantry. Her faculty adviser was Instructor in Psychology Joshua Marquit.
Penn State Brandywine Director of Academic Affairs Cynthia Lightfoot was thrilled to see a wide variety of projects from students across numerous academic disciplines and noted the importance of student activities such as EURECA.
"Engaging in research and other creative activities is a critical element of the Penn State Brandywine experience," Lightfoot said. "These activities inspire questioning and curiosity, promote deep analysis and lead to new ways of understanding."