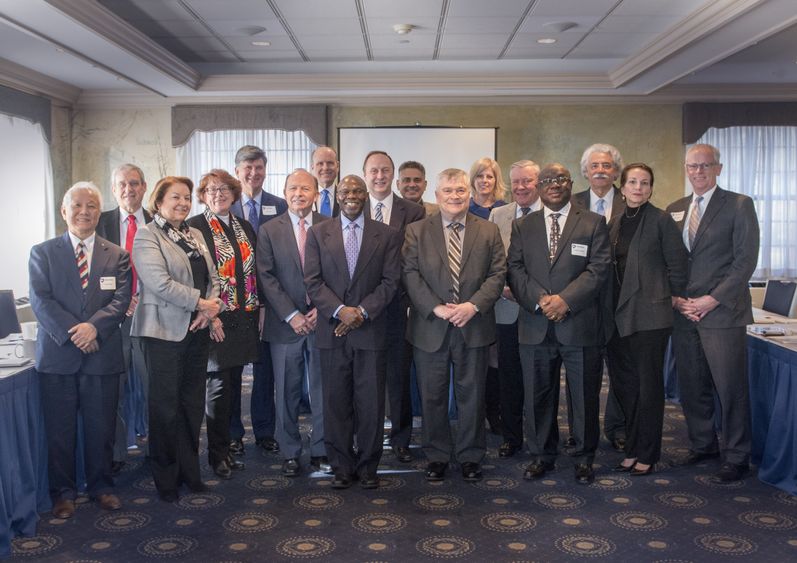 UNIVERSITY PARK, Pa. — The Provost's Global Advisory Council hosted its inaugural meeting on Thursday, March 23, on the University Park campus.
"The Global Advisory Council is an important next step in building the Global Penn State," said Michael Adewumi, vice provost for Global Programs. "We are bringing together diverse perspectives from leaders in academia, industry, and governmental and nongovernmental organizations to gain collective insight and guidance in shaping the university's global strategies in the coming years."
President Eric Barron kicked off the morning session by welcoming the council members and emphasizing that the modern university must deliver more than content to our students. He further clarified that, "we must deliver transformational experiences that add value to the student and to the culture."
The council is chaired by Executive Vice President and Provost Nick Jones, with Adewumi serving as the secretary. The council will serve in an advisory capacity to University leadership.
"We would like the see the council take an active role in identifying opportunities and resources, particularly those that have the potential to build innovative public-private partnerships that can make a significant contribution to resolving major global challenges," Jones said.
A priority will be the partnerships and programs that have the potential to cross disciplinary boundaries — building on the University's strengths in interdisciplinary research — and integrate the University's tripartite mission of teaching, research and service.
The council will meet twice a year on Penn State's University Park campus. Each member is appointed for an initial period of three years and could be renewed for a second term of three year by mutual agreement.
Inaugural council members, in alphabetical order:
Isam Al-Zadjali '92 EMS, CEO, Oman Oil Co. S.A.O.C.
Barton Cahir '94 EMS, executive advisor to the chairman, ExxonMobil
Ernest Janssen '65 LA, oil broker (retired), K.P.I Oil Associates Inc.
Bill Lane '75 BUS, senior director, Global Government and Corporate Affairs (retired), Caterpillar Inc.
Gail Latimer '83 NURS, chief nursing officer, Cerner Corp.
Mary Beth Long '85 COMM, founder and CEO, Metis Solutions
Eda C. B. Machado de Souza '73 EDU, founder, IESB University
George Miller '73 A&A, managing partner, Pei, Cobb, Freed & Partners
Gunther Neuhaus, vice president for research, University of Freiburg
Gerald (Jerry) Parsons '74 Brandywine, chairman and CEO, Communications Test Design Inc.
Paul Perreault, CEO and managing director, CSL Ltd.
Osborne Phillips '74 EMS, retired vice chairman, Texaco Overseas Petroleum Co. of Nigeria Inc.
Melinda Rishkofski '85 LA, partner, Baker Botts LLP
H. Paul Roberts '65 COMM, retired associate dean, international programs, Michigan State University
Wayne T. Smith, chairman and CEO, BASF North America
Jyh-Lang (Ovid) Tzeng '73 EDU, Institute of Linguistics, Academia Sinica, University System of Taiwan
For more information about the council, contact Jennifer Theiss at [email protected].