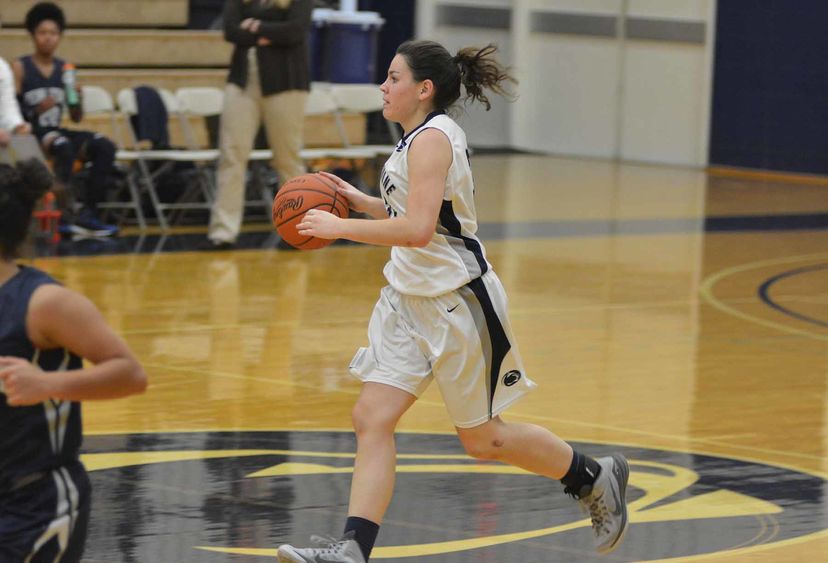 MEDIA, Pa. – The Penn State Brandywine women's basketball team extended its longest winning streak in four years with a trio of victories, including a pair of key Penn State University Athletic Conference triumphs, last week.
After thumping Vaughn College 81-53 in a nonleague tilt on Monday night, the Lions posted PSUAC wins in consecutive days to end the week, besting Penn State DuBois 66-63 and Penn State Mont Alto 71-48.
Brandywine's winning streak, which begins the week at eight consecutive games, is the Lions' longest since they won eight-straight contests from Jan. 27-Feb. 12, 2013. The program has not posted a winning streak of at least nine games since the 2012-13 season.
Freshman Nikki Velez, who was selected as the national player of the week on Tuesday by the United States Collegiate Athletic Association, continued to impress with an 18-point, five-steal performance against DuBois on Friday as Brandywine overcame an eight-point halftime deficit to win. She followed with her fifth 20-point outing of the season against Mont Alto.
The Lions, who trailed Mont Alto 29-28 at halftime, outscored the opposition 43-19 during the final 20 minutes behind a combined 25 points from Velez and junior Alyssa Abbonizio. Brandywine has escaped halftime deficits on four occasions during its eight-game winning streak.
While the Brandywine women continued their winning ways, Brandywine's men's basketball team saw its losing skid reach six games following three defeats last week.
The Lions led during the second half of each of their PSUAC losses, an 86-84 setback against DuBois followed by an 84-69 defeat at the hands of Mont Alto. Brandywine had the ball with a chance to tie or take the lead against DuBois in the final seconds, but a shot rattled around the rim and fell off, allowing DuBois to escape with a two-point win.
Freshman Shafi Mohammad posted 22 points and 12 rebounds against DuBois during his return from a month-long absence, while classmate Isaiah Wilmore poured in a career-high 26 points against Mont Alto.
Both squads have a trio of PSUAC games on the slate during the upcoming week. The teams host Penn State Wilkes-Barre for a Martin Luther King Day doubleheader before a weekend trip to Pittsburgh takes the teams to Penn State Beaver and Penn State Greater Allegheny.
Complete box scores, recaps and updates for Penn State Brandywine athletics are posted at psubrandywineathletics.com.