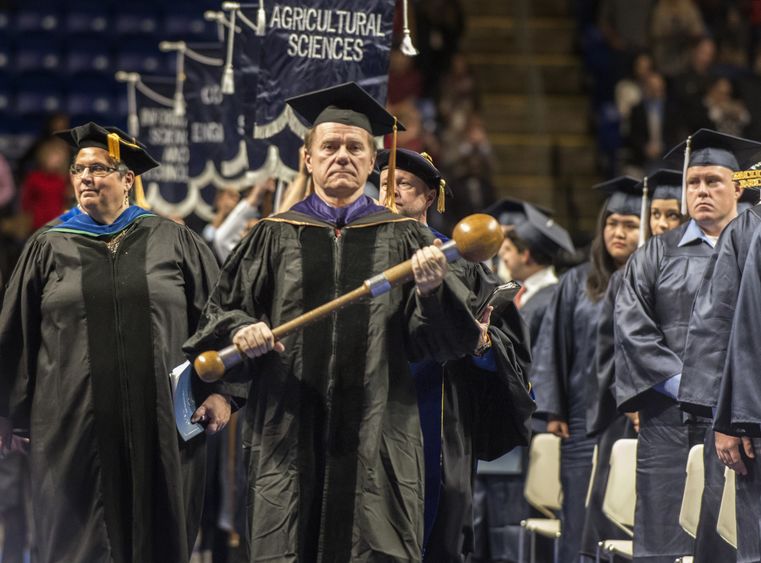 UNIVERSITY PARK, Pa. — This fall approximately 5,247 Penn State students will receive their diplomas. University-wide there will be 252 associate, 3,936 baccalaureate, 762 master's, 11 law and 286 doctoral degrees awarded.
Following is a compilation of commencement ceremonies and speaker information for Penn State's 24 locations. Additional information about University Park commencement is available online at http://commencement.psu.edu.
Penn State Abington
10 a.m. Friday, Dec. 16, The Keswick Theater, 291 N. Keswick Ave, Glenside
Speaker: Thom Collins, executive director and president, The Barnes Foundation
Collins' story parallels the lives of many Penn State Abington students — he grew up in the Philadelphia area, the grandson of immigrants and the son of a high school teacher. He has forged a path as an author, curator and educator at some of the country's top arts institutions, including as director of the Pérez Art Museum Miami. He earned a bachelor's degree with honors in art history and the history of religion from Swarthmore College and a master's degree in art history from Northwestern University.
Penn State Altoona
11 a.m. Saturday, Dec. 17, Jaffa Shrine, Altoona
Speaker: Rebecca Strzelec, professor of visual arts and program coordinator of the Visual Art Studies degree program
Strzelec, the 2016-17 Penn State laureate, earned her bachelor of fine arts in 2000 and master of fine arts in 2002 from the Tyler School of Art, Temple University, in metals/jewelry/CAD-CAM. Her work consists of wearable objects that are created via computer-aided design, three-dimensional modeling, and 3D printing.
Penn State Beaver
7 p.m. Friday, Dec. 16, Student Union Building Auditorium
Speaker: William Hare, Supreme Court of Pennsylvania's deputy district court administrator for Beaver County
Hare has worked in the county for more than 40 years, serving as a probation officer, a law clerk, an assistant public defender, an assistant county solicitor and a deputy district attorney in addition to his current position. He is a member of the state's bar association, association of court management and the Supreme Court Criminal Procedural Rules Committee. Hare attended the Beaver campus and University Park, where he graduated with honors from the Law Enforcement and Corrections program. He holds a law degree from Duquesne University Law School. He served a two-year term as the president of the Beaver County Bar Association, has participated in the Beaver County Mock Trial Program since its inception in 1988, and serves on the Beaver campus' Criminal Justice Advisory Board.
Penn State Behrend
6 p.m. Friday, Dec. 16, Junker Center
Speakers: Soledad Traverso, professor of Spanish, and Michael A. Woycheck, operations director at Alloy 26
Traverso received her bachelor of arts in Spanish literature and linguistics in 1981 from Universidad de Antofagasta, Chile, and the doctorate in Latin American literature in 1996 from the University of Maryland, College Park. Traverso has taught at Penn State Behrend since 1996.
Woycheck, a 1997 alumnus, is operations director at Alloy 26, Pittsburgh's largest co-working space, which will provide 50,000 square feet of space for more than 300 occupants. He previously worked at Google as an operations manager and was the program manager at the technology accelerator AlphaLab from its inception until 2013.
Penn State Berks
7:30 p.m. Friday, Dec. 16, Beaver Community Center
Speaker: John R. Morahan, president and chief executive officer of Penn State Health St. Joseph
Morahan is president and chief executive officer of Penn State Health St. Joseph, a health network consisting of St. Joseph Medical Center, St. Joseph Downtown Reading Campus, St. Joseph Medical Group, St. Joseph Provider Hospital Organization, as well as 15 ambulatory care locations throughout Berks County. A fellow of the American College of Healthcare Executives (FACHE), Morahan joined St. Joseph in 1999. During his tenure, the St. Joseph organization has won numerous quality, safety, and environmental friendly awards including being named a top 100 hospital. In 2015, he led the team that successfully planned St. Joseph's transition into Penn State Health, becoming the first hospital in the newly formed system.
Penn State Brandywine
10 a.m. Friday, Dec. 16, Commons/Athletic Center
Speaker: Philadelphia City Solicitor Sozi Pedro Tulante
Tulante, a 2001 cum laude graduate of Harvard Law School, came to Philadelphia from Zaire (now the Democratic Republic of Congo) in 1983 as a political refugee. Today, he serves as Philadelphia's chief legal officer. He advises all city departments and oversees nearly 200 lawyers in the Philadelphia Law Department.
Penn State DuBois
7 p.m. Thursday, Dec. 15, Hiller Auditorium
Speaker: John Tolle, professor of mathematics
Tolle was named the DuBois Educational Foundation Educator (DEF) of the Year in 2016. He heads the campus Honors Program, and has taught at Penn State DuBois since 2008.
Penn State Fayette
No fall commencement ceremony.
Penn State Great Valley
No fall commencement ceremony.
Penn State Greater Allegheny
7 p.m. Thursday, Dec. 15, Ostermayer Room in the Student Community Center
Speaker: Jay Breckenridge, professor emeritus of theatre arts
Breckenridge retired from Penn State in 2014 with 43 years of service to the University. He served as department coordinator for the arts at Penn State Greater Allegheny, as well as coordinator for the four-year Letters, Arts, and Sciences program. He is a founding member of The Heritage Players, a community theater group that performs at the Seton Center in Brookline, Pennsylvania, where he has directed, performed and assumed the role of set designer. He currently serves on the group's board as the technical director. Breckenridge appears in numerous community theater productions in the tri-state area and is a familiar face at various festivals and special community celebrations. He also directed students in original theater productions on the Greater Allegheny campus every semester.
Penn State Harrisburg
9:30 a.m. Saturday, Dec. 17, Giant Center, Hershey, Pennsylvania
Speaker: Ralph Stengler, president of Hochschule Darmstadt University of Applied Sciences
Stengler was first elected president of Hochschule Darmstadt University of Applied Sciences in 2009 and was re-elected in 2015. Hochschule Darmstadt University is in a strategic partnership with Penn State Harrisburg as a result of a funding program from the German Academic Exchange Service to work with their partners in the U.S. Stengler also teaches a course on quality management, and has held positions as dean and vice dean of the Department of Mechanical and Plastics Engineering. From 2001 to 2010, he was academic coordinator for China relations and had a key role in strengthening partnerships with Chinese universities. Since 2013, he has been an honorary professor of Ulyanovsk State Technical University in Russia.
Penn State Hazleton
No fall commencement ceremony.
Penn State Hershey College of Medicine
No fall commencement ceremony.
Penn State Lehigh Valley
No fall commencement ceremony.
Penn State Mont Alto
No fall commencement ceremony.
Penn State New Kensington
1 p.m. Saturday, Dec. 17, Forum Theatre
Speaker: Richard Gilbert, principle telecommunications engineer in the networks and cyber security department at Bombardier Transportation
Gilbert, an Oakmont, Pennsylvania native, earned a bachelor's degree in information sciences and technology from Penn State New Kensington in 2003, and a master's degree in information science from the University of Pittsburgh in 2005. In his position at Bombardier, he designs, oversees, and implements wired and wireless communications systems deployed in Automatic Train Control Driverless Systems. Headquartered in Quebec, Bombardier manufactures planes and trains, from business jets and commercial aircraft to high-speed trains and public transit. Working with the rail side of the business, Gilbert cultivates relationships with transit authorities and third party consultants for future partnerships.
Penn State Schuylkill
No fall commencement ceremony.
Penn State Shenango
11:30 a.m. Saturday, Dec. 17, Auditorium
Speaker: William R. Kiefer, president and CEO, A. Stucki Company
Penn State University Park
—Schreyer Honors College Medals Ceremony
5 p.m. Friday, Dec. 16, The Penn Stater Hotel and Conference Center
—Undergraduate students (baccalaureate and associate degrees)
Saturday, Dec. 17, Bryce Jordan Center
Remarks by: Penn State President Eric Barron
9 a.m.
College of Agricultural Sciences
Smeal College of Business
College of Earth and Mineral Sciences
College of Engineering
College of Information Sciences and Technology
12:30 p.m.
College of Arts and Architecture
College of Communications
College of Education
College of Health and Human Development
College of the Liberal Arts
College of Nursing
Eberly College of Science
—The Graduate School
4:30 p.m. Saturday, Dec. 17, Bryce Jordan Center
Speaker: S. Shyam Sundar, distinguished professor and co-director, Media Effects Research Laboratory, Penn State College of Communications
Sundar is distinguished professor of communications and the founding director of Penn State's Media Effects Research Laboratory. A pioneering researcher on the psychology of communication technology, Sundar conducts experiments on the effects of a variety of digital media, ranging from websites and social media to mobile phones, robotics and internet of things. A frequently cited source on technology, Sundar has testified before Congress as an expert witness and delivered talks at several universities around the world. He is currently editor-in-chief of the Journal of Computer-Mediated Communication, the highest-ranked journal in the field of communication.
Penn State Wilkes-Barre
No fall commencement ceremony.
Penn State Worthington Scranton
No fall commencement ceremony.
Penn State York
6 p.m. Friday, Dec. 16, Pullo Family Performing Arts Center
Speaker: William S. Shipley III, chairman of the board, Shipley Group, and Penn State Board of Trustees representative
Shipley is the fourth generation of the Shipley family to lead the family business. He began his career as a store manager for 7-Eleven in Delaware, and after two years joined his father's business in 1982 as an administrative assistant. He worked his way up the management ladder and today is chairman of the board of Shipley Group in York, Pennsylvania, and the operator of companies that serve people and businesses in Pennsylvania and the mid-Atlantic region. Shipley Energy is a provider of heating oil, natural gas, propane and electricity, as well as installation and service of heating, ventilation and air conditioning equipment. Shipley earned a bachelor of arts degree in history from Emory University in Atlanta, Georgia, and an MBA from Penn State. He serves as Gov. Tom Wolf's representative on Penn State's Board of Trustees, and also serves on the board of directors of the Paterno Library. Students at Penn State York benefit from the Shipley Energy Trustee Scholarship.
Pennsylvania College of Technology
11 a.m. Saturday, Dec. 17, Community Arts Center
Student speaker: Caleb E. Cartmell, of Honesdale
Cartmell will receive an associate degree in applied science in automotive technology and also be presented with the President's Award for leadership and service to the college. He serves as executive vice president of the Student Government Association and was SGA Senator of the Year for 2015-16. Cartmell will return in spring 2017 to pursue a bachelor's degree in automotive technology management.
Dickinson Law
No fall commencement ceremony.
Penn State Law
No fall commencement ceremony.