Psychology major Heather Gartside used her capstone course to rally Delaware County businesses behind a local food pantry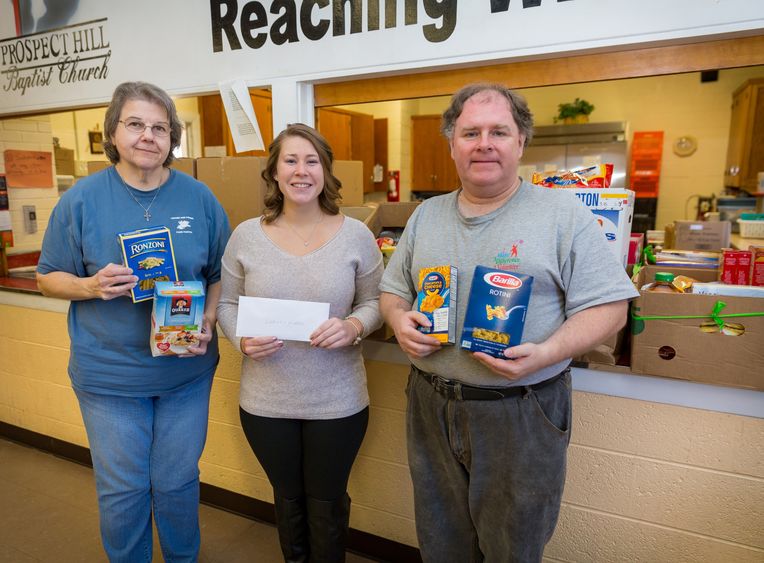 MEDIA, Pa. — When Penn State Brandywine senior Heather Gartside began her independent research capstone, she knew that she wanted to take a unique approach to the project.
With help from Instructor in Psychology Joshua Marquit, Gartside developed a project that fit her specific interests.
"I eventually want to be an event planner," said Gartside, "so when I talked to Dr. Marquit about it, he said, 'Why don't we put together an event-based final project?' He worked with me to turn my research requirements into what I really want to do after school."
Gartside accepted an internship as the marketing coordinator of MacDade Bowl, a bowling alley in Delaware County, and told the staff about her capstone project. They referred her to a local nonprofit food bank, Loaves and Fishes, that MacDade Bowl supports.
"Loaves and Fishes is amazing," Gartside said. "It's volunteer-run and very connected to the community. When you say 'food donations' most people imagine canned green beans. At Loaves and Fishes, they take hygiene products, school supplies, and even fresh fruit and bread. I was shocked by how much they do."
In June, Gartside received permission from Loaves and Fishes to host a benefit event for the food bank. In July, she received permission from MacDade Bowl to host the event at the alley.
The rest of the summer, Gartside visited local businesses and asked for donations, which she turned into gift baskets, raffle items and prizes for the event. Participating businesses received free advertising on MacDade Bowl's Facebook page.
"I talked to ice cream stores, pizza shops and all sorts of local businesses," she said. "Nobody turned me down. Everyone wanted to get involved."
Gartside then organized a Halloween bowling night in late October. Anyone who brought a food donation to the event could bowl one game for free. This event was the springboard for an ongoing donations effort that will last until Thanksgiving.
"People loved it because they could help Loaves and Fishes while having a good time with their families," she said. "Not only did we make MacDade customers happy with a free game, but we helped the community. MacDade collected 300 pounds of food for Loaves and Fishes last year, and I want to top that."
Gartside will graduate in December with a psychology degree and a business minor. She found that many of her classes at Brandywine complemented her community service project.
"A lot of my marketing classes have helped me to better understand consumer behavior," she said. "Lori Elias, my marketing professor, taught me so much about the importance of customers and how to publicize your brand. Those lessons definitely came in handy."
"I'm very grateful to have had Dr. Marquit's help," said Gartside. "He was basically holding my hand through the whole process."