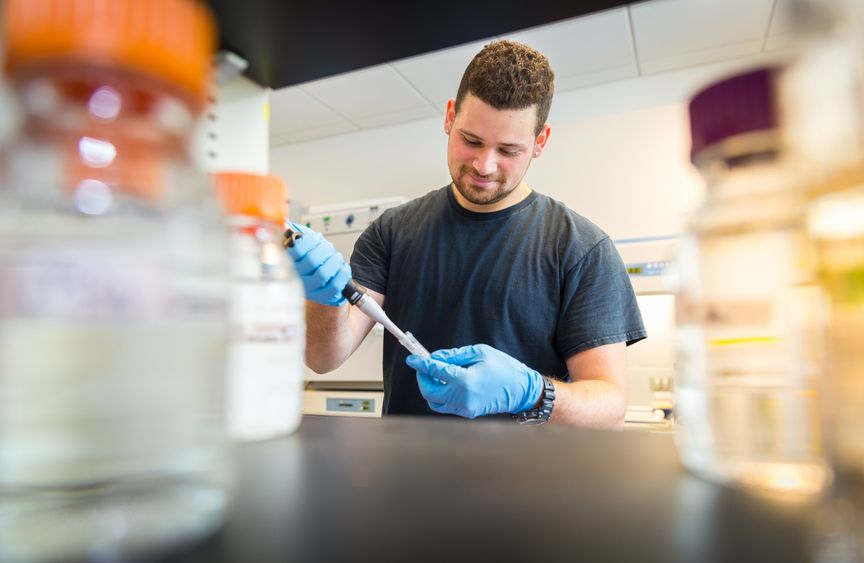 MEDIA, Pa. — The first students in Penn State Brandywine's bachelor of science in biology program earned their degrees during the campus's 2016 spring commencement ceremony, becoming the inaugural graduates of the program since it launched in fall 2014.
"Initially we didn't think we'd have our first class this soon," said Assistant Professor of Biology Megan Povelones. "We had a small group of rising juniors who planned on transitioning to University Park to complete their biology degrees, but decided to finish at Brandywine when they heard we were offering the four-year program."
Students enrolled in the program can choose from two separate degree options: the vertebrate physiology option and the general option. The key areas of the vertebrate physiology option are pre-medicine, pre-dentistry, pharmacology and animal physiology, while the general option focuses on all aspects of modern biology.
"Students in both options get foundational classes in broad areas of biology," she said. "Then they take more specialized upper-level classes depending on the option they choose."
The program curriculum is designed for students who intend to earn advanced degrees through graduate school, students who are interested in working with various governmental agencies or industries having biological responsibilities, and students who want to prepare for careers in medicine or other health-related professions.
"There are so many career possibilities for graduates who complete these biology programs," Povelones said. "Careers in human and animal health, research, biotechnology and medical and technical writing are just some of the job options for grads with these degrees."
In September 2013, Brandywine unveiled newly renovated science laboratories and modernized classrooms to support the new degree program. The research labs are outfitted with advanced tools, such as light microscopes, a DNA imaging system and a fluorescence microscope, which are utilized for teaching and undergraduate research. The overhaul was part of the Main Building's $13.5 million renovation project.
"We offer research experiences to students as part of their classes or as independent projects. That's a real strength of this program," she said. "The technology in the labs allows us to do things like manipulate DNA, grow and manipulate cells and make transgenic organisms."
The campus is also currently working to build connections with biotechnology and pharmaceutical companies in the Philadelphia region to place students in off-campus internships.
Brandywine's bachelor of science in biology degree was launched along with new four-year degrees in psychology and general engineering. Now offering 12 baccalaureate degrees, 11 minors and two associate degrees, the growing campus is working to increase its academic offerings even more in the near future.