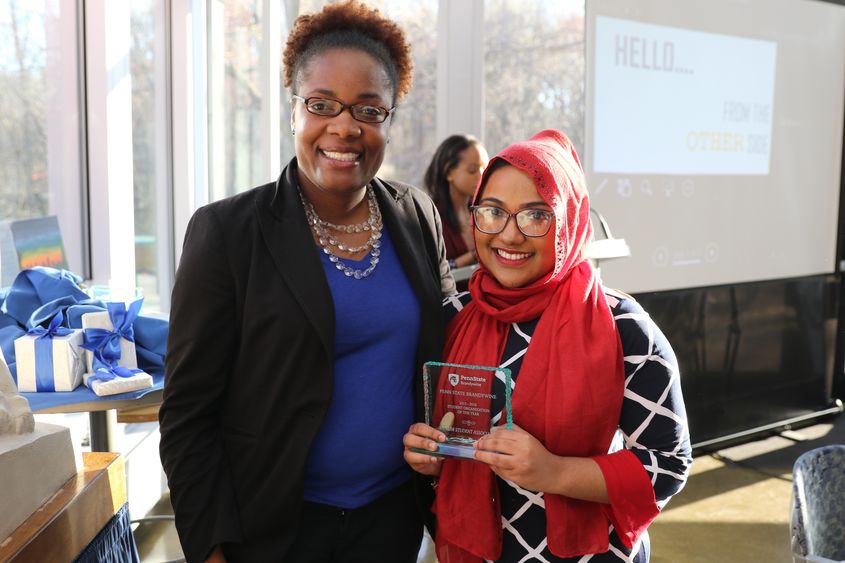 Each year at Penn State Brandywine's Leadership Recognition Night, student leaders are recognized and celebrated for excelling in and out of the classroom and for creating the best possible Brandywine experience for themselves and their peers.
Students are recognized for their positive influence on the student body, outstanding service to the campus through volunteering, cross-cultural understanding, academic excellence and campus involvement. 
The following students were honored at the event:
Wenlock Kayne Nau, a liberal arts major, won the Barbara Jackson Williams Award for Cross-Cultural Understanding. This award recognizes a student who has clearly demonstrated that individual differences are valuable and learning about others who are culturally different is necessary and rewarding. Nau has shown the ability to gain the trust and respect of individuals who are culturally different, initiated programming efforts involving multicultural issues at Penn State Brandywine and provided outstanding service in a variety of cultural student organizations.
Haleigh Swansen, an English major, received the Outstanding Student Service to Campus and Community Award, which recognizes a student who has volunteered their time by assisting others or impacting the lives of others, gaining positive recognition for herself and for the campus.
Elisabeth Gramlich, a communications major, received the Diane D. Shorter Service Award. This award recognizes a student or event that contributes to the spirit of civic engagement through raising awareness of and enlisting campus involvement toward supporting a cause.
Alexander Rivera-Santiago, a business major, was awarded the Deborah J. Erie Student Leader Award, which recognizes a student leader who displays commitment and dedication to multiple organizations while maintaining solid academic standards. Rivera-Santiago has shown how leadership involvement contributes to building pride in one's campus and enriches the overall college experience.
Breath Hand, a psychology major, received the Outstanding Adult Student Award. This award recognizes an outstanding adult student who demonstrates initiative, tenacity and flexibility in overcoming obstacles to furthering their education. Hand has served as a role model for other adult students by sensitizing the institution to the needs of adult students and by establishing herself as a leader in her peer group. She has achieved academic excellence as measured by cumulative GPA and her clearly defined short- and long-term goals reflect the values and ideals of higher education.
Paul Alberici, a communications major, earned the Eric A. and Josephine S. Walker Award, a University-wide award given annually to full-time undergraduate students from each of the campus locations. The Walker award recognizes a student whose outstanding qualities of character, scholarship, leadership and citizenship have been directed into programs and services that have positively influenced fellow students and have contributed to the prestige and well-being of their campus and to the reputation of the University as a whole.
Assistant Professor of Psychology Daniela Martin received the Club/Organization Advisor of the Year Award, which recognizes a faculty or staff member who volunteers their time to serve as a club or organization adviser. Martin has shown she is truly engaged in the activities and mission of the Psychology Club and is committed to enhancing the student life experience.
The Penn State Brandywine Student Government Association (SGA) and Blue and White Society accepted the Outstanding Program or Event of the Year Award for planning and executing the Alumni Speed Networking event on Feb. 24. This award recognizes a program or event that has enhanced the quality of student life by promoting campus community and Penn State pride. The networking event demonstrated creativity, uniqueness and inclusion.
The Muslim Student Association received the Student Club/Organization of the Year Award. This award recognizes a student club or organization that has shown exceptional involvement throughout the year. These clubs or organizations were active in recruiting new members and keeping them engaged and involved, contributed to the quality of student life and promoted campus involvement.
The newly elected 2016-17 Penn State Brandywine SGA leaders, Neeka Pharaud, president, and Yanira Rodriguez, vice president, were also recognized. The outgoing 2015-16 SGA officers, Olivia Shiner, president, and Alex Rivera-Santiago, vice president, were also acknowledged for their work and service at Brandywine.