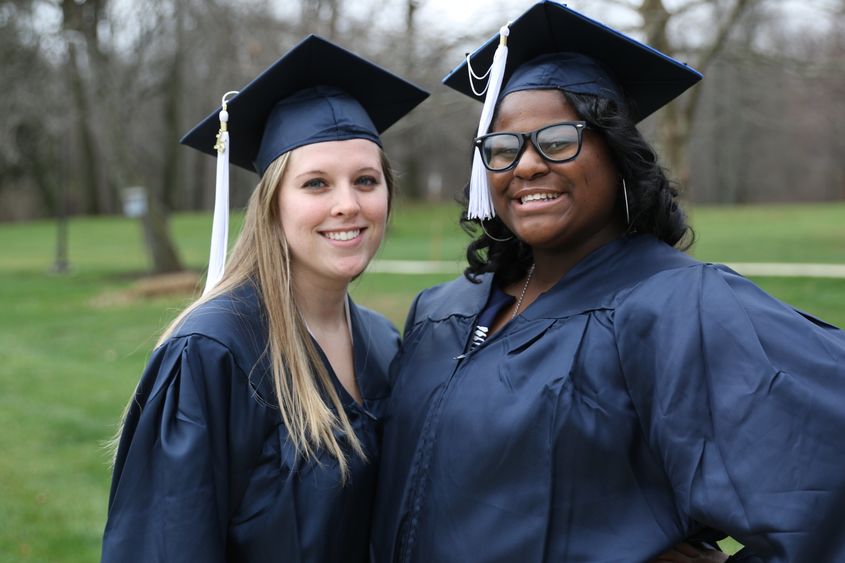 MEDIA, Pa. — Mike Arata, director of engineering at United Airlines, addressed Penn State Brandywine's class of 2015 on Dec. 18 and encouraged graduates to pay it forward.
Chancellor Kristin R. Woolever welcomed the 86 graduates and approximately 500 attendees in the Commons Athletics Center on campus.
"Take pride in recognizing how far you have come," Woolever said. "Although it might have been quite challenging at times, you navigated the hurdles, completed the journey, and are richer for the experience."
Arata, a Penn State alumnus and Penn State Brandywine advisory board member, followed shortly after Woolever's welcome and gave the commencement address.
During Arata's speech, he explained the passionate connection he shares with graduates — both to the Philadelphia region and Penn State.
"Many of you share a very similar connection with me," Arata said. "Our college careers that touch this campus were defined by the unique bond of being loyal to this area, and at the same time expanding our horizons to the world renowned institution known as Penn State."
Arata explained that during his time as a Penn State student he grew more independent, allowing him to venture out of his comfort zone and take advantage of Penn State opportunities. He encouraged the graduates to remember that none of the accomplishments they made while in school would be possible without the sacrifices of their support system.
"We are all indebted to those who provided everything from financial support to moral support and beyond to bring us to this point," Arata said. "Your lifelong thanks will be shown in what you do for those who come behind you. It's our commitment to make life better for each generation that comes behind us."
After Arata's commencement address, Cynthia G. Lightfoot, director of academic affairs, and Woolever conferred the degrees.
As students received their diplomas, a long-standing Penn State Brandywine tradition began, and students were able to take a few moments to share thoughts about their journey to graduation day. Many thanked family, friends, faculty and staff.
Penn State awarded approximately 5,200 diplomas to graduating students University-wide during the fall commencement. The Penn State graduates joined the largest dues-paying alumni association in the world, consisting of more than 177,000 members.