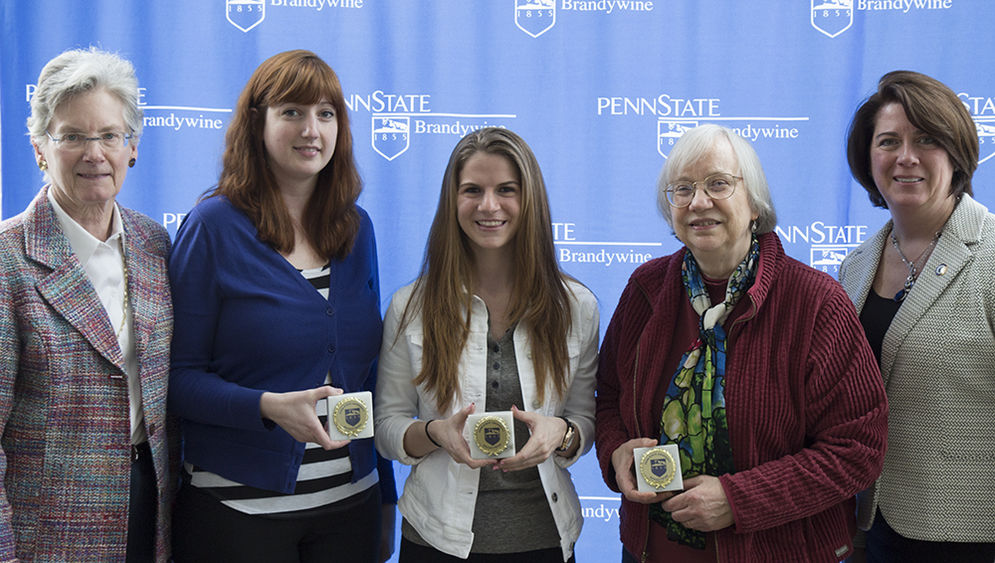 For 25 years, Penn State Brandywine's Commission for Women has recognized outstanding female students, faculty and staff by naming them Women of the Year during the annual luncheon. The event, held during Women's History Month, serves as an occasion for the Brandywine community to celebrate the accomplishments of women on campus.
Susan Fredricks, chair of the commission and associate professor of communication arts and sciences, announced the honorees at the event.
Nicole Maginnis, sophomore communication arts and sciences major, received the 2015 student woman of the year award. Maginnis is a Penn State Brandywine women's cross-country team member and qualified to make it to nationals, placing 11th in the nation. She is also the president of the Lion Ambassadors club; and the alternative chair, and fundraising and events captain for Brandywine Benefiting THON. Her sister, Jessica Maginnis, senior human development and family studies major, received this award in 2013.
Phyllis Cole, professor of English, women's studies and American studies, was awarded the 2015 faculty woman of the year award. Her nominator described her as an "academic strength to the campus and a voice for social justice with her work supporting Surya Pakzad, a program to help women find shelters, counseling, education and job training as well as schools for girls in Afghanistan." Cole has served Penn State Brandywine for 25 years.
Dani Rementer, administrative support assistant for the business services department, was named the 2015 staff woman of the year recipient. Rementer has had a "positive attitude" since she started last year. Her nominator described her as an out-of-the-box thinker who always strives to help others. When co-workers were on leave due to medical reasons, Rementer managed many duties of the business services department.
As is tradition, the campus welcomed an accomplished woman to serve as keynote speaker during the luncheon. Colleen P. Morrone, vice chairman of the Delaware County Council, and president and CEO of Goodwill of Delaware and Delaware County Inc., shared her experiences of growing up and working hard to achieve her goals professionally and personally. Morrone started at Goodwill as an administrative assistant and said the "power of education and hard work" allowed her to grow in such a company.
"Working hard and the opportunities that it leads you to were instilled in me at a very young age," Morrone said as she shared some of the first jobs she held while growing up. "I scraped pizza off the deep pans and delivered Starburst Newspapers door to door with my mother, not realizing years later I'd be back going door to door campaigning with Starburst candy for county council."