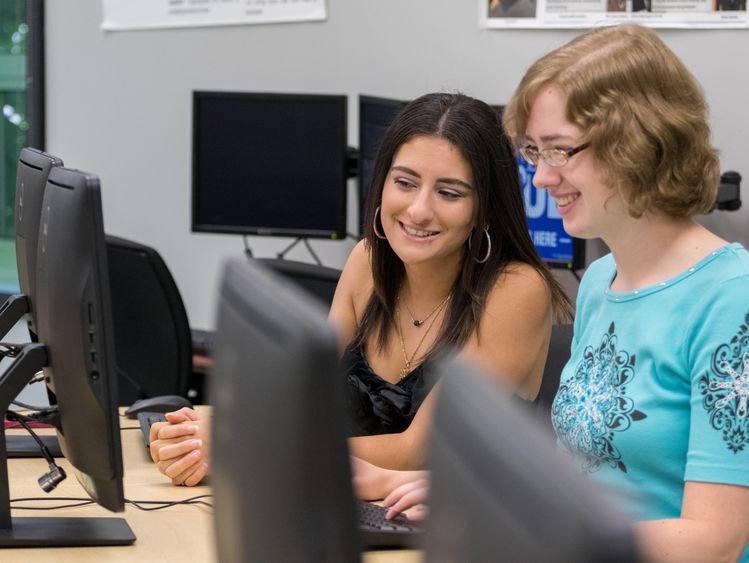 MEDIA, Pa. -- The ideal pairing of Penn State Brandywine communication arts and sciences major Mattie Mylonas and former Brandywine geography student Judy Smith has resulted in a project that will help students, researchers, professionals and educators learn about geology and geophysics.
With guidance from Laura Guertin, professor of earth sciences, Smith and Mylonas teamed up to create a series of geology and geophysics "101" information pages for the Society of Exploration Geophysicists' (SEG) wiki page.
According to its website, SEG is a national nonprofit organization with a mission to connect, inspire and propel the people and science of applied geophysics. Launched in 2011, the SEG wiki plays a vital role in educating and engaging career geophysicists and those just starting to learn about the discipline from around the globe. With more than 7 million page views within the last eight months, the wiki audience is quickly growing.
"It is our vision that the SEG wiki will continue to grow into a resource for experienced geoscientists and those new to the field," said Isaac Farley, digital publications manager at SEG.
Even though Smith and Mylonas come from different academic worlds, their typically unconnected fields of study meshed to form the perfect team for the project, which requires specific knowledge. Their unique skill sets complement one another, allowing them to fully support each other's efforts.
"It's nice because we're able to write from different perspectives," Mylonas said. "Since Judy is a geography major and I'm a communications major, our different contributions to the project make the material accurate, simple and easy to understand for any audience."
"That fact that we've had the opportunity to publish content on a respected science website is a really great feeling," Smith said.
The duo is creating and publishing Web pages covering everything from biofuels, clean energy, greenhouse gases and solar energy, to photovoltaic cells, plate tectonics and whaling and whale oil, just to name a few.
"For those new to contributing to wikis, the interface of a wiki can be challenging at first," Farley said. "Contributing to a project like this one can be intimidating, but Mattie and Judy have never seem phased by any of that. They have completely committed to the goals of the project – launching well-researched and strongly written articles."
"For me, this is a model of success in undergraduate research — bringing students from across disciplines together to work on a common project," Guertin said.
Guertin added that both students have completed more than one earth sciences course, have been trained on how to use the wiki's content management system, and have received course-based instruction on information literacy and how to evaluate Web-based content. This training, along with their existing insight and know-how gained from their respective academic programs, has given them the critical eye needed to become successful contributors to the wiki.
"This model of engaged digital scholarship provides students a learning experience they can't get in the classroom. It helps them build the confidence to know that they can go out and do this work," Guertin said. "Overall, these student researchers will be enhancing their geoscience content knowledge, expanding their technical expertise, and developing virtual collaboration and community-building skills."
After completing two years of study at Penn State Brandywine, Smith transitioned to University Park this fall to complete her degree program. Mylonas will finish her bachelor's degree at Brandywine and is set to present the project this October at the 76th annual conference of the Pennsylvania Communication Association. Both students will continue to work on the project throughout the fall semester.