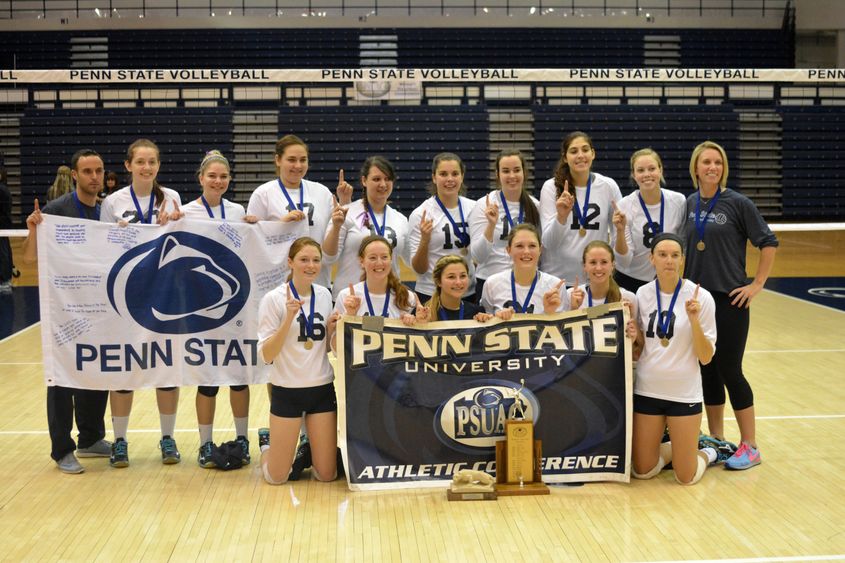 MEDIA, Pa. -- For the first time in program history, Penn State Brandywine is No. 1 in PSUAC volleyball as the Lions dethroned seven-time defending champion Penn State Fayette and claimed the conference championship in four sets on Sunday afternoon at Rec Hall, capping a perfect league slate.

Brandywine (21-3), which finished the regular season with a 16-0 conference record, rolled past Penn State Beaver in the semifinals Saturday to earn its spot in the title match, where it battled Fayette for the third consecutive season. Brandywine took the first set 25-19 and after dropping set No. 2, 25-22, bounced back to win the final two frames by 25-14 counts and stake its claim as the best team in the PSUAC.

With the victory, PSUAC Coach of the Year Melissa Algeo's squad has earned the PSUAC's automatic bid to the USCAA Tournament for the first time and will travel to Canton, N.Y., on Nov. 4 to play for the national championship.

Brandywine received championship performances numerous players on Sunday afternoon. Molly Nichols (Lenni, Pa./Penncrest) delivered a match-high 12 kills, Nicole Costa (Lansdowne, Pa./Upper Darby) and Nikki Poissant (Aston, Pa./Cardinal O'Hara) both registered nine kills and PSUAC Newcomer of the Year Halee Kusner (Aston, Pa./Sun Valley) added seven kills.

Miranda Biondi (Newtown Square, Pa./Marple Newtown), the PSUAC Player of the Year, handed out 36 assists and recorded 15 digs. Kim Russo (West Chester, Pa./West Chester East) produced a team-best 21 digs, while Poissant and Kelsi Wiest (Aston, Pa./Sun Valley) both collected 13.

Emily Battista (Broomall, Pa./Marple Newtown) produced eight digs, while Kirsten Jerla (Springfield, Pa./Notre Dame) registered four kills and four digs.

Costa delivered four blocks, including the championship point in the fourth set, and Nichols added three blocks, while Biondi blocked a pair.
With the first set tied at 9-9, a kill from Nichols ignited a 5-0 run for Brandywine. Back-to-back kills by Kusner and Jerla pushed the Lions' lead to nine and Nichols' kill closed out the first set for Brandywine.

Fayette led for much of the second set before a pair of Costa kills evened the score at 19-19. Brandywine took a one-point advantage following a Kusner kill; however, Fayette answered with five of the next seven points to take the frame. The dropped set was the first for Brandywine in over a month and also marked the first time Brandywine did not sweep a PSUAC opponent this season.

With set No. 3 tied at eight, Poissant jump-started a run of 12 consecutive points for Brandywine with a kill. Poissant made 13 consecutive serves, dropping in a pair of aces, while Nichols aided in the effort with two kills and Brandywine took advantage of numerous Fayette miscues to run away with the third set.

Fayette grabbed a 7-2 lead during the fourth set, but Brandywine answered with seven-straight points, including three Poissant kills, and would never relinquish its lead. Costa and Kusner combined on a block that provided Brandywine with its championship point and set off the Lions' celebration.

Brandywine will learn its seeding and opponents for the USCAA Tournament at 2 p.m. Wednesday, Nov. 4. The USCAA will stream the selection show at www.theUSCAA.com.