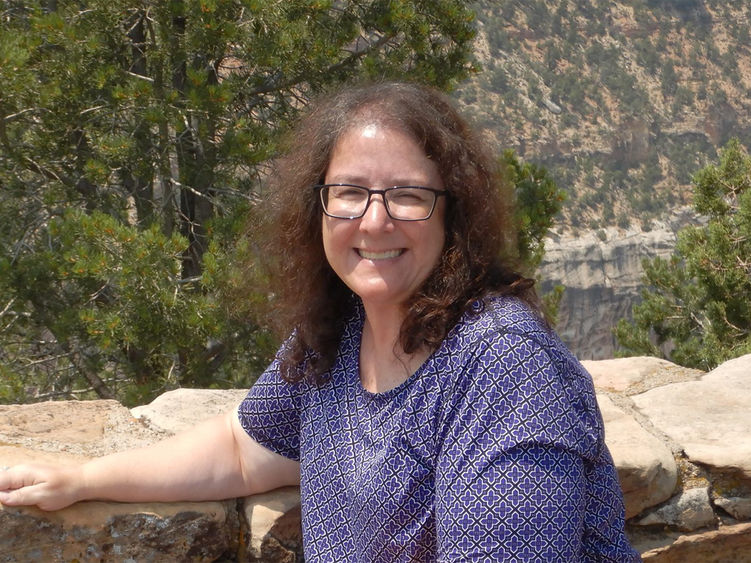 UNIVERSITY PARK, Pa. — Laura Guertin, distinguished professor of Earth sciences at Penn State Bradywine, will give the College of Earth and Mineral Sciences' 2023 Lattman Visiting Scholar of Science and Society Lecture. The lecture will be held from 5:15 to 6:15 p.m. on Thursday, Nov. 9, in 401 Steidle Building on the University Park campus. A reception following the talk will be held in the Steidle Atrium. The event is free and open to the public.
Scientists use a range of communication tools to connect with audiences. Guertin's talk, "A creative approach to science storytelling with quilts," will discuss using a more creative approach, such as quilts, to tell stories of science.
Guertin will take the audience on a journey of when she first started combining her hobbies in the creative arts with her science storytelling skills, and how her field experiences in Alaska, Louisiana and a two-month ocean expedition in the South Atlantic Ocean are being shared with quilts displayed in a variety of venues — including on the front door of her house.
Guertin's research focuses on how technology can enhance teaching and student learning in introductory-level geoscience courses for non-science majors. Her blog focuses on geoscience education and outreach, science communication and technology tools in the classroom, online and in the field.
Guertin has been recognized with various accolades for her excellence in teaching. She was elected as a fellow of American Association for the Advancement of Science in honor of her "outstanding contributions in teaching earth science as an inquiry-based means to scientific literacy." She was elected as a fellow of the Geological Society of America for her "complete devotion to undergraduate education on the local and national stage, for her dedication to training the next set of geoscience teachers, for her cutting-edge research involving technology in geoscience education and for her leadership in the geoscience educational community."
In 2022, she received the Outstanding Educator Award from the Association for Women Geoscientists and received the Biggs Earth Science Teaching Award from the Geological Society of America. She also received the President's Award for Excellence in Academic Integration and the George W. Atherton Award for Excellence in Teaching from Penn State.
Guertin received her undergraduate degree in geology from Bucknell University and her doctorate in marine geology and geophysics from the University of Miami's Rosenstiel School of Marine & Atmospheric Science.
About the Lattman Lecture
The Lattman Visiting Scholar of Science and Society lecture series was created to engage undergraduate students in a broad range of scholarly issues. It was endowed by friends and associates of Laurence Lattman, a geosciences educator who taught at Penn State from 1957 to 1970. During that time, he developed a geology course for non-geology majors, Geological Sciences 20: Planet Earth, which he taught to more than 24,000 students.
Lattman also served as chair of the Department of Geology at the University of Cincinnati, dean of the University of Utah's colleges of Mines and Mineral Industries and Engineering, and president of the New Mexico Institute of Mining and Technology. He earned a bachelor's degree in chemical engineering from City College of New York and a master's degree and doctoral degree in geology from the University of Cincinnati.
The Lattman Lecture is hosted by Penn State's Department of Geosciences.
Contact
Patricia Craig
Marketing and communications, Earth and Mineral Sciences