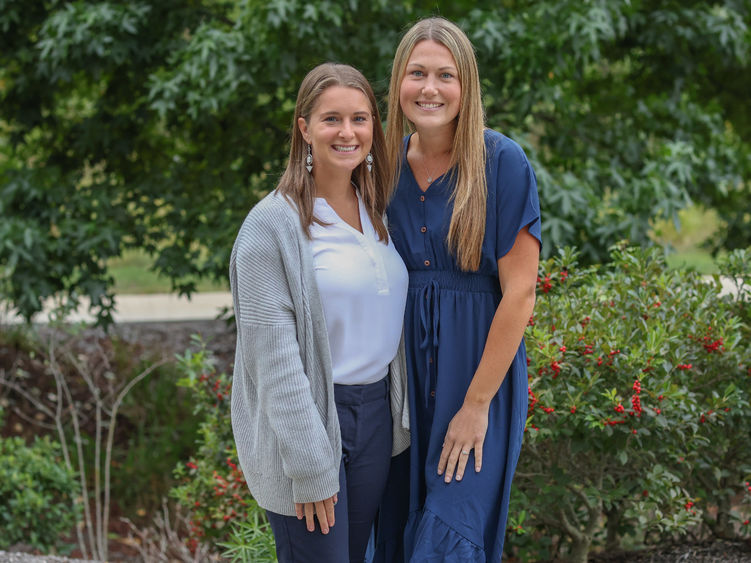 MEDIA, Pa. — For Julie Foeldes and Alexa Anderson, returning to Penn State Brandywine for the celebration of the softball team's 10th anniversary was a reminder of how academics and athletics influenced them both personally and professionally. After graduating from Penn State and completing graduate degrees, they are now working in their chosen fields.
Foeldes spent four years at Brandywine, completing her degree in psychology with a minor in human development and family studies in 2018. She then earned a doctorate in school psychology from Rutgers University.
After two years at Brandywine, Anderson transitioned to University Park and graduated in 2020 with a degree in communication sciences and disorders and a minor in human development and family studies. She then earned a master's degree in speech language pathology from the University of Delaware.
The two New Jersey natives were both outstanding athletes as well as students. In four years at Brandywine, Foeldes started all 148 games as catcher and is one of nine players to have 100 career hits. Before transitioning to University Park, Anderson held the single-season record for hits (55), home runs (9) and RBIs (59), and she became the only player to hit for the cycle in a United States Collegiate Athletic Association World Series game.
In addition to softball, they each were active in other campus activities as well. Foeldes was a teaching assistant, an athletic department employee and completed undergraduate research. Anderson was a Lion Ambassador and a dancer for THON; she continued her THON involvement at University Park.
For Foeldes, her desire to continue playing softball in college and her family connections to the University — her uncle played football for Penn State — brought her to Brandywine, which was a reasonable distance from home and was actually smaller than her high school.
"Brandywine was the perfect mix of Penn State and softball, a good education, a good size, close enough to home, but far enough that I felt comfortable," she explained.
Anderson felt the same way: Brandywine was close to home and her family, and she could continue to play softball.
"Being a student-athlete 100% influenced my experience at Brandywine," Anderson said. "It changes the way you have to be a student because you are missing class for away games and travel. You have to be on the ball with all of your classes. I've always been very serious about school, but it changed the way I communicated with professors. They respected that I was there to play a sport as well as get my degree, and they were super welcoming for office hours and to make sure I was never left behind with anything."
Anderson said an academic highlight was working with Jennifer Zosh, professor of human development and family studies, in the child development lab that had just been built.
For Foeldes, staying organized while managing school, homework, athletics and work "was just part of life." And sports helped her develop relationships with others, she said.
"You're a student first, so you had to get your schoolwork done," she said. "You have to keep yourself organized, especially during your season when even the weather can cause a change to practice or game times. And a team sport teaches you to be disciplined and how to be a leader."
An academic highlight for Foeldes was research she conducted with Joshua Marquit, teaching professor of psychology, on the correlation between sports and parental relationships. She also led Brandywine softball's initiative to partner with a fourth-grade student with a chronic illness through Team Impact.
Foeldes and Anderson agreed that being a student-athlete influenced their future careers.
"I never pictured myself to be the type of person to work at a desk and not be a part of a team or not have other people to talk to," Anderson said. "Here, I work with the whole child study team and teachers throughout the school. I like to run my ideas by people beforehand. I like to hear other team members' ideas when we're working on IEPs, or what's going to be the best placement for this student. I think just being a part of a team for my entire life lets me hear other people better than if I never had to hear other opinions before."
Anderson is currently working with preschoolers through sixth grade at an elementary school, along with ages 1½-12 at an outpatient speech clinic and ages 50 and over at a hospital.
"I'm always proud when my kids reach their goals, because I write their speech goals and it's always a big deal when I get to have that meeting with their parents to tell them that their child achieved their goals and they're back to their age-appropriate level," she explained. "That's always really exciting. Retesting, improving kids, make that progress. I get to work on their individual needs and move at their pace."
A background in sports helped Foeldes chart her career path. During her first two years at Brandywine, she helped coach a 14U travel team. She knew she had a desire to continue working with kids in a meaningful way that went beyond coaching. "I realized that I loved working with adolescents because I was also someone they could look to for advice," she said of the youth she coached.
"The girls were a combination of a student and an athlete," Foeldes explained, referring those she coached. "So how do you help people in general navigate all of their different roles? And that's where I am now thinking about all the components that go into people and how they are, who they are, and how I can best help them."
That realization helped Foeldes choose a career in school psychology in consultation with Marquit.
"I didn't really know who a school psychologist was or what they did," she explained. "So I reached out to my elementary school and my middle school and asked if I could shadow and learn about the job. And that's how I decided, "okay, I can help kids, and I love working with kids. I didn't want to be a teacher, but I could help them and impact their education and overall well-being as a school psychologist."
"Brandywine and all my experiences there — doing all of the different things in the classroom, on the field, with volunteering — definitely set me up to be a good candidate for grad school. And now I'm doing what I always saw myself doing for a job."

—Julie Foeldes , Penn State alumna
Foeldes is clear about what she likes most about the job: just helping people.
"I think I'm a good listener and my grad school trained us to be good therapists," Foeldes said. "And I know I don't want to do therapy, but I use those skills daily when I do clinical interviews with parents. And I get some good feedback that the kids really like working with me.
"I think the best part about my job is helping parents answer questions about their children. I am able to identify their strengths and areas of vulnerability, and then point them in the right direction. That's what I get joy out of."
Foeldes is currently completing her postdoctoral fellowship in neuropsychology, doing assessments, IQ and academic testing, memory measures and more. After an extensive evaluation, she provides diagnoses and recommendations that could be helpful for the child and family members. She also works with neurologists, behavior specialists and therapists who can address specific aspects of a diagnosis.
Foeldes and Anderson are grateful for the range of experience they had while attending Penn State.
"Brandywine and all my experiences there — doing all of the different things in the classroom, on the field, with volunteering — definitely set me up to be a good candidate for grad school," Foeldes said. "And now I'm doing what I always saw myself doing for a job."
"I just have to wait another few months to take my licensing exam and then I'll officially become an adult, I guess," she laughed.