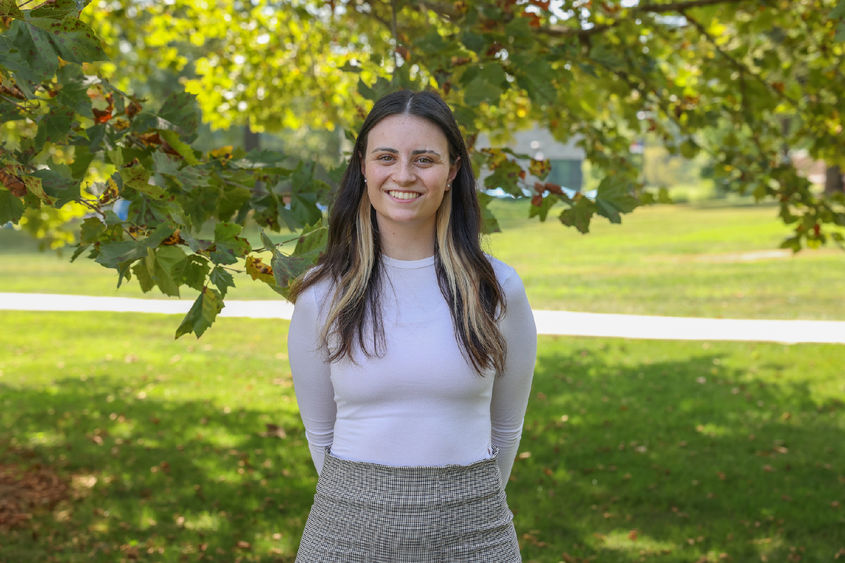 Year: Third
Majors: Project and Supply Chain Management and Business
Involvement: Secretary, Student Government Association (SGA); student-athlete for the Brandywine women's tennis team; peer mentor, Lion Guidez; member, Student Initiated Fee committee; resident assistant (RA)
Brandywine: What was your deciding factor in attending Penn State Brandywine?
Polillo: I chose Brandywine because it's super close to home, but I still had the chance to live on campus. It was also definitely on the more affordable side compared to the other institutions I was looking at. Brandywine is a small, yet engaging community, so it was appealing to me. The class sizes were perfect for me as well because I didn't want to be in a lecture hall with hundreds of people.
Brandywine: How did you choose your majors, and what made you decide to have two majors?
Polillo: I was talking with one of my professors, and she told me that I only needed two extra classes to double major in both project and supply chain management and business, so I thought it was a no-brainer. The project and supply chain management part of my studies focuses on problem-solving and innovation, while the business aspect of my studies is more creative because of my marketing focus. I enjoy both of those things, so being able to combine them was an easy choice.
Brandywine: What challenges have you faced at Brandywine, if any?
Polillo: During my first year, I faced some personal growth and resilience issues. I also faced some academic pressure because of the transition from high school to college, and I had much higher expectations and heavier workloads. To solve that, I sought out academic support through tutoring and took advantage of Brandywine's counseling services. Both of those experiences taught me valuable lessons about perseverance and the importance of seeking help when needed.
Brandywine: Who at Brandywine has supported you, and how?
Polillo: I was fortunate to receive support from Jessica Gore (president of SGA) in particular. She cares about people, and she's just very genuine. I also have to thank Ed Dixon (director of counseling services) and Elizabeth Egg-Krings (counselor and case manager) because they provided me with a lot of mental support, even if they're not aware of the impact they had on me. I'd like to thank all of the housing and food services team because they've begun to know me beyond my role as an RA.
Brandywine: What's been your greatest accomplishments at Brandywine so far?
Polillo: My greatest accomplishment was hosting an event called "Take Back the Night," which raised awareness for domestic violence. Not only was it the first event I held, but it was an event with a difficult conversation that was meaningful to have. A bunch of people came out to the event. It was a tough but important event to have.
Brandywine: What made you interested in becoming an RA? What do you enjoy most about it?
Polillo: I became an RA because I wanted to be able to meet everyone. I'm aware that some people don't have a supportive home life, so college can definitely serve as a refuge for students with a challenging home life or just trying to become more independent or be themselves. I enjoy getting to know them from different walks of life, regardless of their backgrounds or experiences. I want them to feel comfortable and supported, and I want them to know they can come and talk to us. We're not just RAs. We're students, and we understand.
Brandywine: What made you decide to join SGA and become its secretary? What do you enjoy most about it?
Polillo: I joined SGA just because SGA sounds important, and I knew it was critical on campus. I wanted to be involved so I joined on a whim not knowing where it would lead. Since then, I've always just appreciated seeing what people want and what they need and how the team can change that and go to their needs.
Being secretary allowed me to use my organizational skills because I'm a very organized person. All my tasks have their own designated places, so I know where to find everything. Doing that allowed me and the team to make it more structured and just enhance it.
Brandywine: With your involvement at Brandywine, how has your time on campus been impacted?
Polillo: I became more engaged than I was in high school. In high school, I was never this engaged, but it also allowed me to learn who I am and who I want to be. I found my purpose, and I was able to be confident in who I am without hiding that personality.
Brandywine: What advice do you have for students who are looking to get involved?
Polillo: Keep an open mind and explore diverse opportunities. College isn't just about academics. It's a transformative journey of self-discovery and personal growth. Again, find out who you want to be and what you want to do in the world. Some of these friendships will last a very long time; these friendships are forever if you manage them correctly.
"Keep an open mind and explore diverse opportunities. College isn't just about academics. It's a transformative journey of self-discovery and personal growth."

—Jordan Polillo , third-year project and supply chain management student, Penn State Brandywine
Brandywine: What's the best memory you've made at Brandywine?
Polillo: So far, my best memory would be the 2023 Big B.E.A.S.T. Blowout. I loved all the food trucks, and it had "Pie an RA." The mechanical bull was the most fun part. I kept getting on it thinking I was going to beat the record, and I didn't. I stayed on for a long time, but I didn't beat the record. I had everyone around me just laughing and having fun.
Brandywine: What's the most valuable lesson you've learned at Brandywine?
Polillo: Just to embrace your authentic self. Being true to who you are not only brings more acceptance to the people around you but also to you. You're able to make more enjoyable and sincere connections for those around you if you do.