Penn State Brandywine's Student Spotlight highlights the remarkable work being done by students in leadership, academics, service, athletics and more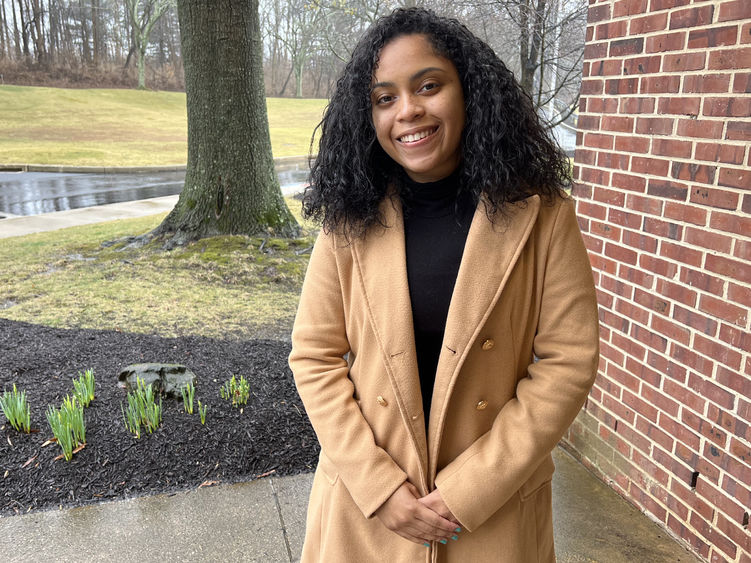 Name: Jessica Gore
Major: Biology
Year: Second
Involvement: President of the Multicultural Club, president of Nittany Christian Fellowship, president-elect of the Student Government Association, secretary of the Pre-Med Club, resident assistant, Brandywine Events and Activities Support Team (BEAST)
Brandywine: How did you choose Penn State Brandywine?
Gore: I grew up in Trinidad and Tobago. In the Caribbean, U.S. schools aren't promoted as much as they should be. It was really a choice of my own where I wanted to have that "American dream" and pursue medicine. Penn State is also a renowned university and highly spoken of in the Caribbean. A lot of people in Trinidad attended Penn State. I really admired the school itself. When I got in, I was excited, but in terms of Brandywine, it was somewhat of a random selection. When I got accepted, I thought it would be a great idea to attend Brandywine. I have an aunt who lives in Delaware, and I felt having a family member close by would be great.
Brandywine: Have you faced any challenges at Brandywine?
Gore: I would call this a minor challenge, but it was pretty hard making friends because a lot of people did not understand my accent. It was kind of hard integrating myself, but then I joined all these clubs and was able to fit right in.
Brandywine: Did you have any challenges transitioning to college in general?
Gore: Transitioning to college was difficult because it was not only a transition into college, but also transition into a different country. I was not familiar with the area at all. It was also hard for me to understand people because of the accent, that barrier. The food was different from back home. I was born in the U.S. but moved to Trinidad when I was 2. I guess culture-wise, that would be one of the biggest challenges because I spent my entire life in Trinidad.
"The Multicultural Club brings cultures from everywhere so people can learn, understand and gain more knowledge about each other. It creates a more inclusive and diverse community on our campus."

—Jessica Gore , Penn State Brandywine student
Brandywine: What got you interested in the Multicultural Club? Why do you think that type of club is important on our campus?
Gore: The Multicultural Club is very important. A lot of students are not aware of the different cultures outside of America. The Multicultural Club brings cultures from everywhere so people can learn, understand and gain more knowledge about each other. And it's also pretty fun. For this year, we had many global dialogues, celebrated Diwali, Thanksgiving, Eid Mubarak and Flag Fest. I am very proud of the work I have done as president of the Multicultural Club. This club is important because it creates a more inclusive and diverse community on our campus.
Brandywine: What would you say have been your greatest accomplishments while you've been a Brandywine?
Gore: In my first year I got a student leadership award. I think that was a really good accomplishment because I never thought that I would be able to get leadership positions and be able to develop myself personally. Becoming a resident assistant was also an amazing accomplishment. Additionally, having these exceptional resources from Penn State, I was able to get research in and build my medical school application.
Brandywine: What has been your most valuable lesson you've learned here at Brandywine?
Gore: I think it would be that you're not by yourself. A lot of students would think that because you're in college you have to figure everything out on your own. With the unlimited resources that we have at Penn State, you will be set for life. Just ask questions. Even staying back after class and talking to your professor can be life-changing. I feel because it's such a small community, you're able to not only get advice from one person, but multiple people such as faculty and staff. I do this a lot and I can safely say that they are all rooting for me.
Brandywine: How has our campus supported you?
Gore: Professor (Debbie) Ousey (coordinator of Multilingual and International Student Programs) has helped me a lot because she's also my adviser for my club, the Multicultural Club. In terms of planning events and  guidance, she is the best in the business. Even when I think this might not be a great event, she would encourage and also help me make it meaningful and better. Dr. (Kurt) Kistler (associate teaching professor of chemistry) was my adviser before I decided to stay at Brandywine. He was also pretty helpful, and he made my academic work easier for me. He always believed in me. Tina Brackett-Wood (coordinator of co-curricular programs) also made my life easier when planning events and using the club room to study for exams. Don Brennan (assistant director of residence life) and Jasmaine Price-Thornton (residence life coordinator), they've always been very kind to me. They are my work parents and my boss which is weird to say in the same sentence. And they've also helped me a lot with my leadership and personality development. All of them helped me a lot and integrated not only my academics, but also my leadership skills into one. I have also made life-long friends who became family to me.
Brandywine: How did you pick your major with biology?
Gore: I intend on going to medical school. That's why I chose biology as my major.